Great career prospects for UniSA graduates, new government data shows
By Adam Joyce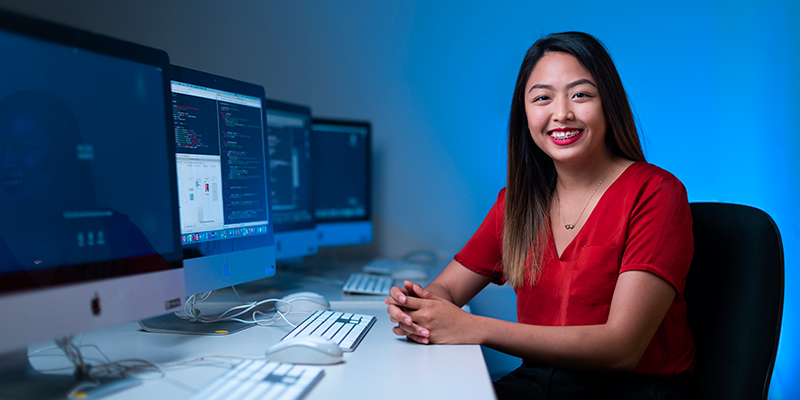 INSIDE UNISA
Almost nine out of ten UniSA graduates are employed within four months of graduating, according to the latest graduate outcomes data from the federal education department.
The 2019 Graduate Outcomes Survey found that 73.5 per cent of UniSA undergraduates were in full-time employment four months after completing their degree; with 88.3 per cent of UniSA graduates employed in some form in the same timeframe. The median starting salary for UniSA graduates in 2019 was $62,600.
The results mean UniSA is the number one university in South Australia for graduate employment.

UniSA was also the only university in South Australia with graduate employment above the national average1; and UniSA had the highest labour force participation rate in the state three years after graduation (94 per cent)2.
UniSA Vice Chancellor Professor David Lloyd says the results are "fantastic and great news for our students".
"Part of our promise is to deliver an education that is deeply informed by professional and industry practice, so that our students hit the workforce job-ready," he says.
"The Graduate Outcomes Survey results underline that we are delivering a future workforce for South Australia and beyond – our graduates are ready to take on the world."
UniSA final-year Software Engineering (Honours) student Andrea Del Rosario has successfully landed her dream job in the defence industry before she's even graduated.
After attending a number of career expos including The Big Meet, combined with an interest in emerging technologies and how they can be used to solve problems, she was inspired to study software engineering at UniSA.
"I attended a lot of networking events and was really impressed by the way defence industry companies are using technology and so decided that was something I wanted to pursue," Andrea says.
Late last year she began a 12-week internship with defence engineering and design company, QinetiQ Australia. The work she completed for QinetiQ impressed both the company and one of the company's major clients and on the final day of her internship in February she was offered a role as a graduate software engineer.
"I got offered the role a year before I've even graduated," she says. "It's a very competitive industry so to get that sort of job – my dream job – is incredible. I cried."
She volunteers through a range of UniSA programs, which she says was important in gaining her first internship with the Department of Planning Transportation and Infrastructure (DPTI).
"At DPTI I got exposed to systems engineering and technical networking while undertaking multiple projects," she says. "This helped enhanced my practical component in basic technical skills, project management, communicating and writing in professional context."
Her volunteering includes representing UniSA as a student ambassador, being a member of the student representative council (Student Connect) in the Division of Technology, Engineering and the Environment and mentoring new students through the UniMentor program. She also mentors high school students through the UniSA Connect program.
"There's a lot of building blocks you need to help get to where you want to go in life," Andrea says.
Andrea, who's based at UniSA's Mawson Lakes campus, will begin her role with QinetiQ Australia in February.
The Graduate Outcomes Survey is an online survey completed by 132,176 graduates across 109 higher education institutions. The report is part of the Quality Indicators for Learning and Teaching (QILT) framework, which provides prospective students information on Australian higher education institutions from the perspective of recent students and graduates; and employers.
The Quality Indicators for Learning and Teaching are funded by the federal Department of Education and Training.
UniSA's success in the latest survey results came hot on the heels of the 2020 Good Universities' Guide, which ranked UniSA number one in South Australia for the overall experience students have at university as well as for graduates in full-time employment. In addition, UniSA earned five stars from the Good Universities' Guide and led the state for social equity, first generation students, skills development and learning resources.
1 2019 Graduate Outcomes Survey – Full-Time Employment Indicator (Undergraduate)
2 2019 Graduate Outcomes Survey - Longitudinal – Labour Force Participation Rate Medium-Term (Undergraduate)