Achievements and Announcements
ACHIEVEMENTS
APPOINTMENTS
ANNOUNCEMENTS
ACHIEVEMENTS
Eight female innovators recognised for their research
A UniSA industrial designer who has developed a smart mirror which can detect early-stage Parkinson's and dementia was among a line-up of exceptional women recognised at this month's Women in Innovation Awards.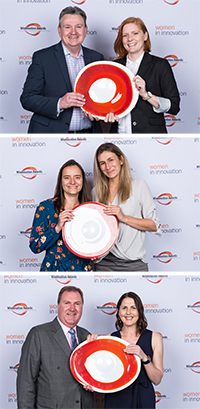 UniSA women were represented in eight of 11 categories and won in three categories at the annual awards, held at the National Wine Centre.
UniSA's Kelly Carpenter (top right), CEO and co-founder of Lookinglass, a South Australian startup based at UniSA's Innovation and Collaboration Centre, took out the technology award for her smart mirror.
In the maths category, Dr Dorothea Dumuid (middle left) was awarded for her work on a project that uses data and statistics to optimise daily time use for better health and wellbeing in areas such as school curriculums and mainstream media.
Dr Hazel Vandeleur (bottom right) was the winner in the rural award for her work in Port Pirie on re-imagining contaminated sediments near smelters as a resource in order to recover and repurpose desirable metals.
Five other UniSA researchers were also finalists on the night:
Dr Ming Liu is part of a team helping to develop a new thermal storage solution for dispatching renewable electricity and empowering South Australia's green energy future;
Dr Caroline Tiddy is using data-driven tools to more accurately locate mineral deposits to address global supply and demand issues;
Dr Zoe Doubleday is working with a Port Lincoln business, SA Premium Octopus, to assess the viability of establishing South Australia's first octopus fishery;
Dr Daisy Yang for her rock-on-a-chip research, optimising the process of mineral leaching for mining, using fluid to selectively dissolve and recover precious metals from crushed rock; and
Dr Miko Yamada for empowering women to self-diagnose skin cancer without scars or pain using a micro-biopsy device and cancer signatures.
UniSA Deputy Vice-Chancellor: Research and Innovation, Professor Simon Beecham, paid tribute to all eight UniSA researchers, describing their work as "exceptional and innovative".
"UniSA has a reputation for enterprising, innovative and industry-engaged research and this result underlines that status. In a record year of nominations, having eight of our researchers represented in eight out of 11 categories – and winning three – is outstanding," he says.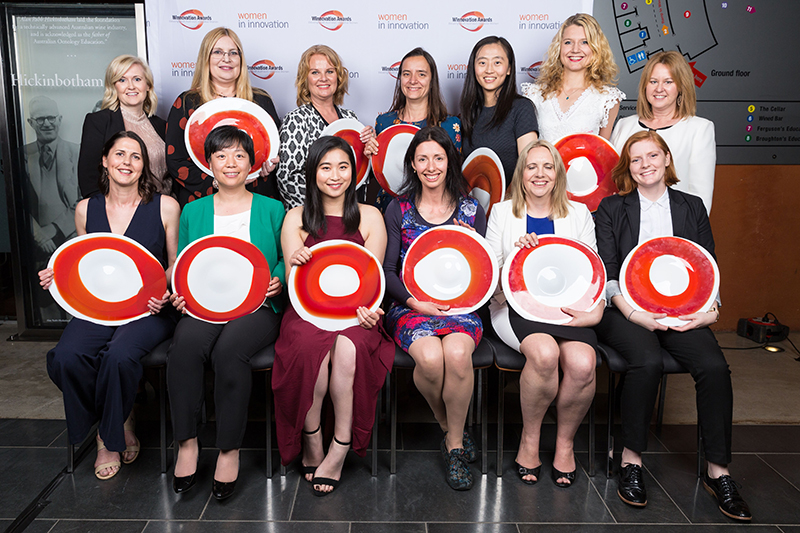 Supporting women to build strong research careers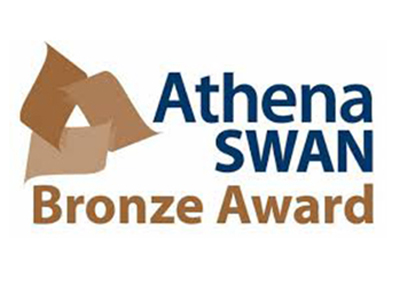 UniSA has achieved a Bronze Award from the Australian Academies of Science, and Technology and Engineering as part of the Science in Australia Gender Equity (SAGE) initiative for promoting inclusion and equity in its drive to support careers in science and technology.
University of South Australia Vice Chancellor Professor David Lloyd says the SAGE project has really helped to focus the University's efforts in this regard.
"Undertaking the SAGE Athena SWAN accreditation process has given us a chance to look at the whole university environment and find ways through policy and practice to ensure women and men are on a level playing field when it comes to forging a successful career in STEMM," Prof Lloyd says.
As part of the SAGE Cohort 2 initiative in Australia, UniSA achieved the Athena SWAN Bronze Award Accreditation in September and has joined what is becoming a global movement to improve gender equity and diversity in STEMM fields in universities worldwide.
"While SAGE is focussed on STEMM, we determined to take a whole of institution approach in our response," Prof Lloyd says.
"That meant we looked across the board, not only at policies, but at processes and practices to see how they fit together to either help or hinder the goal of gender equity, giving us a full picture of the kinds of improvements that research shows, will have an impact.
"We are deeply committed to growing a diverse workforce and strengthening a culture where talent thrives, difference is valued, and individuals are respected for their unique contribution."
UniSA's progress towards these goals in the past five years has been institution-wide – from the launch of a $2 million international female fellowship program in engineering supported by UniSA with University College London and Santos, to the appointment of the University's first female Chancellor in 2018 and the rebalancing its senior management team to ensure gender equity.
Prof Lloyd says earning the award is an important part of the journey towards building a truly inclusive workplace.
"UniSA has at its heart a commitment to equity that encompasses gender equity but also equity for our First Nations people and for all people who have been disadvantaged," Prof Lloyd says.
"Our goal is to break down barriers and to make what seemed impossible, possible – for our students and especially for our staff."
UniSA takes top spot for student experience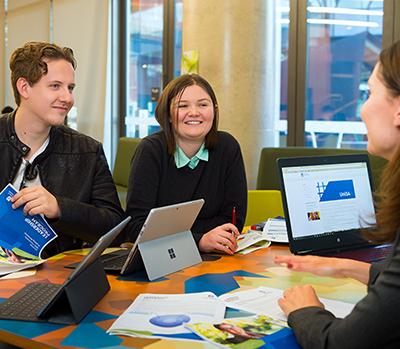 There's even more reason now for future university students to apply for study at UniSA – our students have the best experience at university in the state, according to the 2020 Good Universities' Guide.
UniSA has been ranked number one in the state for the overall experience students have at university as well as for graduates in full-time employment.
In addition, UniSA earned five stars from the Good Universities' Guide and led the state for social equity, overall experience, first generation students, skills development and learning resources.
UniSA Vice Chancellor Professor David Lloyd says UniSA's results in the Guide reflect a consistent strategy to put students first and to provide opportunities for talented students from all walks of life.
"We are the university that attracts the highest percentage of students who are the first in their families to attend university and I am so proud of that," Prof Lloyd says.
"The ambition and enterprise of students who are carving out their own trail to higher education for the first time, is so compatible with the kind of university we are.
"To help students create their careers, through their hard work coupled with our encouragement, great teaching and learning support and the kind of industry experience that makes them employable at the end of their studies – is a satisfying partnership and a great privilege."
Blaiklock takes part in international art collaboration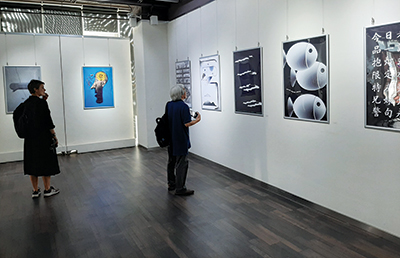 UniSA Program Director of Illustration and Animation, David Blaiklock, recently attended an international art and design event in Beijing; showcasing his artwork as well as teaching a successful workshop.
Blaiklock was invited to attend by the Beijing Institute of Graphic Communication to take part in the art event which involved delivering a four-day workshop and a lecture, as well as participating in an international exhibition in which his work was collected by a gallery.
"The workshop and overall trip were very successful – I have been invited to attend the workshop again next year," Blaiklock said.
"The highlight for me was the success of teaching across cultures. With the aid of a translator, I taught Chinese and Taiwanese students and teachers the 'Visualisation' project I have developed over many years at UniSA.
"It is a very successful project - situated in third year of the Illustration and Animation program - which switches students onto their potential by leveraging their knowledge and experience.
"My workshop encourages practice through drawing as well as an emphasis on building student confidence to push their work out into the world.
"This resulted in one of the students entering a Hungarian poster exhibition and being selected to take part with work that he completed in my workshop.
"For a teacher this is so rewarding and ultimately is the reason I teach."
The international event has opened up a number of new opportunities, including UniSA's School of Art, Architecture and Design being asked to send work to a multidisciplinary international exhibition at the Library Gallery of Shandong University of Art and Design next month.
"Participating in international events not only builds the reputation of UniSA as an internationally significant university, it also builds connections across the globe which contributes to our students' experience," Blaiklock said.
"My experience in Beijing enabled me to connect with senior academics, exceptional and significant practitioners from China, Poland, Denmark, Korea and Taiwan; as well as opening up further opportunities for myself and the University."
Blaiklock is now in progress of collecting and curating work from staff and students across the School for inclusion in the Shandong exhibition.
UniSA pharmacist to lead world body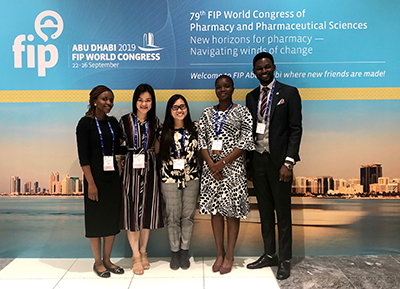 UniSA Research Fellow in the School of Pharmacy and Medical Sciences, Dr Renly Lim, has been elected as the new President for a professional body of young pharmacists from around the world.
Dr Renly was elected president at the annual congress of the International Pharmaceutical Federation. The Federation represents more than four million pharmacists and pharmaceutical scientists worldwide; with about a third of those being part of its Young Pharmacists Group.
Dr Renly says she is extremely humbled and honoured to be given the trust to lead young pharmacists at an international level.
"Being elected as President-elect means I am provided with a strong platform to achieve the many goals I have, including exploring how existing and new solutions can be implemented in different parts of the world to improve patient safety and health outcomes, amplifying the voice and impact of young pharmacists, and supporting the development of young pharmacists globally," Dr Renly says.
"I am eager to continue the incredible initiatives that the current steering committee has started.
"During my term, I would also like to focus on growing young pharmacists in terms of quality through professional and leadership development, mentorship, and quantity through increasing the number of members."
Dr Renly will serve as president-elect in 2020 and then President in 2021, which includes the period when the annual congress will be held in Brisbane.
"With the Congress being held in Brisbane in 2021, I would like to take the opportunity to involve more Australian pharmacists – the Foundation does remarkable advocacy work representing our profession and drives healthcare and pharmacy policy-making at an international level, so it's important that our pharmacists in Australia are actively involved," Dr Renly says.
Dr Renly is only the second Australian-based representative to hold this position and the first from South Australia.
Architecture awards for two UniSA buildings
Two UniSA building projects have been shortlisted for the 2019 Australian Institute of Architects National Architecture Awards.
Swanbury Penglase with BVN has been shortlisted in three categories – Interior Architecture, Public Architecture and Sustainable Architecture – for its work on UniSA's Cancer Research Institute.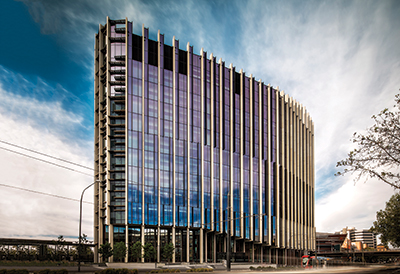 The $247m health and research facility was opened last year and is an integral part of Adelaide BioMed City on North Terrace, opening up a number of new cancer research, teaching and community engagement opportunities.
The building is the tallest structure in South Australia with a structural timber façade of Australian hardwood. The first two floors of the building are dedicated free public gallery spaces as home to UniSA's futuristic museum of discovery, MOD..
Included in the sustainable design elements is a roof that supports a solar thermal array which, during peak performance, contributes 50 per cent of the hot water energy demands for the building at full occupation (750 people).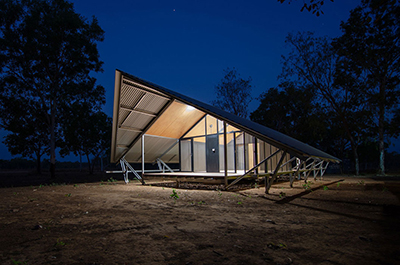 Also shortlisted for an award is UniSA's Design Construct Program in the School of Art, Architecture and Design for a project built in the Northern Territory.
The two-year project which saw new accommodation built for rangers in the remote Fish River Station, has been shortlisted in the Small Project Architecture category.
Completed last year, the challenging project involved students in every step of the project, led by Design Construct directors, Joti Weijers-Coghlan and David Morris.
More details about the Fish River project can be read here.
The National Architecture Awards will be announced on 7 November.
UniSA business student wins prestigious Merdeka Award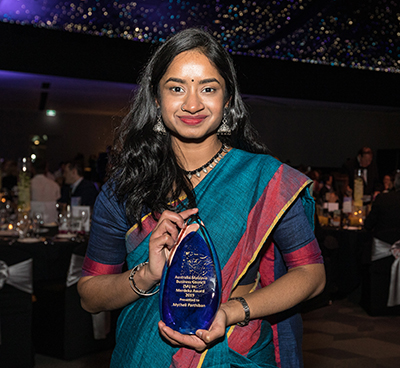 Bachelor of Commerce (Accounting) student Mytheli Parthiban from Malaysia, was recently presented the Merdeka Award 2019 by the Australia-Malaysia Business Council of South Australia.
The Merdeka Award is presented to outstanding final-year Malaysian students living and studying in Adelaide. Applicants are assessed on their academic achievements, extracurricular activities and efforts in promoting Malaysia and the relationship between Malaysia and South Australia.
"I was very honoured to win," Mytheli says.
"I think this is a great platform for me to further promote Malaysia in South Australia.
"Before I came to Adelaide, my parents were very worried as this was my first time going overseas and studying in a different culture and environment.
"Receiving this award has proven to them that I've made good use of this opportunity. And I'm really happy that I was able to make them proud this way."
Mytheli is a recipient of the highly competitive Vice Chancellor's International Excellence (VCIE) Scholarship.
Looking ahead, she plans to sit her professional papers upon graduation and is interested in specialising in forensic accounting.
Mount Gambier campus recognised for service excellence
UniSA's Mount Gambier campus has been recognised for the excellent service it provides to regional students and businesses, receiving a 2019 Outstanding Business Award.
UniSA was named the 2019 Outstanding Service Industry by Mount Gambier Chamber of Commerce at its annual Outstanding Business Awards. They are the major business awards for South Australia's largest regional city.
UniSA Regional Manager for Mount Gambier Ian McKay says it was wonderful recognition for the work staff put in to support students and collaborate with local businesses.
Established in 2005, UniSA's Mount Gambier campus is a reflection of an ongoing commitment to the region and the community.
The awards were presented on 11 October in Mount Gambier.
APPOINTMENTS
Deputy Vice Chancellor of Research and Enterprise appointed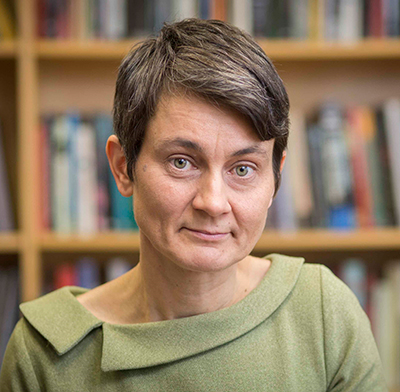 The University of South Australia has appointed former ANU Deputy Vice Chancellor and internationally recognised historian, Professor Marnie Hughes-Warrington, to be its next Deputy Vice Chancellor: Research and Enterprise.
Prof Hughes-Warrington is also the National Secretary of Rhodes Australia, the body that administers the prestigious scholarship scheme which supports students to study at Oxford University.
UniSA Vice Chancellor Professor David Lloyd says Prof Hughes-Warrington has an impressive breadth of academic teaching, research and management experience that is both national and global.
"Marnie is a highly respected academic and someone who has brought energy and innovation to her academic career and operated successfully in leadership positions," Prof Lloyd says.
Prof Hughes-Warrington is delighted with her move to UniSA.
"The dynamism and enterprising spirit of UniSA make it an exceptional part of the higher education community in Australia, and globally," she says.
"I look forward to advancing and growing the qualities that make it such an important contributor to social and economic transformation both here and abroad."
Prof Hughes-Warrington will take up the position in January 2020.
ANNOUNCEMENTS
UniSA shows support for military veterans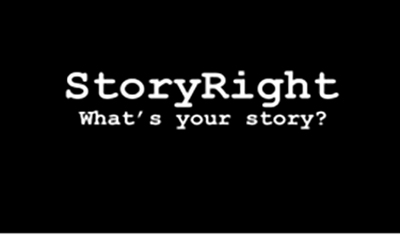 UniSA has committed to support a ground-breaking program – StoryRight – that provides key support to military veterans seeking employment.
As a Foundation Gold Sponsor, UniSA will provide key infrastructure to enable StoryRight to deliver its skills translation workshops until June 2021, providing much needed support to younger veterans and their families.
UniSA's Director of Defence Matt Opie says the University is committed to supporting veterans and SA's defence sector.
"StoryRight is part of UniSA's ongoing support to the Australian Defence Force, veterans and the state's defence sector in addition to research and education," Opie said.
"We are delighted to support an innovative program that is making a difference to veterans who have served their nation and are now seeking new opportunities in civilian life."
UniSA Adjunct Associate Professor and Iraq veteran, Dr Sharon Mascall-Dare, founded the StoryRight workshop program in 2018 in collaboration with a team drawn from industry, academia and the younger veterans' community.
"We have been able to support close to 100 veterans in South Australia and the Northern Territory by providing them with the skills to translate their military experiences into language that civilian employers understand.
"UniSA's Foundation sponsorship means we will be able to help another 100 veterans over the next two years, helping them to strive for success in the civilian world."
StoryRight provides one day communication and presentation workshops to serving and ex-serving members of the Australian Defence Force. The workshops focus on providing participants with the necessary tools to successfully translate their military skills and experiences into language that civilian employers will understand.
Earlier this month, StoryRight also announced a new partnership with Soldier On, helping to deliver additional support for veterans through actions like networking events.
The first event – hosted by UniSA – saw veterans and their families connect with Solider On pledge companies and education providers.
UniSA leads nationwide push for academic integrity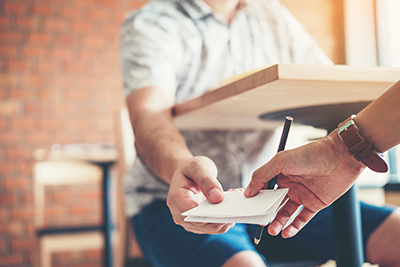 Academic integrity is critical to every aspect of education, however increasing breaches are raising concerns about the international reputation of higher education in Australia.
In light of this, the Tertiary Education Quality and Standards Agency (TEQSA) is rolling out a national series of workshops to help higher education providers promote and protect academic integrity at their institutions, appointing UniSA to lead the charge.
Led by international expert in academic integrity and ethics, UniSA's Associate Professor Tracey Bretag, in partnership with Dr Guy Curtis, University of Western Australia; Dr Christine Slade, University of Queensland; and Dr Margot McNeill, International College of Management Sydney, the team will develop and deliver around 20 workshops across Australia.
Available to all universities and independent higher education providers, the workshops and accompanying toolkit aim to promote good practices and build a sector-wide culture of integrity.
"Academic integrity is the cornerstone of ethical academic practice," Assoc Prof Tracey Bretag says.
"For decades, UniSA has led the way in academic integrity research and practice.
"Sharing our combined knowledge of good practices, policies and procedures to best mitigate risk, is paramount if we are to tackle the issue head on."
Assoc Prof Bretag's national study on contract cheating in Australian universities found that 6 per cent of students reported engaging in contract cheating behaviours, 15 per cent said they were buying, trading or selling notes, while 27 per cent claimed they had provided completed assignments to other students.
TEQSA's academic integrity workshops will help higher education providers with measures to promote academic integrity, strategies to overcome barriers to create a culture of integrity, practices to prevent contract cheating, and evidence-based approaches to respond effectively to all academic integrity breaches through policy and procedural frameworks.
Beginning 28 October at EQUALS International in Adelaide, workshops will be held in metropolitan and key regional centres in late 2019 and early 2020, with higher education providers to receive invitations shortly.