New partnership with MIT to underpin data visualisation research
By Michèle Nardelli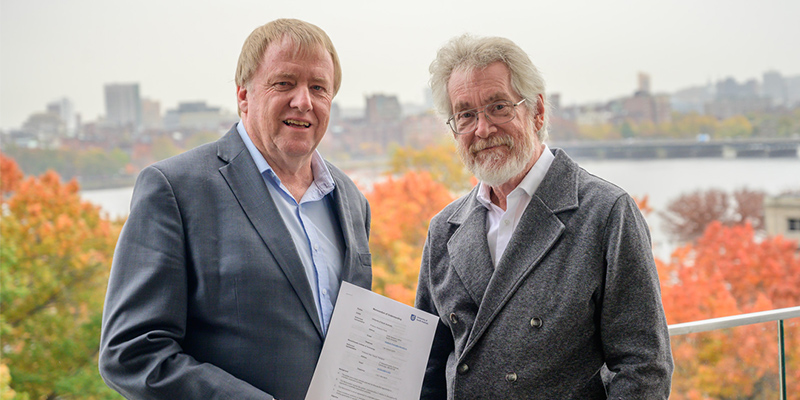 TECHNOLOGY AND ENGINEERING
UniSA has sealed the deal on an important collaboration with the Massachusetts Institute of Technology (MIT) to work on research into data visualisation and augmented reality and to support student exchange opportunities.
The two institutions signed an MOU on 30 October, outlining a framework for collaboration that boosts technology research and provides opportunities for local students to visit the US and for students from MIT to spend time at UniSA as part of their study and research.
A technology focused institution, the US-based MIT is one of the highest ranked universities in the world with an international reputation for excellence in computer science, engineering, maths, earth sciences and physics, among other fields.
The research collaboration will focus on research undertaken within MIT's Digital Media Lab and UniSA's Australian Research Centre for Interactive and Virtual Environments (IVE).
As a world leader in Augmented Reality (AR) and Virtual Reality (VR), the Australian Research Centre for Interactive and Virtual Environments (IVE) is a unique alignment of computer science, engineering, art, architecture and design.
Its researchers are leaders in many areas of AR and VR research including wearable computing, interface design, empathic computing, 3D visualisation, perception, and telepresence.
The agreement with UniSA has resulted from a wider collaboration with MIT, the State Government, BankSA, Optus and DSpark and relies upon involvement from Adelaide's three universities.
The focus of the initial collaboration is the creation of South Australia's Living Lab which will be established at Lot Fourteen.
Representing UniSA as a part of the recent State delegation to MIT, Professor Brenton Dansie says the agreement will consolidate some existing research connections with MIT and help to further develop research and student engagement.
"Two of the world's leading researchers in AR and VR, UniSA Professors Mark Billinghurst and Bruce Thomas, have links with MIT and this new agreement will significantly enhance their efforts," Prof Dansie says.