Achievements and Announcements
ACHIEVEMENTS
APPOINTMENTS
ANNOUNCEMENTS
ACHIEVEMENTS
Researcher recognised for major agricultural innovation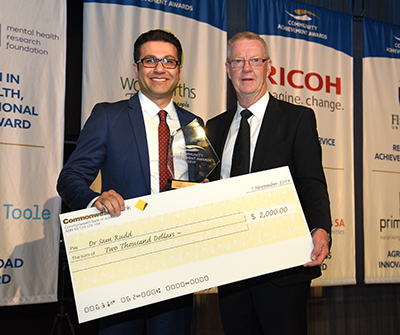 A UniSA researcher who co-invented a real-time in-ground soil fertiliser sensor has been recognised for major agricultural innovation at the 2019 South Australian Community Achievement Awards.
Research Associate at UniSA's Future Industries Institute, Dr Sam Rudd, won the prestigious Prime Super Agricultural Innovation Award.
The South Australian Community Achievement Awards began in 2010, and are designed to encourage, acknowledge and reward the valuable contributions individuals, communities, and businesses are making throughout the community in South Australia.
Dr Rudd is working to improve productivity in agriculture. He co-invented the world's first passive real-time, in-ground soil fertiliser sensor for precision agriculture and controlling the application of fertilisers.
During his PhD research, he found that a new class of conducting polymers was quite sensitive and selective to nitrate, making it ideal in fertiliser sensing. The discovery led to UniSA and Sentek collaborating for a joint patent to develop the next generation of agricultural sensors.
The awards were presented in early November. Dr Rudd received a $2000 award prize from award partner Commonwealth Bank.
Vice Chancellor named Fellow of the Australian Academy of Technology and Engineering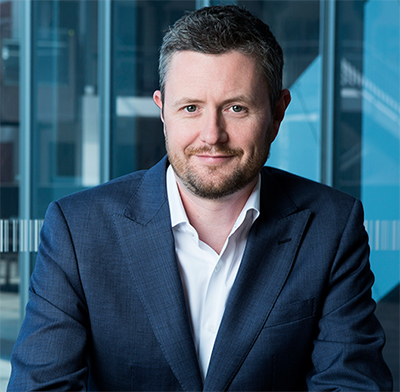 UniSA Vice Chancellor Professor David Lloyd has been named a Fellow of the Australian Academy of Technology and Engineering.
A fellowship organisation, the Australian Academy of Technology and Engineering comprises women and men elected in a highly competitive, peer-review process based on their expertise, leadership and experience in applying science, technology and engineering to solve the big issues facing Australia in a fast-changing world.
Announcing his appointment, the academy noted Prof Lloyd is "a prominent and influential leader and industry collaborator in technology and education and has greatly advanced the standing of the University of South Australia as its Vice Chancellor and president".
It also cites Prof Lloyd's ongoing contribution to the promotion of science and technology through his leadership at UniSA, his membership of the South Australian Economic Development Board from 2014-18, his service as former chair of the Australian Technology Network and now on the board of Universities Australia.
Prof Lloyd says he is honoured to join such an influential academy and one dedicated to the power of technology and engineering to transform lives and build better societies.
"I am grateful for the appointment and delighted to become part of a highly talented fellowship of more than 900 researchers and leaders who share a passion for the power of science," he says.
Welcoming the new fellows, academy president Professor Hugh Bradlow says they were a remarkable and talented group, who will contribute to helping the Academy fulfil its mission.
"We bring together Australia's leading experts in applied science, technology and engineering to provide impartial, practical and evidence-based advice to enable Australia to maintain its position as a leading technology economy," Prof Bradlow says.
Head of Future Industries Institute featured in analytical science 'power list'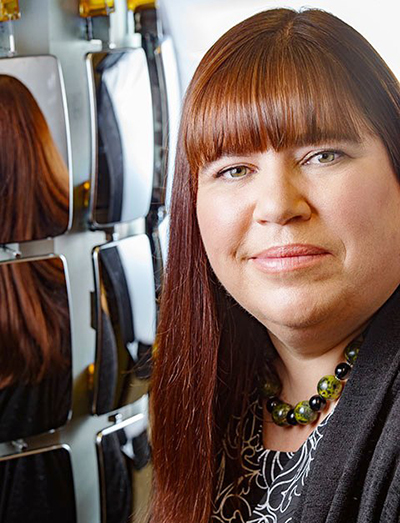 Director of UniSA's Future Industries Institute, Professor Emily Hilder, has been named a world leader in the field of analytical science by The Analytical Scientist magazine.
The magazine's annual Power List celebrates the range of talent, ingenuity and leadership across all corners of analytical science by highlighting the pioneering work and passion of 100 leaders in the field.
The publication held open nominations before the candidates were whittled down to 100 finalists by a panel of independent judges.
Prof Hilder was named in final top 100 "power list".
The person who nominated her for the award described her as a "thought leader in the field, great separation scientist and a role model for women in analytical scientist. And a good person to boot!".
UniSA Cancer Research Institute wins national architecture award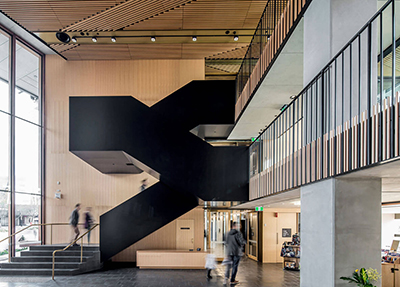 UniSA's Cancer Research Institute building has won a national award for its interior architecture.
Swanbury Penglase with BVN won the Interior Architecture category of the 2019 Australian Institute of Architects National Architecture Awards, held earlier this month, for their work on the building.
The judges described the building as impressive, complimenting the use of natural light throughout the interior.
"A beautiful building section organises research communities vertically, with meeting spaces, social spaces and terraces surrounding a northern atrium," the jury said in its citation. "Despite being centred around highly controlled work environments (laboratories), this building program enables remarkable workplace flexibility, openness and interaction, supporting the institute as a genuinely contemporary research hub."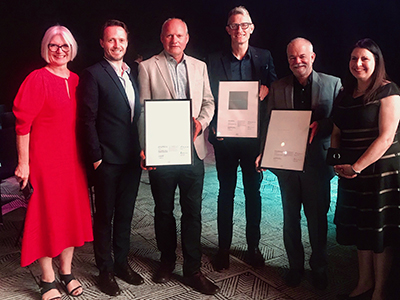 The UniSA Cancer Research Institute also received a National Commendation for Sustainable Architecture, the jury praising the building's holistic approach "from construction impacts to ongoing operation, robust building detailing and urban legacy".
UniSA Director of Facilities Management Phil Clatworthy says it's great to see the team receive recognition for all the work that went into one of the most complex buildings in UniSA's history.
"The UniSA Cancer Research Institute building has become an integral part of Adelaide's health and biomedical precinct, opening up more opportunities for health research, teaching and community engagement – and the building's elegant design was always aimed at facilitating that," he says. "It's a core part of UniSA's City West campus and we are extremely proud of the building and the teams who call it home."
Included in the sustainable design elements is a roof that supports a solar thermal array which, during peak performance, contributes 50 per cent of the hot water energy demands for the building at full occupation (750 people).
UniSA's School of Art, Architecture and Design also received a national commendation for a project in a remote part of the Northern Territory to upgrade ranger accommodation.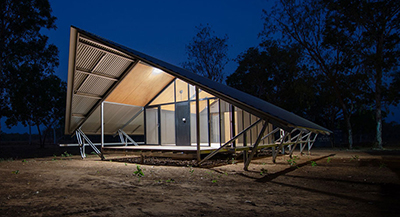 Through the Design Construct Program, students and staff improved the living conditions of rangers at Fish River Station by retrofitting existing structures to address the extreme climatic conditions of the area.
The jury described the result as "a model that delivers better insulated, ventilated and insect-proof accommodation for rangers and a viable tropical Indigenous housing alternative".
The two-year project was led by Design Construct Directors, Joti Weijers-Coghlan and David Morris.
Morris says the success of the project, which also won a Design Institute of Australia gold medal, was made possible by the by the extraordinary collaboration between their clients, the Indigenous Land and Sea Corporation, generous sponsorship, and the efforts of more than 100 architecture, design and engineering students
"The students were engaged in all stages of the project from the initial consultation with rangers, through design, documentation, prefabrication to construction," Morris says. "The professional recognition of the project is a significant endorsement of the student Design Construct program and the investment in the program by the University."
Three UniSA students win spatial excellence awards
UniSA students have dominated South Australia's premier surveying and spatial industry awards.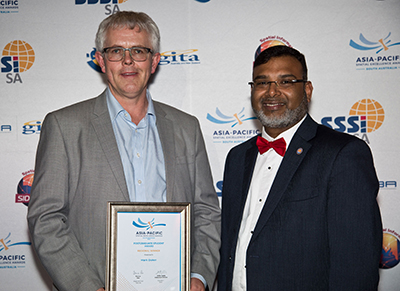 UniSA PhD student Mark Daker won the Postgraduate Student Award at the 2019 Asia-Pacific Spatial Excellence Awards SA. The award is conferred on a postgraduate student who has undertaken a research project that contributes to the ongoing progression of the surveying and spatial profession. Daker's thesis is titled Public open space policy, supply, and population health: a case study of metropolitan Adelaide.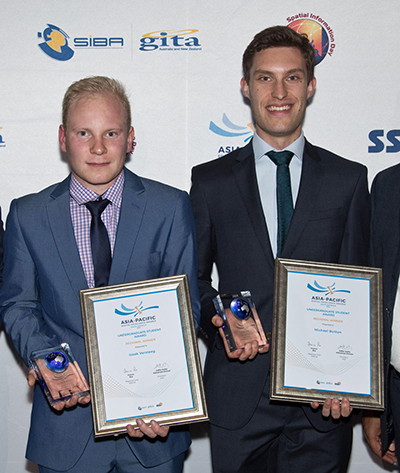 Fellow UniSA students Michael Button and Izaak Versteeg shared the Undergraduate Student Award, which is also conferred on a student who has undertaken a research project that contributes to the profession.
The awards were held in tandem with Spatial Information Day, South Australia's premier conference for the geospatial and surveying industry, at the Adelaide Convention Centre in late October.
Winners are eligible for nomination for the national Asia-Pacific Spatial Excellence Awards, which will be held in Brisbane next April as part of the Locate Conference 2020.
UniSA Cancer Research Institute building wins premier design award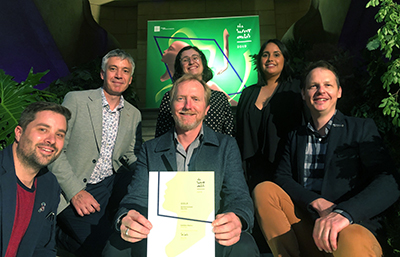 UniSA students and projects dominated the 2019 Design Institute of Australia SA/NT Awards, held earlier this month, taking home seven prizes.
Swanbury Penglase with BVN won the coveted Premier's Award as well as a silver award in the Built Environment: Commercial category for the UniSA Cancer Research Institute building.
Exhibition Studios won a gold award in the education category for MOD.'s Sleep Ops exhibit while UniSA's Pridham Hall by JPE Design Studio with Snohetta and JamFactory was awarded silver in the education category for its "dynamic, democratic and robust" interiors.
The Fish River Ranger Accommodation project by UniSA's Design and Construct program was awarded gold in the Built Environment: Residential category. Led by David Morris and Joti Weijers-Coghlan, Design and Construct offers hands-on project-based education with an emphasis on remote environments and communities. Noted for its approach to remote building limitations, judges highlighted the "clarity and beauty" of the project and lauded the impact of affordable and responsive structures in remote parts of Australia.
UniSA Interior Architecture students Sara Threadgold and Stephanie Haarsma were also commended for their outstanding designs at the awards. Sara Threadgold's Hotel Derecho project was awarded gold for its "impressive transition from concept to design development" and Stephanie Haarsma's "innovative and clever" Tinker Taylor concept was awarded silver.
Now in its 27th year, the annual award recognise and celebrate the most exciting and progressive design projects from across South Australian and the Northern Territory. The program is open to design professionals and students across built environment, product and communications categories.
The SA/NT Branch of the Design Institute of Australia is the voice of professional design in South Australia and the Northern Territory.
Budding filmmaker wins Helpmann anniversary award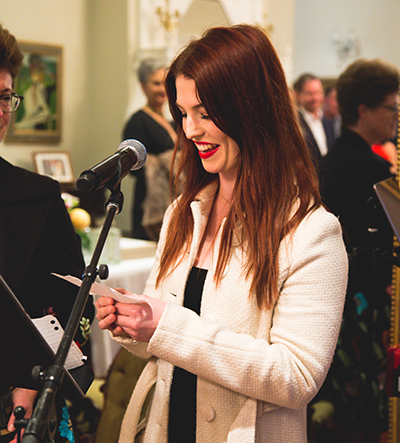 A UniSA Media Arts graduate has been awarded $10,000 as part of the Helpmann Academy's 25th anniversary celebrations.
Named to honour the founding chair of the academy, Dr Judith Roberts AO, the prize was awarded to Grace Miles, a 2018 graduate of UniSA's Media Arts program.
Open to university and TAFE graduates, the award recognises their achievements while studying and their potential to build a strong career in the arts.
Miles is an emerging filmmaker with a passion for cinematic design and aspirations to create short narrative films, music videos and documentary pieces.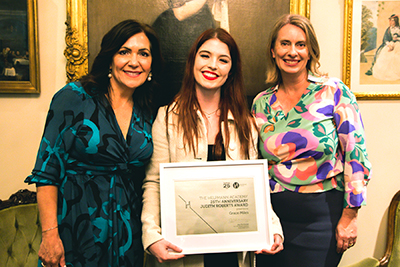 Thanking the academy for its generosity, Miles says the award is a great boost to confidence.
"It's very comforting to know that there are so many people who believe in me and my abilities, and who are willing to give me the opportunity to explore my talents," she says.
"I am so thankful for this experience and I can't wait to see what I can create with the help from this award."
Program Director for UniSA's Bachelor of Media Arts, Dr Josh McCarthy, says the award is well deserved.
"Grace was our Graduate of the Year in 2018 and was always enthusiastic to take up the opportunities the University provided through its industry engagement and industry placements. We are very proud of her and look forward to seeing how her career develops."
UniSA's unstoppable graduates celebrated through awards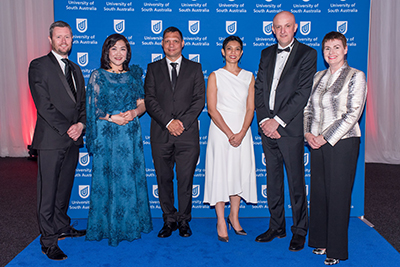 ASIO's Director-General of Security Mike Burgess and Amnesty International's Director of Crisis Response Tirana Hassan are among the trailblazing UniSA alumni who were honoured at the annual UniSA Alumni Awards in late October.
Awards were also presented to renowned Aboriginal artist and educator Darren Siwes and Hong Kong Pokka Café entrepreneur Dr Pauline Wong, in recognition of their inspiring careers and great contributions to society.
The Alumni Awards showcase the most distinguished members of the 215,000-strong global alumni community.
UniSA Vice Chancellor Professor David Lloyd says the gala dinner at Pridham Hall is one of the most inspiring annual events, because its where the University pays tribute to the pioneers, innovators, and changemakers who have been influenced by their time at UniSA.
"Every career story at these awards is different, but there are common themes … that a UniSA education empowers people and gives them self-confidence, creativity and the invaluable capacity to keep learning and innovating," Prof Lloyd says.
"All of our worthy winners this year define what it is to have an unstoppable career – the desire to make a difference, the skills and knowledge to bring an ambition to life, the courage to keep going when things aren't perfect, and the capacity to build on each achievement."
More information on each of the award winners is available online.
See photos from the celebration in In Pictures.
Student wins emerging artist prize for glasswork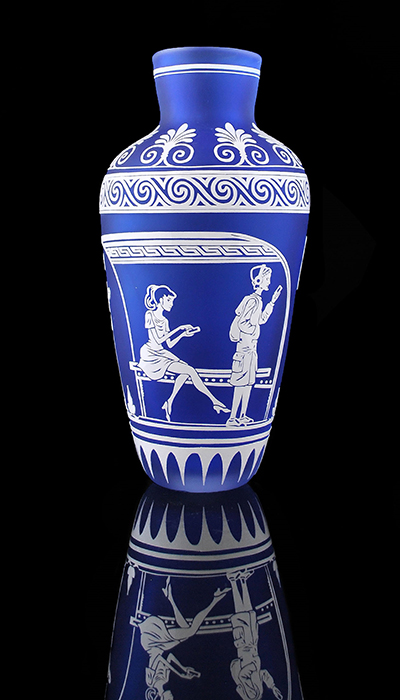 A UniSA masters student has been recognised as one of Australia's top emerging glasswork artists.
Jessica Murtagh, a Master of Design (Contemporary Art) candidate, has won the Vicki Torr Emerging Artist Prize for 2019. Formerly known as the Online Gallery Prize, the Vicki Torr prize is awarded to an early-career artist based on voting by Ausglass members and is worth $1500.
Influenced by her background in graphic design, Jessica's works incorporate illustrations and patterns combined with wide-ranging glass blowing techniques to explore themes of the natural world, climate change and classical narratives. Her Modern Relic series explores scenes and narratives drawn from classical Athens, set against a contemporary backdrop of technological development and its implications.
Jessica is currently an assistant in the glass workshops at UniSA and JamFactory. In 2019 she was a finalist in the Gallery M Contemporary Art Prize, Marion Cultural Centre, and the Pro Hart Art Prize, Broken Hill.
Celebrations for 'Priscilla' after crossing the desert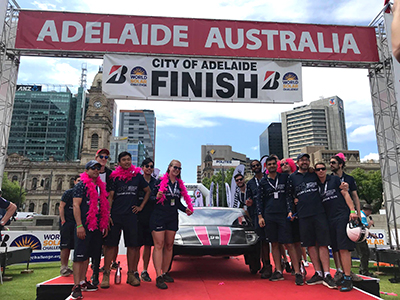 After two long years of work designing, testing and collaborating across Australia, the Australian Technology Network of Universities (ATN) in partnership with QUT made it to Darwin on 13 October for the start of the Bridgestone World Solar Challenge – as the ATN Solar Car team.
Students from UniSA, RMIT, UTS, Curtin and QUT came together to showcase what future vehicles may look like and how they can assist in the global effort of reducing carbon emissions.
The ATN car, named Priscilla, travelled 3020km from Darwin to Adelaide in scorching heat.
Almost completely custom designed by students, ideas and manufacturing methods were discussed at length mostly by teleconference – bridging the more than 3000km gap between students in Perth, Sydney, Melbourne, Adelaide and Brisbane.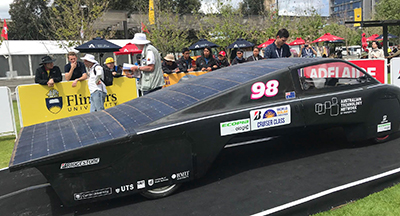 Priscilla's ultimate goal wasn't speed, it was practicality – to inspire and shape how we might travel in the future.
UniSA PhD student Erika Belchamber had one of the more complex and important jobs on the team – strategising how Priscilla would run. Factoring in wind, cloud cover and many other complexities, Belchamber would tell the drivers of the car how fast to go, what their battery level should be at and optimising the best driving patterns.
UniSA Vice Chancellor Professor David Lloyd and ATN Executive Director Luke Sheehy were at the finish line to welcome the team to Adelaide.
Sheehy says the project demonstrated what the ATN is all about.
"Collaboration, working with industry, and real-world research with impact," he said. "What the team has achieved is incredible."
MOD. exercise exhibit wins design award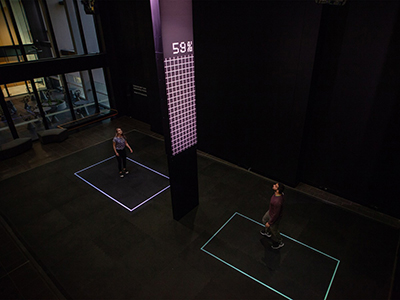 An exhibit at MOD. that proves exercise can be fun has received a national design award.
Creative designers Grumpy Sailor created Cascade as part of MOD.'s recent Hedonism exhibition.
Cascade was the centrepiece of MOD.'s Training Ground exhibit, which experimented with making exercise more pleasurable. Visitors were required to move around within a square to gain points and move up levels, receiving immediate feedback from the visual and sound design to encourage them to continue with physical activity.
Training Ground was informed by the research of UniSA's Dr Alyson Crozier, Professor Tim Olds and Associate Professor Gaynor Parfitt.
Grumpy Sailor won a Distinction in the Digital category of the AGDA Design Awards. AGDA is the peak national organisation representing the Australian communication design industry.
APPOINTMENTS
Top SA entrepreneur joins Australia's university of enterprise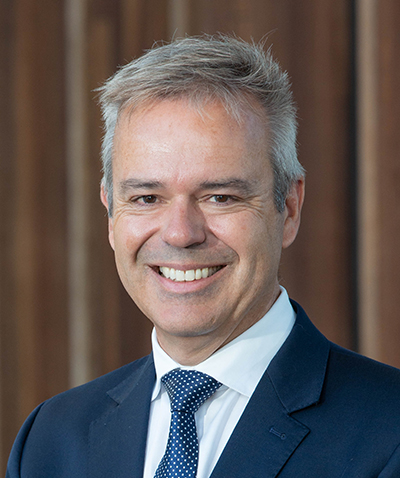 One of Australia's most successful business innovators, founder of four highly successful start-ups, including the green energy company ZEN Energy and 2010 Australian Entrepreneur of the Year – Professor Richard Turner – has joined UniSA as Entrepreneur-in-Residence and Industry Professor of Practice.
In his new role, Prof Turner has a wide remit to work with UniSA's high-profile business initiatives, including the Innovation & Collaboration Centre (ICC), the UniSA MBA, and the Australian Centre for Business Growth.
He will help to foster connections, commercialise innovation, inspire future entrepreneurs and supercharge the development of new and established businesses.
Prof Turner says he aims to help to tap into and connect the highly innovative ideas being developed at UniSA and support the University's already substantial investment in growing the economy at both a state and national level.
"The UniSA Business School is ranked in the top one per cent worldwide and has a track record of launching world-leading platforms to nurture new ideas and to help businesses grow," Prof Turner says.
"I hope to enhance that focus and share my expertise and networks.
"I believe South Australia has a natural competitive advantage in renewable energy generation that we must take advantage of quickly, if we are to lead the next wave of innovation, including globally competitive clean electricity and hydrogen production, that will feed into new developments in mining, defence, space and many aspects of the industry 4.0 revolution.
"We want to attract the students, start-ups and emerging businesses from all over the world to South Australia, to study, establish themselves here, and work at the leading edge of these new industries.
"To do that, we need to grow our talent base through targeted training, aligned with these industries.
"South Australia has the ideas and it has green resources in abundance, what we need to do better is connect people, attract investment, and model and market our enterprises with a complete commitment to success.
"Growing a business from inception to the $1m revenue mark can be a difficult task and requires significant experience sharing and support.
"I'm hoping to introduce new accelerator programs to provide a continued pathway for our successful start-ups to grow out of the ICC and become successful employers. We will offer support to navigate that path and then follow-on through UniSA's highly successful Australian Centre for Business Growth led by Professor Jana Matthews, which helps established businesses to succeed and expand."
As UniSA Entrepreneur-in-Residence Prof Turner will contribute to programs such as the Venture Catalyst Space program, a six-month incubator for space related start-ups, and leverage the potential of the new Venture Catalyst incubator in Whyalla.
UniSA Vice Chancellor Professor David Lloyd says having a leading business figure like Prof Turner join the University is an exciting opportunity.
"Richard has done it all – started with an idea and developed a whole enterprise – and he has done that successfully four times over," Prof Lloyd says.
"His experience is priceless and will be a huge advantage to our students, to our entrepreneurial researchers and the industry innovators that work with them, and to all the innovators we are encouraging at the ICC."
Pro Vice Chancellor of the UniSA Business School Prof Marie Wilson says the appointment underlines the University's commitment to growing innovation and business in SA.
"At UniSA we pride ourselves on doing business, not just talking about it, and Richard is a proven change-maker who knows how to get business done," she says.
ANNOUNCEMENTS
New scholarships to support regional students
Twenty prospective students will each receive a scholarship worth $15,000 a year to study at one of UniSA's regional campuses, after UniSA successfully applied to be part of the Federal Government's Destination Australia scholarship program.
Destination Australia provides scholarships worth $15,000 a year to students who study at a regional university or vocational education provider. They are intended to support the study and living expenses associated with studying.
The scholarships are open to both international and domestic students.
Ten scholarships will be offered to study at UniSA's Whyalla campus; and 10 scholarships to study at UniSA's Mount Gambier campus. Recipients need to start studying in 2020.
Details about how to apply will be published on the UniSA Scholarships website in the near future.
Final change plan released for Enterprise25 academic organisational transformation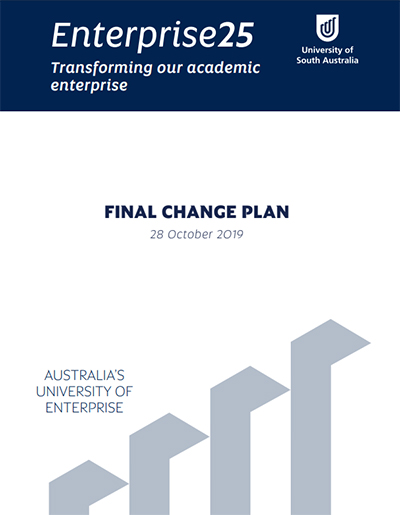 Following a period of extensive consultation and engagement with staff, students and the University community, UniSA has published a Final Change Plan to introduce a program-focused academic organisational structure for the University.
The Final Change Plan confirms the final structures of the Academic Units, the positions that will be affected, positions that will transfer to central administrative units, and further detail on the change implementation approach and timelines. A summary of the plan is available on the Enterprise25: Transforming our Academic Enterprise website.
The plan has been developed after consideration of all feedback received from staff, including 180 written submissions.
The next steps will be the release of a series of three Implementation Plan Papers for particular cohorts of UniSA staff, to help guide and support them through the transition process.
For general enquiries please email enterprise25@unisa.edu.au
Key role for UniSA in SA's training ground for minerals industry experts
In a partnership across universities, industry and government, UniSA will play an important role in the new ARC Training Centre for Complex Resources – building a greener and more productive future for Australian mining.
With Adelaide and Curtin Universities, UniSA will be educating postdoctoral researchers and PhD candidates in sensing and data science as it relates to the minerals processing sector, to ensure more efficient and effective mining operations.
It has been supported with $3.7 million from the Australian Research Council and a further $8.8 million in cash and in-kind from company and university stakeholders across the mining and technology sector, including BHP, OZ Minerals, Boart Longyear, Bureau Veritas, Datanet, Eka, Roqsense, Magotteaux, Manta Controls, Maptek, MZ Minerals, Orica, Petra Data Science, Sandvik and SRA IT.
Five key staff from UniSA's Future Industries Institute (FII) will be involved with the centre and its goal to develop the Australian industry as one of the most environmentally advanced, efficient and productive in the world.
Foundation fellow at FII, Dr Marta Krasowska says the goal is to increase the value in mining by developing leaner and cleaner processing capabilities.
"A major part of our role is to bring our work in advanced sensors for mineral processing into this centre, to connect with data analytics and process control. The students and researchers we train will learn how to apply cutting edge science, engineering, and mathematics to an industry that will underpin the transition to clean energy in the global economy," Dr Krasowska says
Prof William Skinner (FII) will lead UniSA's engagement as Deputy Director of the Training Centre and Co-CIs.
"South Australia has long been an innovator in the mining and minerals processing sector and our research success has been driven by a sector-wide goal of increasing efficiencies and output but at the same time developing practices that minimise the impact on the environment," Prof Skinner says.
He will be joined in the Centre by Prof David Lancaster from Engineering, Prof David Beattie (FII), Dr Jixue Liu (ITMS), and Dr Marta Krasowska (FII).
Hosted at the University of Adelaide under Director Prof Peter Dowd, the new training centre builds on an existing collaboration between UniSA and the University of Adelaide, through the State Government Research Consortia Program grant, Unlocking Complex Resources through Lean Processing and on previous industry links between UniSA and Magotteaux Australia through a recent Australia-China Science and Research Fund Joint Research Centre, In-line chemical and mineral sensing for sustainable mineral processing.
New cyber security resources to help staff and students

A new website and resources have been launched to help UniSA staff and students be more vigilant about cyber security.
The Cyber Security is Everyone's Business website provides information to help staff and students protect themselves, their data and the University from various cyber security threats.
Deputy Director: ICT Infrastructure and Cyber Security Karl Sellmann says technology is forever changing with the IT industry and society's use of smart devices, new applications and social media growing rapidly.
"Organisations now find themselves relying more and more on technology to enable their business and be connected with their customers," Sellmann says. "UniSA is similarly more reliant on technology to enable it to be the University of Enterprise.
"Unfortunately, the industry of cyber-crime is also growing rapidly. This has become even more evident with the public news of other Australian universities falling victim to cyber actors."
Cyber-crime is estimated to cost Australian business billions of dollars a year.
"It is now even more important for staff to be aware of measures that they can take to reduce their potential risks," Sellmann says. "The University has therefore embarked on a program of cyber security awareness and training."
In addition to the new website, UniSA has created a new interactive forum through Yammer to allow staff and students to keep up to date and interact with security specialists within ISTS. In Yammer, search for the group Cyber Security – UniSA.
"We also encourage staff to undertake the online training modules that are available through the website," Sellmann says.
The modules provide scenarios that staff may come across within the University or through your personal use.
"Our aim is to help staff understand, identify and operate effectively in this changing landscape."