Intensive course empowers women impacted by domestic violence and homelessness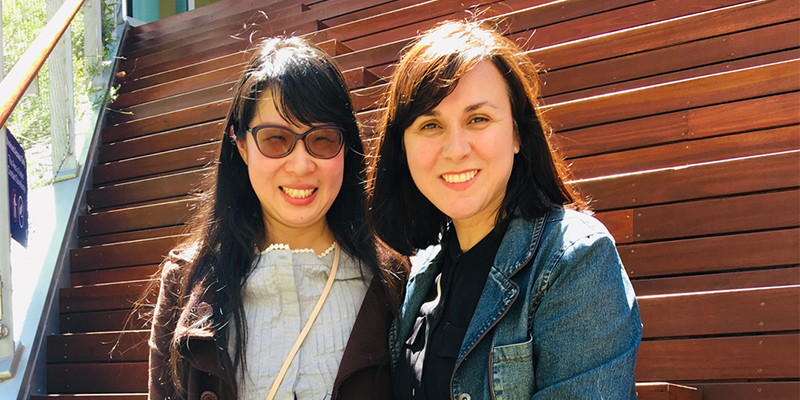 COMMUNITY
Twelve women experiencing homelessness or domestic violence have been empowered to undertake further education after completing a seven-week intensive sociology course run by UniSA.
UniSA College has just completed the latest version of an enabling education program for women who have recently been homeless or impacted by domestic violence.
The program is run in partnership with Catherine House, which provides accommodation and support services for women experiencing homelessness, and Zahra Foundation, which supports women affected by domestic violence.
It is part of the University's efforts to widen participation to students from underrepresented groups.
The women undertook a seven-week intensive foundation global sociology course in a supported environment on campus.
Lecturer and Program Director at UniSA College, Dr Sarah Hattam, says research has shown that providing opportunities for vulnerable and marginalised students to apply a "sociological imagination" to the study of global society can have a "liberating effect".
"The women involved in the project were overwhelmingly affirmative about their experience, reflecting on our approaches to create a comfortable space where they felt supported and open to share their views," Dr Hattam says.
"The sociological emphasis on opportunities for 'agency' has led to increased confidence and feelings of empowerment for a number of the women, who are now pursuing further study at UniSA."
Encouraging participants to apply "sociological imagination" to global issues with a focus on 'activism' and 'dissent' helped counter discussions that had previously made them feel 'constrained' or limited to make changes in their lives, Dr Hattam says.
Students were presented a global issue and asked to make sense of its origins and its sources by asking the question: "What is it about the way the society is structured that contributes to the phenomenon?". Topics covered included islamophobia, sweatshops in Bangladesh, inhumane refugee policies, resistance to gender diversity and the global division of wealth.
"In our in-class analysis we explore social movements, non-government organisations and inter-governmental organisations to consider their contributions towards these phenomena," Dr Hattam says. "The students engage with both the constraints that exist as well as being provided examples of people and groups pushing up against the structures to enact social, political or cultural changes."
Student Margaret Cocci says she learnt so much through the course.
"I [had] lost a lot of power and I couldn't understand why, but through the program I understood that the system had been broken," she says. "It was like a lightbulb for me – that's why I've loved being part of the UniSA College course for women."
Classmate Wei Gao says the program "opened new doors" for her.
"It wasn't about going there to just learn … we had direction, support, guidance and purpose," she says. "For women in situations like we were, this was the perfect way of getting into study. Other women in the course completely understood what we'd been through. It was so diverse – so many backgrounds and women of all ages with similar experiences. We learnt from each other."
Fellow student Jeanyne Jaud says it was "the best step back into the university environment" she could have hoped for.
"And I hope this course continues to be offered and taken up by as many women as possible. It's a life changer," she says.
To read more about the program including the teaching methodologies used by Dr Hattam and Dr Snjezana Bilic, read their article in the Journal of International Studies in Widening Participation.