UniSA takes reins on world first Invictus Pathways Program for Aussie veterans and first responders
By Chloe Byrne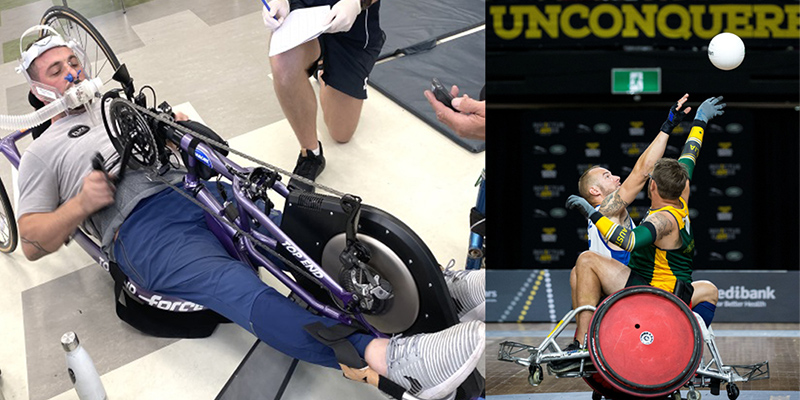 COMMUNITY
After a highly successful two-year partnership with The Road Home, UniSA has taken over the reins of the Invictus Pathways Program (IPP), an individually tailored training and fitness support program for veterans and first responders.

Inspired by Prince Harry's Invictus Games and the power of adaptive sports, the IPP supports participants to achieve life goals, compete in the Warrior Games, Invictus Games, regional games and local competitions, enhancing personal empowerment and reintegration into the community.
With continued support from The Road Home and transfer of its former suite of physical activity programs, the expansion of the Invictus Pathways Program will provide invaluable experience for final-year physiotherapy, exercise physiology, psychology and other allied health students, allowing them to apply their skills and knowledge in a real-world context. The program also forms part of several externally funded research projects.
For UniSA health sciences students, the benefits of participating in the Invictus Pathways Program go well beyond industry experience.
Bachelor of Exercise and Sports Science student Lachlan Darch says the work has challenged him in many ways.
"The program has presented me with unique situations and pushed my skills and knowledge beyond anything I have learned in previous placements," Lachlan says.
"I've also built relationships with the veterans I train and an understanding of their needs and with them, I've learned how to work through complex areas like physical restrictions and adapting approaches when they are experiencing a challenging mental health day.
"The participants' experience and knowledge has found me learning just as much from them as they have from me – the work is so valuable because I know I can make a difference in their lives."
Since its inception in 2017, the IPP has grown from providing just three initial student placements to 34 with more than 1500 clinical placement hours, supporting 40 veterans across a range of allied health fields.
Numbers are expected to increase again in 2020 with the increase in range of physical and sporting options made available in the newly expanded program.
UniSA Head of the Invictus Pathways Program and Pro Vice Chancellor for Health Sciences, Professor Roger Eston, says the IPP provides unique industry experience and gives students an edge when they look for work after graduation.
"UniSA is so proud to be the only university in Australia to offer this opportunity to its students," Prof Eston says.
"The skills gained through this program are specialised and industry-relevant. With mental health issues adding complexity to the support roles, it's invaluable that students are also learning how to navigate this area because it gives them a real depth of experience as allied health professionals when they graduate.
"Under expert clinical guidance and supervision, our students are building strong relationships and challenging themselves to go further to support veterans and first responders on their journey to rehabilitation.
"UniSA allied health students involved in the program graduate with innovative skills and advanced experience that is valuable to employers worldwide."
Prof Eston says integrating the IPP within UniSA's well established allied health suite of disciplines and expertise, allows students, staff and participants in the program to make the most of an interprofessional care model which revolves around the participant, to provide a multi-disciplinary and individually tailored program of support.
"This program goes beyond study – before they graduate, students achieve a real sense that through their professional education, they can make a difference to people's lives," he says.
"At the same the time the Invictus Pathways Program exposes our students to a remarkable and inspirational group of service men and women."
The Invictus Pathway Program participants are trained in UniSA's High Performance Sport Centre and allied health clinics, with additional access to the expertise of UniSA health professionals and researchers.