More flexibility for students through plan to bring together research and teaching
By Adam Joyce
Students will be able to more easily switch between on-campus and online studies as part of a new plan that will bring together UniSA's ambitions for teaching and research.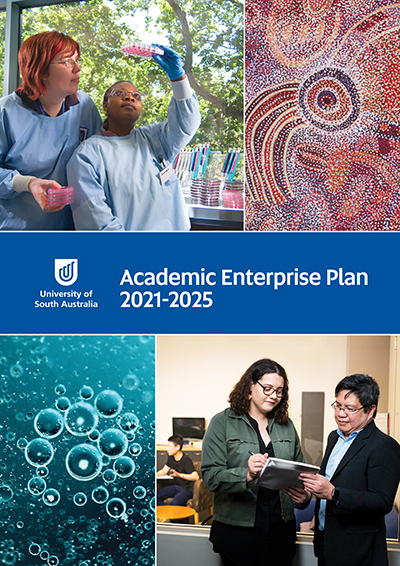 The UniSA Academic Enterprise Plan (2021-2025) aims for UniSA's flagship academic programs to be ranked among the world's best by 2025.
UniSA Provost & Chief Academic Officer Professor Allan Evans says many universities have separate plans for teaching and research, but bringing them together will ultimately benefit students.
"This is about ensuring our students get the best possible experience and are being well prepared for their future careers," he says.
Prof Evans says the University has always prided itself on having a curriculum connected to research and informed by academics who are undertaking their own research, which informs what and how they teach.
"The Academic Enterprise Plan is built around supporting and growing our staff to enable them to conduct their teaching and research more effectively.
"Teachers, researchers and professional staff from across the University will be intimately involved in the development of a range of projects emerging from this plan," Prof Evans says. "And in every case we're going to look at it from the perspective of how it impacts on the teaching and learning of students, as well as the impact it has on our research ambitions."
One of the key projects will be enabling a more flexible student journey.
"It's not always easy for students to flip between an on-campus qualification and an online course, so we're going to make that easier," Prof Evans says.
"A student may wish to start off face-to-face but find that family demands, workplace demands or travel needs mean they can no longer attend university in person … we'll make it easy for students to be able to complete their degree from anywhere in the world, if that's what they want."
As part of the project, the scheduling of online and on-campus studies will be better aligned – making it easier to switch between modes.
Prof Evans says another project will consider if there are better ways to assess students than exams and essays.
"We want to take a step back and ask the question: is this the best way possible of assessing a student's qualities and skills to be successful in the workforce? Maybe it's time to abandon the traditional approach of having thousands of students in an examination hall; or of asking students to submit 5000-word essays."
The University will be inviting input from students, as well as external partners and stakeholders such as employers, as part of the examination of student assessment.
Making it easier for industry and community to work with UniSA
UniSA Deputy Vice Chancellor: Research and Enterprise Professor Marnie Hughes-Warrington says the pandemic has helped highlight the value of research and education working hand-in-hand.
"If we think about people receiving vaccines; and people thinking about how they can regenerate economies – it comes from research and education working together," Prof Hughes-Warrington says. "By developing this single plan, we signal our leadership in Australia and the world in having research and education done in tandem in ways that make the biggest difference in our everyday lives."
She says when people outside the university, such as community and industry groups, look in, they don't differentiate between education and research.
"What they see is the energy of one team at UniSA working together to make that difference."
One of the underpinning projects is the UniSA Enterprise Hub, an online portal and physical shopfront for industry, government, community and not-for-profits to engage with UniSA.
"It's an incredibly exciting project which brings together education and research, ensuring that partners who want to work with us, who are new, know where to go to get help and amplifying the partnerships we already have so that they get the support they need," Prof Hughes-Warrington says.
"It's about seeing the university from the outside in, making sure it's easy to find us, work with us, partner with us and that our business processes support that – amplifying our position as Australia's leading industry-intensive university."
Another project connected to the Academic Enterprise Plan is the UniSA Visiting Research Fellows Scheme, which will bring some of the world's most talented minds and practitioners to Adelaide to work in partnership with UniSA researchers, students, business and the community.
"We want to make sure that South Australia is understood as Australia's innovation capital," Prof Hughes-Warrington says. "So we're inviting people to see the gem that is South Australia. We want them to experience what a great place Adelaide and our regions are. We want us all to benefit from the knowledge exchange but also to create great ideas together and strengthen our position globally."
A key aspect of the program will be the involvement of Aboriginal researchers as visiting fellows.
"It's an incredibly important commitment to recognising the wealth and richness of Australian Aboriginal knowledges – recognising those researchers and bringing their knowledge to our University, teaching us, helping us to understand the power of country and how important those knowledges are for making Australia a truly exceptional place and a place of true innovation," Prof Hughes-Warrington says.
The Academic Enterprise Plan (2021-2025) encompasses five strategic priorities:
Strategic Priority 1 – Growing and celebrating enterprising staff
Strategic Priority 2 – Leading with our programs
Strategic Priority 3 – Enterprising engagement
Strategic Priority 4 – Shaping a better world together
Strategic Priority 5 – Accelerating innovation through shared places.