Bradley Building dedicated in celebration of champion of education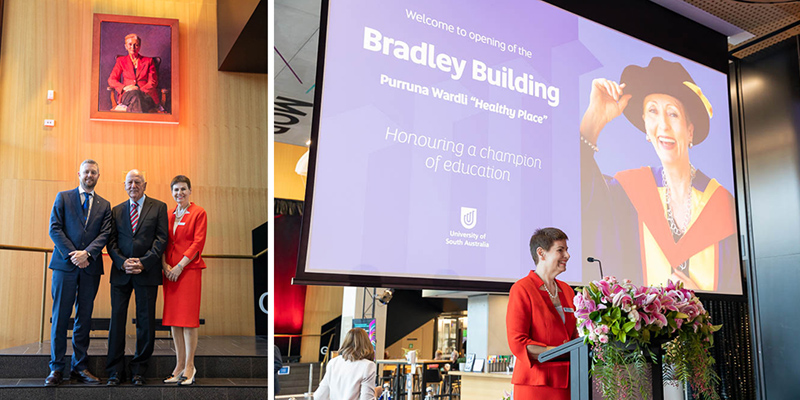 COMMUNITY
UniSA has honoured the life and contribution of former Vice Chancellor, Emeritus Professor Denise Bradley AC, by dedicating its flagship health research and public engagement building in her name.
Family, friends and colleagues gathered at a ceremony in March where the building, formerly known as the UniSA Cancer Research Institute, officially became the Bradley Building.
As part of the celebration, UniSA Chancellor Pauline Carr unveiled a portrait of Prof Bradley in the building foyer. In addition, a plaque at the entrance quotes the late Prof Bradley's farewell address to the UniSA community where she remarked that "The days of a successful university must all be first days".
UniSA Vice Chancellor Professor David Lloyd said Prof Bradley was one of Australia's greatest educators and educational leaders.
"From her earliest days as an educator, Denise was a fierce advocate for the vital role of education in transforming lives," he said at the event. "She fiercely believed in the equality of access to opportunity that education provides."
He said Prof Bradley helped mould UniSA into an institution "unshackled by tradition, where optimism, industry connectivity and inclusion were all foundational values and where more Australians from diverse backgrounds could start to building their careers".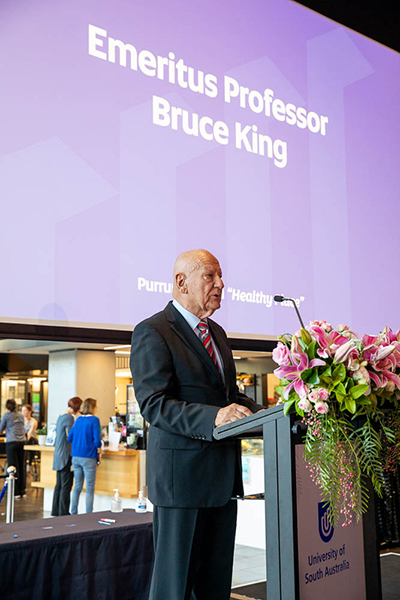 Prof Bradley's husband, UniSA Emeritus Professor Bruce King, said Prof Bradley would have loved the building named in her honour.
"She'd see it as a kind of symbol for the impact that the University has on the state," he said. "Here it stands proudly down in West Terrace, an area which when she took over was largely derelict, we're standing on what were almost the railway lines.
"Now we have this magnificent combination of buildings down here, showing the success and the wonder that the higher education sector has been able to bring to this part of Adelaide.
"Denise was a formidable Vice Chancellor, she actually helped conceive the idea of the University of South Australia, she led it through its very early, difficult, financial years, and then she, with the support of so many other people, managed to build it into an institution which is now part of the history of Australian education – it's a real success story. She'd be enormously proud."
After a long and courageous battle with cancer Prof Bradley died on 20 March 2020 just as COVID-19 restrictions and travels bans came into play – delaying plans for a ceremony.
The Bradley Building on North Terrace is a flagship research, teaching and public engagement facility for the University. It is home to UniSA's key Clinical and Health Sciences research concentrations looking into diseases such as cancer, diabetes, heart and cardiovascular disease and a range of related therapies. It is the base for research into population health, radiotherapy and genomics and includes teaching spaces in fields such as pharmacy and other postgraduate programs. The building also houses UniSA's future facing Museum of Discovery MOD. and the Innovation Collaboration Centre (ICC).
The event was attended by South Australian Governor Hieu Van Le AC, Matt Cowdrey MP representing the State Government, Dr Susan Close representing the Opposition, former UniSA Vice Chancellor Professor Peter Hoj, former Chancellor Ian Gould, and Maggie Klingberg.
For more photos, see the In Pictures section of UniSA News.