Graduate puts second chance education in focus
By Rosanna Galvin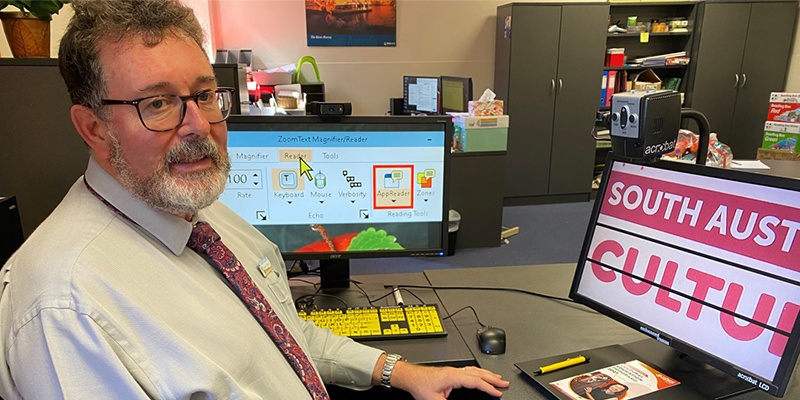 COMMUNITY
> Honours for arts icon Robyn Archer and innovative leader Paul Flynn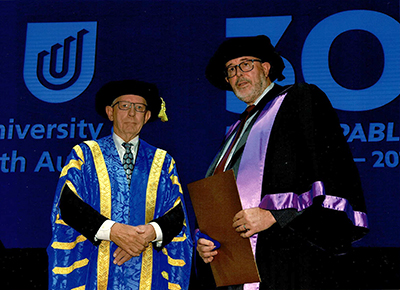 When Dr Malcolm Lobban crossed the stage at the UniSA graduation ceremonies in April, it was the final step in the legally blind student's 10-year journey to become a Doctor of Education.
Dr Lobban was 19 when he was classified legally blind, promptly losing his driver's license and his livelihood. The diagnosis was a hard blow for the teenager who had already left university after his deteriorating eyesight made keeping up the readings impossible.
At the time, a government worker told him to consider moving into an institution for the blind. Instead Dr Lobban says he got to work, going on to build a successful career in the public service.
"I was determined to oversee my own destiny and not be a victim – I never want to let my disability hold me back," he says.
"I worked many jobs but eventually made a career in the public service where I stayed for 15 years. When I was 35, the opportunity came up to take a redundancy package. I decided to go back to university and become a teacher, specialising in special education."
After several successful years in the classroom working as a teacher and student counsellor, Dr Lobban secured a scholarship to undertake a Graduate Certificate in Career Development at UniSA. It was a move that would mark the start of his decade-long pursuit to become a Doctor of Education.
Dr Lobban, who was working as an adult educator at the time, decided to focus his research on second chance education – the alternative learning opportunities for adults who did not complete the conventional academic pathways of secondary school and post-school study.
It is a topic close to his heart. Dr Lobban says interviewing more than 50 adult learners for his research reaffirmed his belief in the power of education to change people's lives for the better.
"The responses were overwhelming – having a second chance at education made a huge difference in people's lives," he says.
"These people were disenfranchised. They had often been stripped of power and had experienced domestic violence, drug or alcohol addiction, or homelessness. One of the key findings of my research was how worthwhile adult education is for both the learners and society more broadly.
"As well as improving employment outcomes, adult education can improve mental health and provide fulfilment and purpose to someone's life.
"I've experienced a fair bit of disadvantage in my own life, but I've been able to rise above it through education."
During his postgraduate studies, Dr Lobban continued to work full-time and was promoted to Assistant Principal of Hamilton Secondary College in 2016. In addition to the challenges of balancing work, study and family life, his disability meant he had additional obstacles to overcome, particularly when it came to the volume of reading required at a postgraduate level.
Dr Lobban says his final thesis contains more than 800 references and – unlike most students who can read wherever and whenever they want – all of them had to be done using a closed-circuit television.
"I can't really sit down and read a book on the train or anything like that," he says.
"It can be quite tiring and hard on the eyes to always be reading off a screen. It wasn't always difficult, but it was a lot of work.
"I did worry sometimes that my thesis was taking so long to complete. I changed jobs three times during the process, watched two of my daughters get married and became a grandfather. Now it's finally over, I'm proud of what I've achieved."
Dr Lobban was one of more than 3200 students who graduated across 31 ceremonies in April and May.
To see more photos from graduations, visit the In Pictures section of UniSA News.
Honours for arts icon Robyn Archer and innovative leader Paul Flynn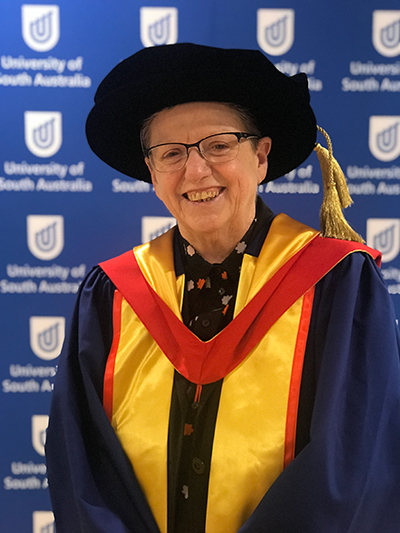 Renowned singer, writer, artistic director and public advocate for the arts, Robyn Archer AO (pictured right) was awarded an Honorary Doctorate from UniSA during the April/May graduations while Chief Executive Officer of the Hospital Research Foundation (THRF) Group, Paul Flynn (pictured below), became a University Fellow.
Archer was honoured for her distinguished service to the community, acknowledging her extensive contribution to the arts as both a creative and a mentor, dedicated to developing the next generation of arts and cultural leaders.
In awarding the Honorary Doctorate, UniSA Vice Chancellor Professor David Lloyd said Archer's creativity has touched audiences around the world while her passion and drive have had a significant influence on the arts and culture scene in Australia.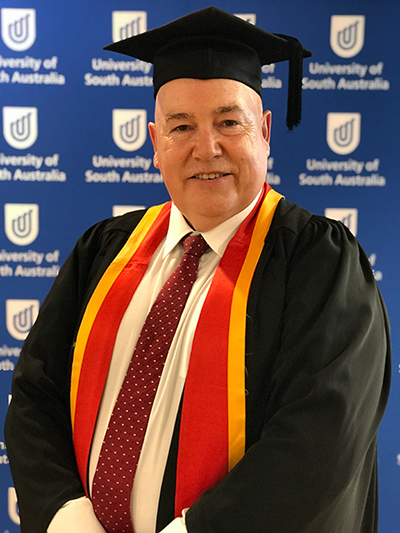 "On behalf of the University, I would like to acknowledge Robyn's role in shaping the contemporary arts sector in Australia," Prof Lloyd said.
"Considered by many as a national treasure, we are honoured to have Robyn join the UniSA community."
Flynn was named a University Fellow in recognition of his outstanding contribution to the growth and the development of UniSA.
An accomplished board director and executive in both the finance and not-for-profit sectors, Flynn has been the CEO of THRF Group since 2009. During this period, he has regularly collaborated with UniSA to drive research projects that benefit the wider community.
Prof Lloyd said that under Flynn's leadership, THRF Group has helped the University expand its research reach and impact.
"Paul has an impressive track record of leadership in the non-for-profit sector, delivering real outcomes for the community," Prof Lloyd said.
"We have benefited immensely from his expertise and innovative thinking and we look forward to continuing to work with him on research projects that make a difference."
For more information, see the related media release.