Achievements and Announcements
ACHIEVEMENTS
ANNOUNCEMENTS
ACHIEVEMENTS
UniSA professor recognised for leadership in graduate research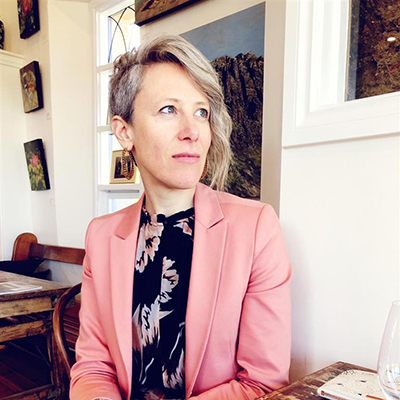 UniSA Professor of Work and Organisational Psychology Professor Michelle Tuckey has received a special commendation in the 2021 ACGR Awards for Excellence in Graduate Research Education for her work supporting the wellbeing of research degree students.
Established in 2017 by The Australian Council of Graduate Research, the awards publicly promote outstanding performance in higher degree research supervision, leadership and industry engagement.
The special commendation for Excellence in Graduate Research Leadership recognises Prof Tuckey's achievements in designing a high-quality research training ecosystem that supports candidate mental health in parallel with timely progress and completion.
"This work really combines two of my passions to drive innovation," Prof Tuckey says. "Firstly, my love of graduate research supervision and secondly, my own research program focused on designing quality work and work environments for wellbeing.
"Working with other great colleagues, I was able to apply work design principles to generate new support strategies for candidates and supervisors, leading to more effective progress and greater timely completions across multiple schools within UniSA.
"I also led a research project to explore how HDR candidature shapes and is shaped by candidate mental health, the results of which informed a range of initiatives across UniSA such as candidate access to our employee assistance program.
"I'm humbled and happy to be honoured with this special commendation for graduate research leadership, amongst other passionate leaders in this space."
Prof Tuckey's graduate research leadership has been a key factor in enhancing the mental health, wellbeing and success of HDR candidates within UniSA and nationally.
Acting Dean of Graduate Studies Professor Sandra Orgeig says the special commendation is worthy acknowledgement of Prof Tuckey's contribution.
"Michelle has used her exceptional skills as a researcher in understanding the influence of the work environment on a worker's wellbeing and their quality of work, together with her experience as a supervisor, to significantly enhance the mental health, wellbeing and success of HDR candidates within UniSA and nationally," Prof Orgeig says.
"This commendation is well deserved recognition of her leadership and I'm delighted to see her contributions in research education recognised and celebrated nationally by our colleagues."
Prof Orgeig also says that generally UniSA has performed strongly over recent years in terms of national recognition of staff contributions to excellence in graduate research education.
"Since the inaugural awards in 2017, the University's supervisors have received recognition four of the five years through awards or special commendations," Prof Orgeig says.
Nine global space startups to join Australia's first space dedicated incubator program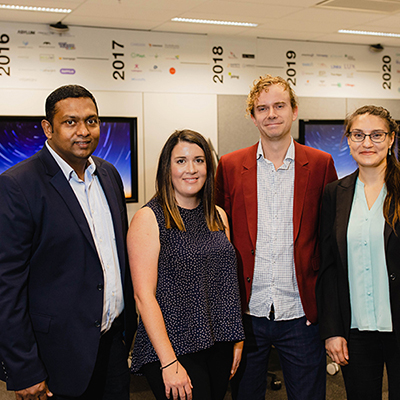 Nine space startups have been selected to take part in a program that provides support and tools to plan and successfully build a scalable and investment ready business.
The nine startups were merit selected for a place in the Venture Catalyst Space program, supported by the South Australian Government's Space Innovation Fund. The program is the first of its kind in Australia.
Startups will receive the individual support through a tailored program with all equity and intellectual property remaining with the company.
Premier Steven Marshall says the incubation program is helping ensure that leading space startups are supported in early stage operations, which is crucial to creating a space ecosystem conducive to sustained growth.
"As a state and as a nation, we must continue to support the pipeline of startup and scale-up space-related companies to build on and sustain our space economy," he says.
Each company will receive funding, access to specialist business acceleration workshops, one-on-one mentoring, a modern co-working space, and technical resources and tools.
They will work with global industry experts, including Kirk Drage (along with his company LeapSheep), and key representatives from the space industry including former NASA astronaut and space shuttle commander, Pam Melroy.
UniSA Vice Chancellor Professor David Lloyd says that, as the home of the Australian Space Agency and a thriving startup community, South Australia is at the forefront of the Australian space industry.
"At UniSA, we're giving startups and entrepreneurs with great ideas the tools and support they need to become sustainable businesses,'' Prof Lloyd says.
"As Australia's University of Enterprise, our culture of innovation is anchored around global and national links – and we are excited that our Venture Catalyst Space program is growing and supporting the State's economy."
The companies taking part in the program are South Australia's Firefly Biotech, Locus Rose, Hex20, Moonlode and SPACELIS, joined by India's 114ai & Digantara, Astroport Space Technologies (USA) and satsearch (Netherlands).
For more information, read the full media release.
UniSA child protection expert appointed to Tasmanian sexual abuse commission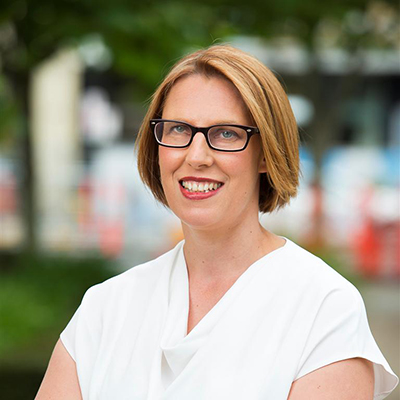 The co-director of UniSA's Australian Centre for Child Protection, Professor Leah Bromfield, has been appointed as a Commissioner on the Commission of Inquiry into the Tasmanian Government's Responses to Child Sexual Abuse in Institutional Settings.
Prof Bromfield is one of Australia's foremost child protection researchers and she will join former Supreme Court judge, the Honourable Marcia Neave AO, and former Family Court judge, the Honourable Robert Benjamin AM, on the commission, with Commissioner Neave appointed president.
Prof Bromfield brings extensive experience to the position, having served as the Professorial Fellow to the Australian Government's 2013 Royal Commission into Institutional Responses to Child Sexual Abuse, with a career spent working to implement evidence-based reforms to policy and practice to better prevent and respond to abuse and neglect.
"The Tasmanian Commission is an opportunity to build upon the work of the Australian Royal Commission into Institutional Responses to Child Sexual Abuse to contribute to better protect children and improve responses to victim-survivors," Prof Bromfield says.
"I was born in Tasmania where I attended Tasmanian run government schools and health services, so there is a personal significance for me in the safety of Tasmanian children."
The commission will investigate incidents of child sexual abuse in institutional contexts including Tasmanian government schools, health settings and at the Ashley Youth Detention Centre.
Students secure scholarships to drive innovation in SA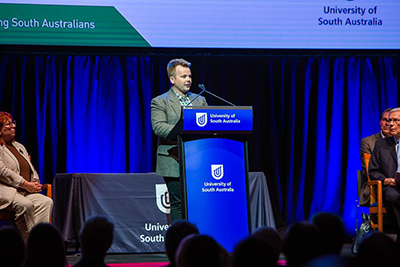 Four aspiring UniSA scientists and engineers will receive financial support towards their studies thanks to the Playford Memorial Trust Scholarships announced at a ceremony at Pridham Hall in April.
Together with partners in industry, government and education, the Playford Trust supports high-achieving tertiary students who are studying in subject areas of strategic importance to the future of South Australia.
The UniSA winners comprised:
Bachelor of Science (Honours) student Jerusha King received a Playford Trust Honours Scholarship. Jerusha's research will measure the ecosystem impacts of the recent dieback of Stringybark trees in the Mount Lofty Ranges using remotely sensed data from satellite, drone and field micro-sensors.
Bachelor of Engineering (Honours) (Electrical and Mechatronic) student Kane O'Brien received a Playford Trust Honours Scholarship. An electrician by trade, Kane's research interest is digital signal processing. One of three students to present his research at the scholarships award ceremony, Kane plans to work in the defence and space industry in South Australia after graduating.
Bachelor of Engineering (Electrical and Electronic) (Honours) student Chetan Gautam received a Nyrstar / Playford Trust Scholarship. Chetan has a strong interest in the potential of renewable energy, underpinned by childhood memories of power outages that could last for 18 hours a day in his home country of Nepal.
Bachelor of Civil Engineering student Andisheh Lashgari received a WSP / Playford Trust Scholarship. Andisheh is interested in geotechnical engineering and plans to focus her Honours project on a subject related to soil mechanics.
In announcing this year's scholarship recipients, Playford Memorial Trust Board chair and former Premier Dean Brown said fostering skills and research in areas where South Australia has the greatest competency and opportunity will help meet the state's growing need for skilled staff in the future.
Bike tour surpasses target, raising more than $500k for cancer research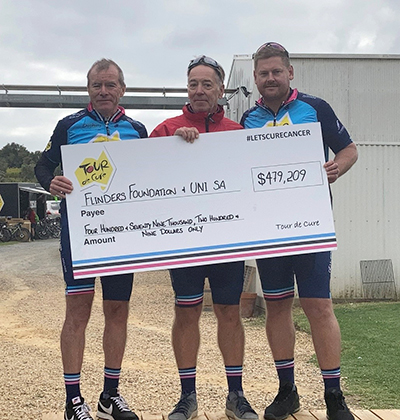 More than $500,000 has been raised for cancer research through a charity bike ride involving UniSA staff.
In April, UniSA joined forces with Flinders Foundation and Tour de Cure for the 2021 South Australian Discovery Tour (SADT), a three-day bike ride that raised more than $523,600 in total for vital cancer research at both the University and the foundation.
The team – made up of a number of UniSA staff and researchers – took to the roads of SA's wine country, riding more than 450 kilometres, over three stages through Clare, the Barossa Valley, Adelaide Hills and McLaren Vale.
The five pelotons and support crews also visited Clare Primary School, Vineyard Lutheran School and Manoora Primary School to share their "Be Fit, Be Healthy, Be Happy" cancer prevention message. They also sampled some of South Australia's finest exports while raising money for cancer research.
After a hugely successful 2021 SADT and the fundraising target healthily surpassed, proceeds will go towards Professor Clive Prestidge – who took part in the tour after his own battle with cancer – and his team's research into developing safer and more effective chemotherapy for bowel cancer at UniSA's Nanostructure and Drug Delivery research group.
A dedicated group of Prof Prestidge's fellow cancer researchers and staff also donned their lycra to join the ride.
Participants included Strand Leader and Lloyd Sansom Chair in Biomaterials Engineering & Nanomedicine, Professor Peter Hoffmann and Associate Professor Ivan Kempson of the Future Industries Institute (FII), Rob King of the Centre for Cancer Biology, and Dr Jessica Logan, research fellow in the Mechanisms in Cell Biology and Disease research group (MICBAD).
Other participating staff members included Senior Advancement Executive Paul Finn, University Chemical Officer Charles Nelson, Director: Defence & Space Matt Opie, Institute Manager Kellie La Fontaine, International Marketing Support Officer Deanna Hall, Adjunct Professor of Law and Criminal Justice Professor Rick Sarre, Deputy Director Marketing and Student Recruitment Ryan Bailey, and Associate Professor Colin Hall of the Energy and Advanced Manufacturing Strand at FII.
Each cyclist has a personal connection to cancer – whether they are survivors, supporting loved ones with cancer or paying tribute to loved ones that have succumbed to it, or are researchers or staff dedicating their careers to eradicating it – making their efforts to raise $523,600 even more meaningful.
For more information or to donate to the cause visit the Tour de Cure website.
Stage manager wins arts and cultural management grant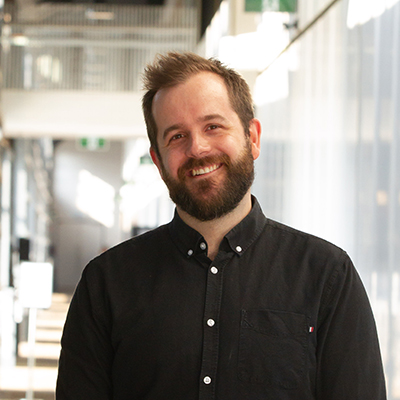 Sydney-based stage manager Todd Eichorn (pictured right) will get a cash injection to support his creative career after receiving this year's Ruth Rentschler Arts and Cultural Management Grant.
The high-achieving Graduate Diploma in Arts and Cultural Management student was selected for the award based on his passion and drive for arts and cultural management and his strong engagement with the arts community.
Like many in the arts industry, Todd lost employment opportunities and income in 2020 when the global pandemic forced many shows to shut down. He says the grant will help him continue his studies and pursue new practical experiences.
"The past 18 months has been incredibly difficult for everyone, particularly those in the arts industry," he says.
"I am glad I have had my studies to keep me focused, engaged and grounded. It has been wonderful to connect with lecturers and fellow students, and to engage with a diverse – and robust – community that shares a passion and enthusiasm for the arts.
"I am exceedingly grateful to be this year's recipient of the Ruth Rentschler Arts and Cultural Management Grant, which will allow me the opportunity to further my studies and pursue more practical career development opportunities."
The Ruth Rentschler Arts and Cultural Management Grant of $4000 is awarded annually to a student enrolled in either the Master of Management (Arts and Cultural Management) or Graduate Diploma in Management (Arts and Cultural Management).
ANNOUNCEMENTS
UniSA signs Soldier On Pledge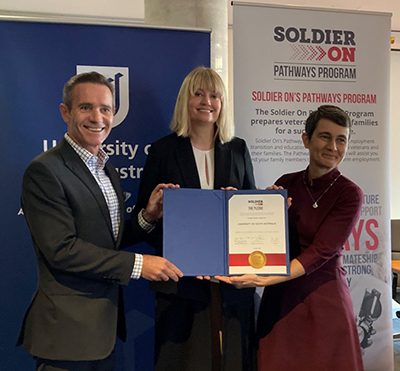 UniSA has built upon its support of the defence community by signing a pledge with not-for-profit veteran support organisation Soldier On.
UniSA became a Soldier On Bronze Pledge partner in April. The pledge provides pathways for veterans and their families transitioning from the Australian Defence Force into civilian life.
The pledge allows organisations to thank Australian Defence Force personnel for their service and recognise the exemplary skills, leadership and training of those who have served Australia.
As the University of Enterprise for defence, UniSA has a longstanding relationship with the defence community in research and education.
UniSA Deputy Vice Chancellor Research and Enterprise Professor Marnie Hughes-Warrington says becoming a Soldier On Pledge Partner would continue UniSA's strong support of the defence community.
"Our new Veterans' Engagement and Education Program offers personalised study support to veterans, serving and ex-serving ADF members, including reservists, first responders, and immediate family members," Prof Hughes-Warrington says.
"Through our Invictus Pathways Program, we are also providing wellbeing activities and allied health services to ex-defence force personnel."
More information is available on the Soldier On website.
UniSA celebrates five years of supporting future female leaders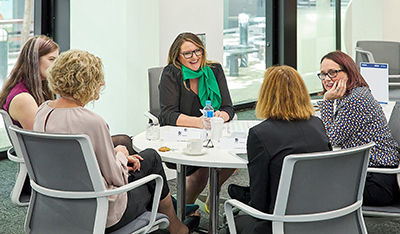 UniSA is celebrating five years since the introduction of the Women in MBA scholarship (WiMBA) program, which has seen 28 high-achieving women with leadership potential supported to undertake MBA studies.
The WiMBA scholarship, first offered in 2016 to address the gender imbalance in the leadership and executive roles in male-dominated industries, was developed by then leader of UniSA Business (now UniSA Campus Consolidation Coordinator) Professor Marie Wilson along with counterparts from five other Australian universities.
The scholarship, equally funded by UniSA and the student's employer to cover the MBA fees for emerging female leaders, also requires the employer to provide the student with flexibility to undertake their studies, a career mentor, and supportive career pathway options.
Prof Wilson says the employer's involvement was integral in creating the conditions for positive change within traditionally male-dominated organisations and industries.
"We wanted to make sure employers were putting forwards women for future leader development because it was good for their organisation, and that they would be supportive of those women as the future of the organisation," she says.
Executive Director of the UniSA MBA, Peter Stevens, says he is proud of UniSA Business's commitment to gender and diversity issues.
"In 2016, 35 per cent of our MBA cohort were female," he says. "Today that number is 47 per cent. It speaks to the passion and energy that UniSA has for making progress on gender equality."
For more information on the WiMBA scholarship program, visit the MBA scholarships webpage.
Nova Systems and UniSA collaborate to grow local smarts in emerging capabilities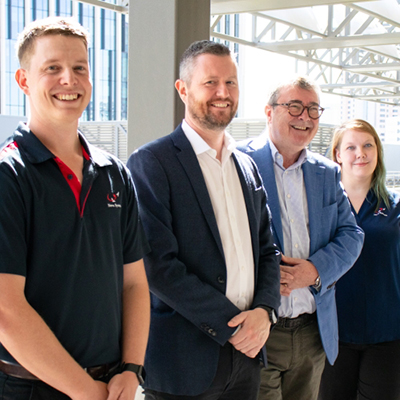 In an effort to support Australia's growing space, defence and national security capabilities, Nova Systems and UniSA have committed to explore opportunities for collaboration.
Nova Group CEO Jim McDowell and UniSA Vice Chancellor Professor David Lloyd signed a Memorandum of Understanding (MoU) earlier this year, in a commitment to working closely over the next five years in industries critical to the state's economy.
The MoU is focused on growing the future pipeline of engineers and conducting industry and academic exchanges in emerging technology areas, with a particular emphasis on defence, national security and space.
It will see the organisations collaborate in a range of areas, including:
Staff and student placement opportunities including options to grow Nova's award-winning graduate program.


Collaboration in research development and technology focused on defence, national security and space.


Joint development of training, education and short courses in support of defence, national security, and space industrial capability.
Nova Group CEO Jim McDowell says the signing strengthens the existing relationship between the organisations and will benefit the future workforce, who will be at the forefront of emerging technologies.
"This initiative will provide more opportunities for young Australians to gain industry insight, while at the same time studying at university, furthering the Australian Government's efforts to create and sustain a local workforce of the future," he says.
Collaboration in developing external short courses which support developing industrial capabilities will also be explored, including leveraging Nova's established training in core capabilities, such Test and Evaluation.
UniSA Vice Chancellor Professor David Lloyd says the MOU will enable collaboration on world-class research and the provision of employment opportunities for graduates.
"The defence industry is a critical part of the South Australian economy – it's essential that, as a university, we work closely with industry to educate a local, high-tech defence workforce for the future," Prof Lloyd says.
For more information, read the media release.