Three decades at UniSA: staff member proves she's 'unstoppable'
By Rosanna Galvin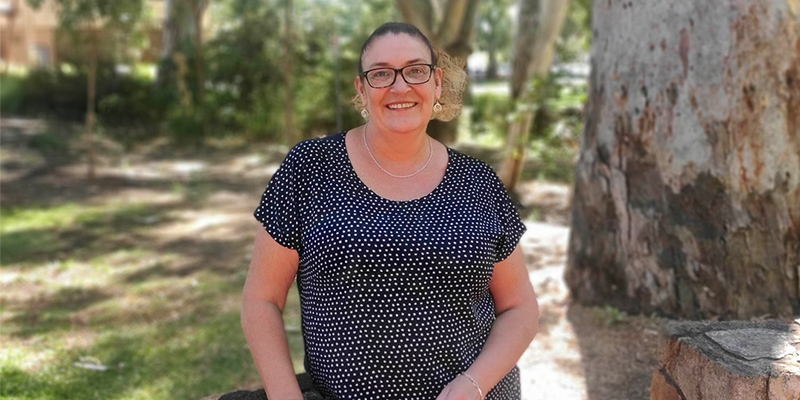 INSIDE UNISA
From human resources and health sciences to education and social work, Kirsty Rogerson's career at UniSA has spanned several disciplines, multiple campuses and three decades. This year as the University marks its 30th anniversary, Rogerson will celebrate 30 years of service.
Starting out as a clerical officer in the former Underdale campus (closed in 2005), Rogerson remembers the transition of the letterhead branding from the South Australian College of Advanced Education to UniSA.
Thirty years on and Rogerson is now based at Magill, working behind the scenes to support about 500 students to undertake work placements every year as a Senior Placement Officer.
She says she has no plans to leave the role, which involves working with organisations across Adelaide to help the next generation of social workers and psychologists take the first steps in their professional careers.
"I've worked in many roles across the University but it's when I took on a position in student administration that I really found my passion," Rogerson says.
"Meeting students, building that personal connection – that's what I love. At the end of the day, students are why we're here.
"I've had all sorts of students come through my doors over the years. Of course, there's the odd one that stands out for the wrong reasons but overall, it's been very positive.
"I particularly enjoy working with mature-aged students – I even came across the mum of one of the people I went to school with. It's always nice to see them succeed."
One of the most powerful experiences Rogerson recalls is her time working in program support at what was then the Faculty of Aboriginal and Torres Strait Islander Studies – the first of its kind in Australia.
"I started working at UniSA straight out of high school and it opened up a whole new world for me," she says.
"This was especially the case when I worked with the Aboriginal and Torres Strait Islander programs. By attending events like NAIDOC Week and meeting students who had come down from the APY Lands, I learned a lot about our nation's history.
"I think that's why I've stayed at the University for so long – you never stop learning. No two days are the same, there is always something to learn and more experience to get.
"I feel a sense of pride when I tell people where I work."
While Rogerson has seen a lot of change during her 30-year career at UniSA, including the opening of new campuses and an increasing shift to digital, she says one thing has remained the same – the sense of community.
"It doesn't matter if you're talking to students, professional colleagues or academics – there has always been a real sense of connection here, a network," she says.
"I've had after-work drinks with the gardeners and groundskeepers, worked alongside professors, celebrated with students at their graduations. I even met one of my very best friends here – I was in her wedding and we're still close.
"It's a community and I feel lucky to be a part of it."