"What do stars do? They shine" … UniSA honours author and creative dynamo, Neil Gaiman
By Michèle Nardelli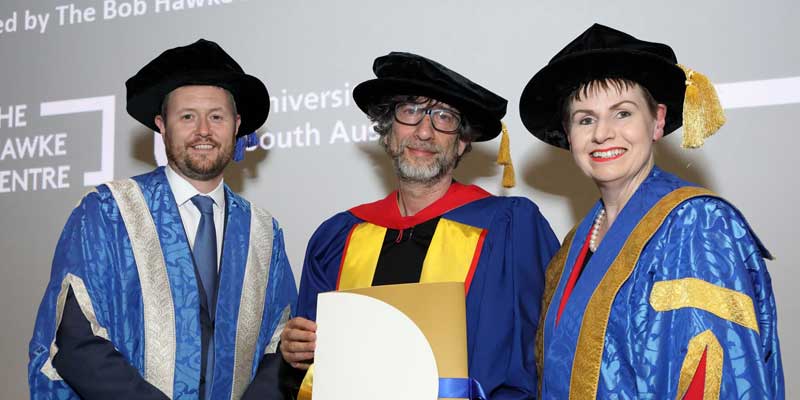 COMMUNITY
The creator of Stardust and Coraline, American Gods, Good Omens (with Sir Terry Pratchett) and prize-winning author of short fiction, novels, comic and graphic novels, non-fiction, journalism, audio theatre and films, Neil Gaiman, has been awarded an Honorary Doctorate by UniSA.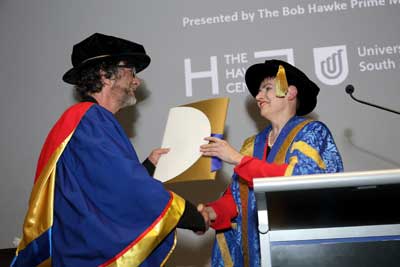 The Honorary Doctorate was awarded during at a special event presented by the Bob Hawke Prime Ministerial Centre at City West in March.
The event featured the author in conversation with UniSA Vice Chancellor, Professor David Lloyd, where the pair discussed Gaiman's career, his books and films, the craft of storytelling and creative collaboration.
Prof Lloyd says it was great to be able to share the event with the SA community and give a local audience insight into the author and his works, and at the same time, acknowledge Gaiman's contribution to literature and the creative industries.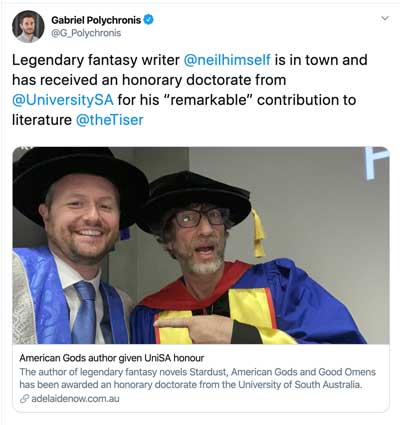 "Moving across genres and media, Neil is not only prolific, he one of the most creative, versatile, and clever writers of our times," Prof Lloyd says.
"He has huge international popularity, reflected by his 2.7 million Twitter followers, and his influence extends to everything from Marvel and DC Comics to BBC TV series, audio plays and public lectures on the nature of storytelling.
"Informed and engaged by the many books he consumed as a child, Neil is deeply connected to the art of storytelling and its place in history and culture, but he is also a man of his times, able to develop and adapt both novel and traditional stories across a wide range of media and for new and varied audiences.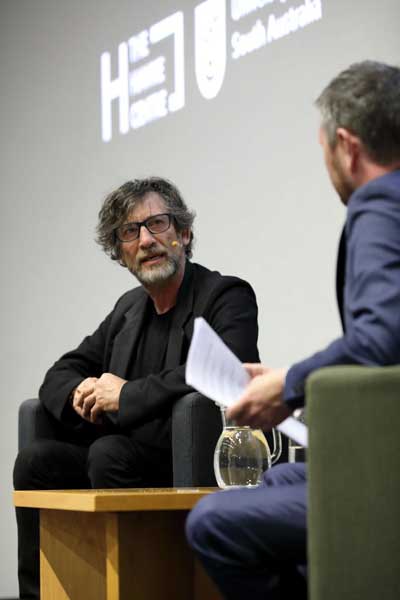 "His career is one to inspire anyone with an ambition to be a writer and his contribution to, and influence in literature and the creative arts, is remarkable."
Gaiman is estimated to have sold more than 45 million books globally.
Among countless prizes and awards, he was named winner of the Barnes & Noble Writers for Writers Award in 2019, China's "Galaxy" Award for Most Popular Foreign Author in 2009 and 2010 and the SF Poetry Association 2018 Rhysling Award for Long Poem for The Mushroom Hunters.
The Graveyard Book reached number one in the New York Times Bestseller list and was in the top 10 for 61 weeks and is the only novel ever to win both the Newbery (US) and the Carnegie (UK) Medals for the most prestigious contribution to children's literature.