Star-studded line-up for UniSA graduates
By Dan Lander and Annabel Mansfield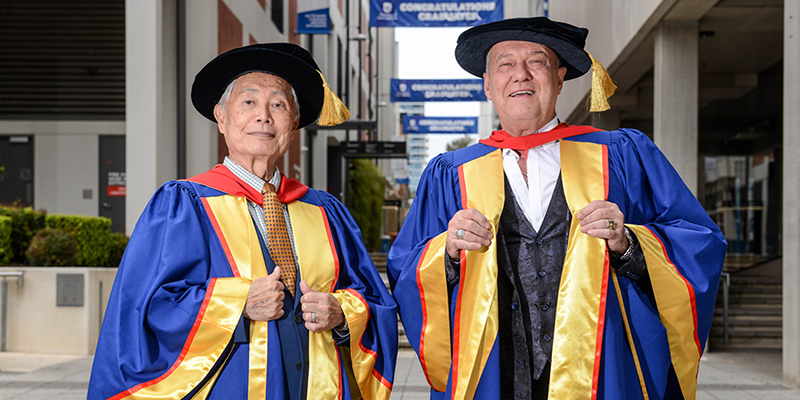 > Star Trekking across the Uni-verse: Next-gen UniSA stars shine with George Takei
It was a star-studded line-up in Pridham Hall earlier this year as almost 1700 students graduated in the company of big names including rock icon Jimmy Barnes and actor George Takei.
"Working class man" Barnes and Star Trek legend Takei were among four recipients of honorary doctorates conferred during UniSA's September graduations.
Barnes and Takei joined artist Geoff Wilson and businessman and philanthropist Andrew Pridham in receiving the honour.
In addition, Australia's Chief Defence Scientist, former UniSA Deputy Vice Chancellor: Research and Innovation, Professor Tanya Monro, was made Emeritus Professor of the University, highlighting her significant contribution over many years.
UniSA Vice Chancellor Professor David Lloyd says the University's latest honorary doctorates embody the unstoppable attitude UniSA hopes to instil in all its graduates.
"In very different ways, each of our newest honorary doctors has dedicated their own personal journey to benefitting the lives of the people around them, whether that is through art, activism or generosity," Prof Lloyd says.
Born in Glasgow and raised in Elizabeth, James Dixon Barnes AO was just 16 when he joined Cold Chisel in 1973, bringing his passion and unique vocal style to a band that would become a defining act of the Australian pub rock scene.
Following Chisel's breakup in 1983, Barnes' 1984 solo debut Bodyswerve topped the charts, as did the 1985 follow-up, For the Working Class Man, an album that spawned his signature tune, "Working Class Man", and cemented his place as the voice of a generation.
Since then, Barnes' musical career has taken in 20 solo albums – including a record 13 ARIA number ones – along with a hugely successful Cold Chisel reunion. He has released three autobiographical books and a film that reveals the struggles and triumphs of a lifetime in the public eye, as well as two children's books and a cookbook with his wife, Jane.
George Takei is a social justice activist, social media superstar, Grammy-nominated recording artist, New York Times bestselling author, and pioneering actor. He has appeared in more than 40 feature films and hundreds of television roles, most famously as Hikaru Sulu in Star Trek.
As a child, George was imprisoned by the US government in Japanese American internment camps and has since become a spokesperson for former Japanese American internees, donating the $20,000 reparation he received for his own incarceration to the Japanese American National Museum, which he founded and serves as a trustee for.
Now a community activist, George is a member of the Human Rights Campaign, the US's largest LGBTQIA+ political organisation. He is Chairman Emeritus of the Japanese American National Museum's Board of Trustees; a member of the US-Japan Bridging Foundation Board of Directors; and served on the Board of the Japan-United States Friendship Commission under President Bill Clinton. In recognition of his contribution to the Japan-United States relationship, in 2004, Takei was conferred with the Order of the Rising Sun, Gold Rays with Rosette, by His Majesty, the Emperor of Japan.
Geoff Wilson OAM is a South Australian artist, best known for his expertise in portraying landscapes. He is very influential in the arts community and has a deep knowledge of art and art history around the world.
Geoff was an avid art and history enthusiast at an early age and was educated by Jeffrey Smart, former art teacher and patron of the South Australian School of Art – a precursor institution to UniSA. Geoff worked at the South Australian School of Art over a 20-year period, initially as a lecturer before being promoted to Head of Painting.
Geoff was a founding member of Friends of South Australian School of Art and has made many valuable voluntary contributions to the success of this group since it was first established in 2008.
Andrew Pridham AO is Group Vice Chairman of MA Financial Group. Adelaide-born and educated, Andrew completed his Bachelor of Applied Science in Property Resource Management at UniSA, graduating in 1988, but "through happenstance" found himself in investment banking, specialising in property. He moved to Sydney and went on to be appointed by global investment bank UBS as Managing Director and Head of Investment Banking Australasia before turning 30. He later filled senior positions for UBS based in London and Singapore.
A passionate supporter of the AFL, Andrew joined the Sydney Swans Board in 2002, and assumed the role of chairman in December 2013.
In October 2016, a $5-million gift from the Pridham Foundation was made to UniSA to support the construction of its Great Hall – now called Pridham Hall. Andrew's gift was the largest single private donation made in UniSA's history.
Star Trekking across the Uni-verse: Next-gen UniSA stars shine with George Takei
He may have travelled the universe, but legendary actor, author, and civil rights activist, George Takei, happily shared the stage with UniSA's Performing Arts students and graduates as they participated in a once-in-a-lifetime acting masterclass.
Held at the Hartley Playhouse on UniSA's Magill campus, the masterclass saw five UniSA Performing Arts students take centre stage to perform songs, and excerpts from TV, Broadway and theatre, with captivated George Takei providing constructive and thoughtful feedback on their individual performances.
George Takei is globally renowned for his portrayal of Lieutenant Hikaru Sulu, helmsman of the starship Enterprise in the acclaimed original Star Trek TV series. But beyond this iconic role, his six-decade career has encompassed more than 40 feature films, hundreds of television shows, voices for films, TV, video games and commercials.
Third year UniSA Performing Arts student and 'star-in-the-making', Thomas Howe, says the masterclass was an unrivalled experience.
"Being on stage with George Takei was exhilarating," Howe says. "I watched Star Trek with my Dad growing up, so being in the same room as one of my heroes was absolutely incredible."
UniSA Performing Arts Lecturer Catherine Campbell says the masterclass delivered invaluable feedback, advice and experience for the next generation of stars.
"We equip our students with a comprehensive program of practical experiences and opportunities," Campbell says.
"This masterclass experience with George Takei is a once-in-a-lifetime opportunity. To be able to learn from one of the best, and gain insights into acting techniques and advice for careers in the industry, is invaluable."
A screening of Takei's 2014 documentary, To Be Takei, followed the Masterclass, along with a Q&A session with George Takei and husband Brad Takei.
Separately, in a special sold-out event, Takei shared the story of his family's forced internment as Japanese Americans during WWII. An Evening with George Takei was presented by The Bob Hawke Prime Ministerial Centre. Takei also helped officially dedicate UniSA's Enterprise Hub.
See more images from some of these events in In Pictures.