An experience to eclipse all others: The Adelaide Planetarium, 50 years on
By Candy Gibson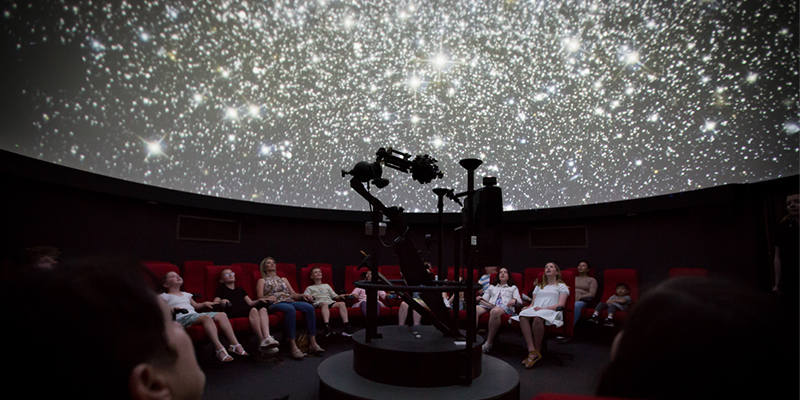 SCIENCE
Roll back the clock to 1972, a black year in history marked by terrorism in sport (Munich Olympics), the beginning of the biggest political scandal to rock Washington (Watergate) and violent sectarian conflict in Northern Ireland.
While trouble was brewing around the world, there were also some bright spots, including the official launch of NASA's exploration probes, sending Pioneer 10 into the asteroid belt bound for Jupiter, where it took the first up-close images of the solar system's largest planet.
More than 600 million kilometres away, a little slice of space history was being created in the same year on the site that is now UniSA's Mawson Lakes campus. The state's first (and only) Planetarium was built at the South Australian Institute of Technology (SAIT), an antecedent of UniSA.
No expense was spared at the time, with a state-of-the-art Zeiss Jena analogue optical projector installed in the centre of a dome-shaped room at a cost of $60,000 in 1972 – $700,000 in today's money. The Zeiss displays a realistic view of 5000 stars in the southern hemisphere.
Remarkably, the original projector is still in place in the Adelaide Planetarium today, testament to its quality, producing the most realistic night skies that never fail to impress children and adults alike, 50 years on.
Alongside a newer digital model, the projectors provide an incredible window into an artificial night sky, capable of simulating a tour of the universe with crystal clarity, including planets, comets, stars, black holes and galaxies.
Astronomy educator and lecturer Martin Lewicki estimates that more than a million people have filed through the Adelaide Planetarium door since it was opened in 1972.

"Initially, the planetarium's main purpose was to teach surveying students about the solar system and how to fix their positions on the surface of the Earth," Martin says. "It quickly became apparent that it could also be used as an educational tool for schools and the public."
In the intervening years, thousands of South Australian schools have incorporated an annual Planetarium visit into their science curriculum, and along with the public, taken on an immersive journey through space, touring the constellations, stars and planets.
The celestial experience has broadened to include artistic and cultural groups, meditation sessions and even lessons on Indigenous interpretations of the night skies.
"It is a space that fascinates people from all walks of life, whether you're seven years old or 70, a beginner or expert interested in astronomy, visual arts, acoustics, mythology or just want a place to relax and forget your troubles. Looking out into a far-flung galaxy not only gives you peace, but also a sense of perspective."
On Friday 11 November the Adelaide Planetarium will mark its 50th birthday with a special celebration, inviting lecturers, students, teachers and astronomy buffs who have been involved with it since its inception.
"It will be an opportunity to reflect on its history and the famous developments in space exploration in the past 50 years.
"Since its installation in 1972, every single planet in the solar system has been visited by some kind of space craft, but we have just scratched the surface of this extraordinary planet. There's so much more to discover."
For more information, visit the Adelaide Planetarium website or watch this video on YouTube.