The latest books from UniSA researchers
---
Creative Actions: Embedding creative competencies in every classroom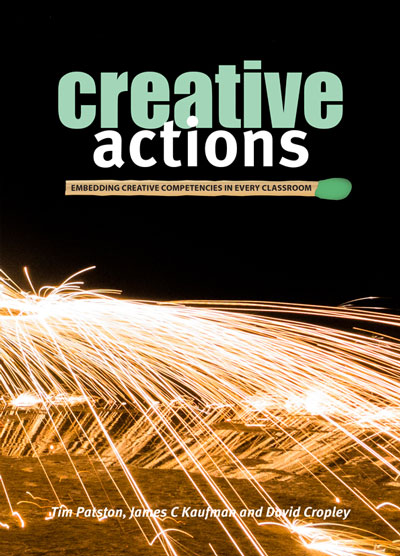 By UniSA Adjunct Senior Research Fellow Dr Tim Patston and UniSA Professor of Engineering Innovation David Cropley (with Professor James C Kaufman, University of Connecticut)
The human capacity for creativity – the ability to conceive, analyse and develop new and effective solutions to problems in every aspect of our lives – is now an essential part of global education. In this book, the authors explain how schools and teachers can, through sustainable, incremental change, integrate creativity into their curriculum to meet the demands of the 21st century. The book illustrates theories with practical examples of creativity in action from classrooms around the world, providing evidence that creativity can, and must, be embedded in the Future of Education. Creative Actions: Embedding creative competencies in every classroom will help teachers and school leaders build their creative capacities and those of their students.
Key takeaways:
Creativity is a science. Creativity can be taught, learned and assessed
Components of creativity can positively impact academic outcomes
Creativity is critical to student metacognition, wellbeing, and development
Creativity is different in each subject and best integrated at the subject level.
The book is available from Hawker Brownlow Education.
Exploring The Leisure - Health Nexus: Pushing Global Boundaries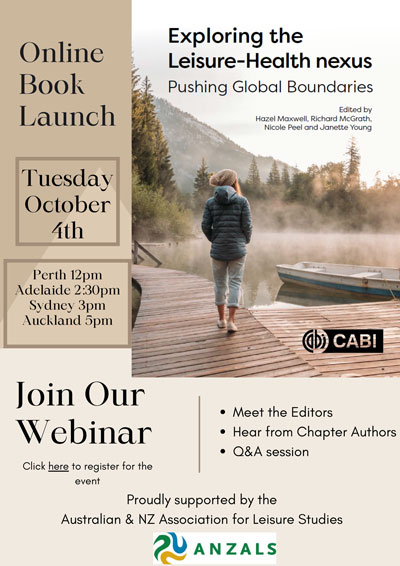 Co-edited by UniSA Health Sciences lecturers Dr Richard McGrath and Dr Janette Young (with Dr Hazel Maxwell and Dr Nicole Peel)
By exploring past, current and future intersections between leisure and health, this book considers research and academic thought to reveal and critique the nuanced ways that leisure impacts health as well as considering how health professions use leisure as a 'tool'. Aided by the diverse chapters, readers will be challenged to explore future intersections between leisure and health using an overarching eco (ecological/environmental), bio (biological), psycho (psychological), social (sociological) lens. Many of the chapters include case studies which consider further developing leisure and health themes, particularly in relation to a number of emerging environmental, health and societal challenges that confront the world.
The book will be of significant interest to researchers/academics/practitioners in the leisure, health, sport, tourism, recreation, events, social science, and arts disciplines.
The book is published by CABI and available from a range of online retailers.