Rising from the ashes: positive life changes emerge after black summer of bushfires
By Candy Gibson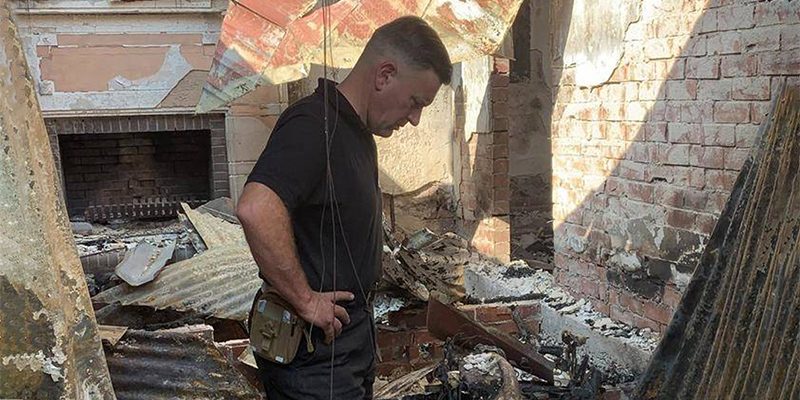 STORY CATEGORY
A new UniSA study into the psychological impacts of the 2019/20 bushfires reveals deep mental scars, but also some positive life changes emerging from the trauma.
In a joint project with the CSIRO, UniSA researchers Dr Sarah Mellish and Associate Professor Carla Litchfield conducted a survey two months after the fires, finding more than 25 per cent of people involved were experiencing symptoms of post-traumatic stress; almost double the average reported in the general community over a whole year.
However, analysis of the results also indicates some bushfire survivors experienced "post-traumatic growth", particularly those who used humour, had strong support networks, accepted the tragedy, and even turned to religion.
Many survivors reported a new appreciation for life, greater resilience, better relationships and a renewed focus on helping others.
Lobethal resident Adam Weinert falls into this category.
The self-employed businessman and father of two watched his home burn to the ground in 2020, but managed to save his business, a bulk fuel depot.
"Within 24 hours I set up a disaster relief centre that lasted for 16 days, until the State Government stepped in to help," Adam says. "The village came together and there was a real sense of unity that was quite special."
Adam says the experience was bittersweet for him.
"I lost so much but have also gained a lot. I am now a better person, father and business person because I turned the trauma into something meaningful. It has also made me re-examine my values and realise what is important in life. Trauma can be a fantastic catalyst for growth, for individuals and a community."
The human toll from the 2019/20 bushfires was significant: 33 lives lost, 5500 homes destroyed, and thousands of people displaced, not to mention the heartbreaking loss of animals and ecosystems.
Dr Mellish says the fires, which raged across NSW, Victoria and South Australia for several weeks, were distressing for many people, including those who were not in the line of fire but who witnessed the event via social media, the news, and/or discussions with others.
A survey of 318 people directly and indirectly exposed to the "unusually fierce and prolonged" fires, found that eight weeks after the natural disaster, 10 per cent of people recorded high stress levels warranting clinical attention and more than a quarter displayed signs of "probable post-traumatic stress".
Immediately after the fires, the Federal Government announced a $76 million mental health package to help support affected communities.
The UniSA study, one of the first to investigate the psychological outcomes of the 2019/20 bushfire season, has been published in Psychological Trauma: Theory, Research, Practice and Policy.
"What's different about this study is that it also focuses on secondary post-traumatic stress, exploring the impact of a natural disaster on all sectors of the population, including people indirectly exposed to the fires," Dr Mellish says.
"Interestingly, those people indirectly affected reported lower post-traumatic growth than those directly affected. Instead, they were more likely to use avoidant coping strategies, distracting from their stress instead of dealing with it."
The avoidant behaviour included turning to drugs and alcohol to cope, burying themselves in work and other distractions such as social activities and shopping.
Dr Mellish says more research is needed into how Australians indirectly exposed to bushfires and other natural disasters can be better supported.