UniSA honours the 'voice of cycling'
By Michèle Nardelli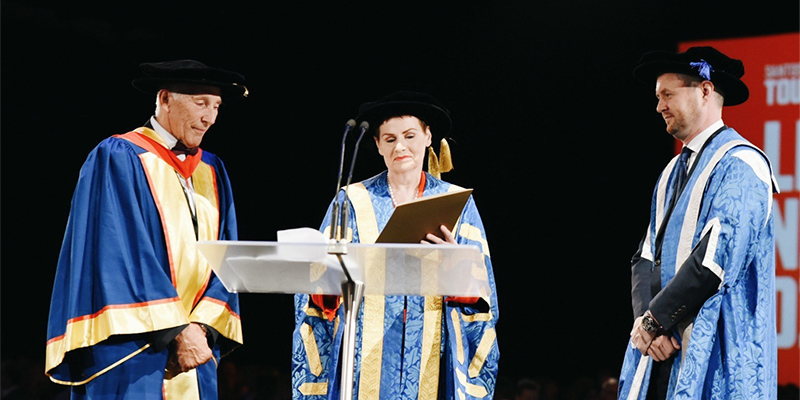 COMMUNITY
UniSA has awarded its highest honour to cycling and sports journalism legend, Phil Liggett, at a special ceremony as part of this year's Santos Tour Down Under.
He was presented with the honorary degree of Doctor of the University in recognition of his distinguished contribution to the world of cycling and sports journalism and his special contribution to South Australia, through his support of the Santos Tour Down Under since its inception in 1999.
Announcing the award Vice Chancellor Professor David Lloyd says not only is Phil Liggett the consummate professional, he has been a champion of cycling in South Australia and a key element in the success of the TDU as a world class cycling and tourism event.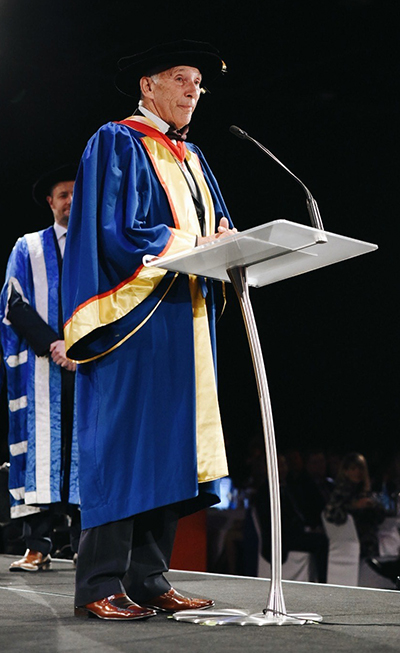 "As sponsors of Team UniSA-Australia in the tour for the past 20 years, we have come to know the legend that is Phil Liggett," Prof Lloyd says.
"Warm, witty and indefatigable, Phil has an encyclopaedic knowledge of cycling and his preparation across his brief is a lesson for every aspiring sports journalist.
"His commitment to the Tour Down Under and to promoting this event from its earliest days as a bold experiment, right through to its position today, as a world class opening event to the international professional cycling season, has been phenomenal.
"Phil is the voice of cycling, but he is also one of the finest examples of excellence and professionalism in journalism and we are extremely proud to welcome him to UniSA's international community of friends and alumni."
It took a while for Liggett to settle on a career path, first trying out zookeeping, then studying accountancy, before finally training as a journalist on Fleet Street where he could hone his skills as a sports reporter.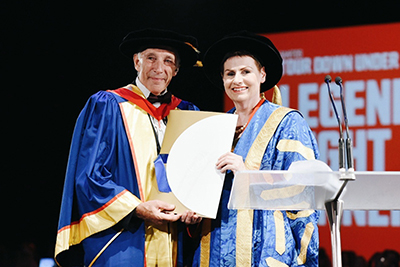 Liggett loved cycling from his youth, when he rode on The Wirral in North West England and competed as an amateur cyclist before earning a spot on the professional circuit in 1967.
He worked for Cycling magazine for four years before freelancing for the Guardian and the Observer and then moved on to become the international editor of Cycle Sport magazine.
On his return to the world of cycling, he was able to combine his experiences as a professional rider with his considerable skills in journalism to build a unique and specialist expertise that was to make his career.
In 1973 he became the youngest ever UCI international commissaire.
Over his career he has reported 47 Tours de France and 15 Olympic Games, including extra sports coverage such as the triathlon, Alpine skiing and ski-jumping.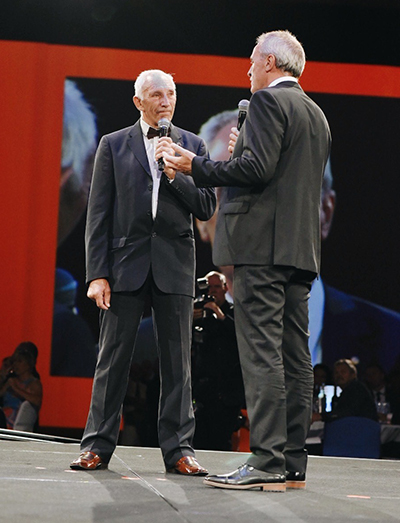 Liggett has reported for top United States broadcasters NBC, CBS and the ABC and in Australia for Foxtel, SBS, and the Seven, Nine and 10 networks and has authored and co-authored four books on cycling and media commentating.
Honoured internationally for his contribution to sport, in 2005 he was made a Member of the Order of the British Empire, he was given a lifetime achievement award by the US Hall of Fame in 2007 and in 2010 he was inducted into the British Cycling Hall of Fame.
And just a year ago he was appointed Honorary Australian of the Year at the Australian Embassy's Australia Day celebrations in London.
Liggett says he humbled beyond belief to receive the Honorary Doctorate from UniSA.
"I have admired the University from the start with the way, as a seat of learning, it embraced the sport and formed a Tour Down Under team to allow young riders to advance their ambitions to become professional riders. A tough education for many emerging Australian cyclists who have gone on to take their place among the most famous riders in the world," he says.
"UniSA will always be a special and memorable place for me and my recognition has left me speechless which, I guess, is not good for a commentator."