UniSA College graduate returns behind teacher's desk
By Adam Joyce and Ashleigh Ebert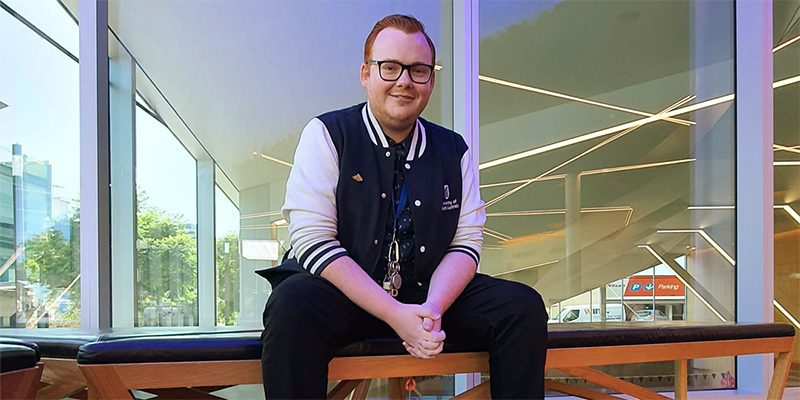 EDUCATION
While more than 9000 new students begin studying at UniSA for the first time in the coming months, one former student is returning to his old tute room – but this time, he'll be at the front of the class.
Robert Cook completed Foundation Studies with UniSA College in 2016, before going on to complete a Bachelor of Arts in Sociology and Cultural Studies. This year he's returning to UniSA College – but as a tutor.
After completing high school in 2014 but "doing horribly", failing to get the South Australian Certificate of Education, Cook dabbled with vocational education but didn't enjoy it.
A friend recommended Foundation Studies at UniSA College, which gives people a taste of university while also equipping them with the skills they'll need to succeed in a future degree. Foundation Studies is one of UniSA's most popular programs – see the list below.
Cook originally wanted to be a high school teacher – but once he settled into UniSA College he realised that tertiary education might be the career for him.
"The tutors and lecturers here inspired me to look more broadly into academia and at working with university level students," Cook says. "I had no idea that this was even an option for me … then I started realising that it wasn't so difficult to get to where I wanted to be, but I still had to put the effort in."
While undertaking his undergraduate degree, he completed a placement at UniSA College.
"I was able to work with the team all semester long and show everyone my skills," he says. "That's why [UniSA College Coordinator Student Success] Teresa Thai thought of me. She saw my IT skills during my placement."
Cook will be teaching two tutorials a week in Applied Computer Practices – and says he never could have imagined when he was a student at UniSA College in 2016 that four years later he'd be a tutor there.
"This job is really like a dream goal at 23 years old, which is awesome! I'm happy. But now I've peaked so I need to rearrange my goals," he says.
"It's great that I can come back here and start my career. The environment here is amazing. It's so nice coming back to the college because there's that genuine interest and care for their students."
He says UniSA College staff helped make his "dream a reality" by mentoring him, not only when he was a student there but also during his undergraduate degree.
"They didn't have to help me, but they did – I really appreciate that."
Cook says he's really looking forward to interacting with new students, who he enjoyed working with during his placement.
"In this course there will be a lot of students who are either from a refugee background or mature-age students who wouldn't have been used to using computers – I really like to work with those groups of students."
He also has advice to share with new students.
"The main thing I learnt progressing through UniSA College and onto my degree is to never close a door – always grab opportunities as they present themselves," Cook says.
He's hoping to study Honours in Sociology later this year.
Most popular programs at UniSA by first preference (for 2020):
Bachelor of Nursing
Bachelor of Midwifery
Bachelor of Education
Bachelor Exercise and Sport Science
Bachelor Clinical Exercise Physiology (Hons)
Suite of Psychology programs – (B Pysch (hons), Psych Sci (Cognitive, Counselling etc) and doubles)
Suite of Medical Radiation programs
Social Work/Human Services programs – (B Social Work, B Social Science (Human Services)
Pharmacy
Aviation
Architectural studies
Foundation Studies