UniSA clinics turn to telehealth to enable services and student placements to continue
By Cyndal King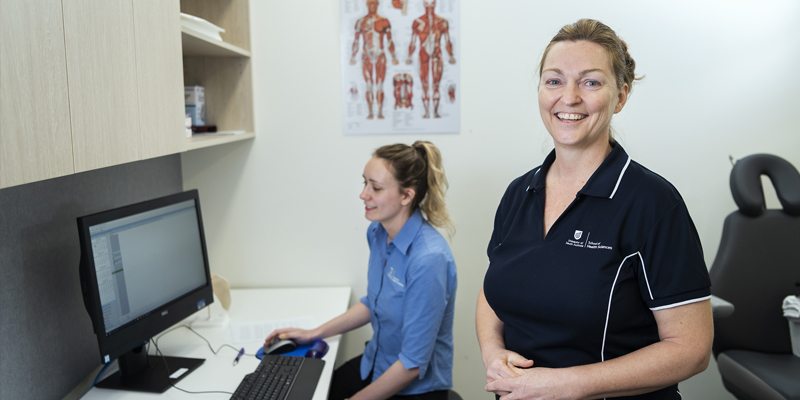 HEALTH
Several of UniSA's health clinics have introduced a new online telehealth platform which will enable them to continue offering health services to the community while also allowing UniSA students to complete placements while studying online.
Physiotherapy, Occupational Therapy and Exercise Physiology students will continue their third- and fourth-year placements using a videoconferencing tool designed specifically for allied health consultations.
Professional, clinical and field placements in metropolitan and rural areas are a core element of many health degrees at UniSA.
Clients will engage with students and clinical educators through video, with the platform offering additional features, such as the ability to take measurements, which helps students consult in a comparable way as they would face-to-face.
In 2019, UniSA students completed 42,000 placement hours, undertaking 723 placement sessions in the clinics, with students seeing 3663 patients.
UniSA's Executive Dean (Interim), Clinical and Health Sciences, Professor Esther May, says the introduction of telehealth will give students valuable skills that will help them in their future careers.
"The new UniSA telehealth service offers our allied health students a unique opportunity to expand their placement experience outside of the traditional clinic setting," Prof May says.
"Students are learning to be innovative and adapt their service delivery and overcome challenges while our face-to-face services are suspended.
"Telehealth services will also enable students to expand their reach to rural and remote communities.
"Students participating in the telehealth service will be prepared for future innovation and digital change in the health sector."
UniSA has been investigating options for delivering telehealth services for a number of years. These are being fast-tracked following the introduction of social distancing as a result of the COVID-19 pandemic.
UniSA health clinics, through telehealth, not only help existing clients and students but will provide opportunities to reach clients that the health clinics would not normally have access to.
Web-based platform NeoRehab; originally developed by the University of Queensland, is being used to facilitate the telehealth appointments, allowing the UniSA clinics to keep running student-led health services, where students and supervising clinicians work together to provide treatment and support to clients.
Existing clients from all UniSA Physiotherapy, Occupational Therapy and Exercise Physiology clinics will be offered online services, with their continuing care as a priority. New clients from Adelaide and regional South Australia are also welcome to make an appointment.
Additional online student-led services at UniSA including podiatry, psychology, legal advice and social work services are in development.
Appointments are available for existing and new clients through the following UniSA clinic websites:
Occupational Therapy Services for Children and Youth