Islamic pilgrimage lays the groundwork to accurately predict crowd numbers
By Candy Gibson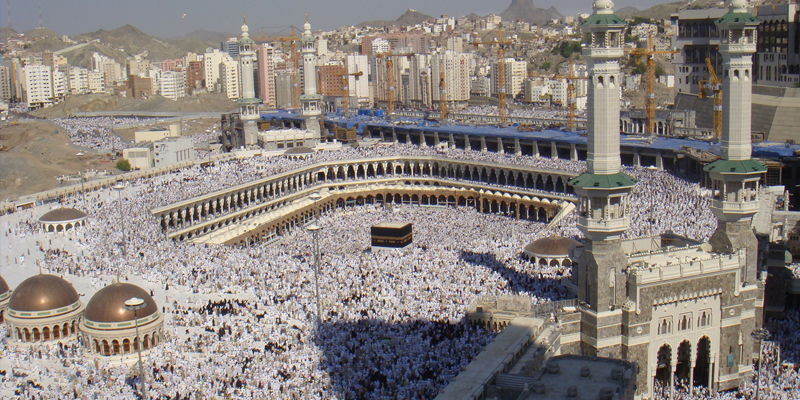 SCIENCE AND TECHNOLOGY
An annual Islamic gathering in Saudi Arabia has laid the groundwork for a novel engineering project involving UniSA researcher Dr Muhammad Uzair.
The religious pilgrimage Hajj, which in a pre-COVID-19 world attracted up to two million people, has provided researchers with a perfect opportunity to trial a new crowd estimation model.
Dr Uzair, in collaboration with researchers from Saudi Arabia's University of Ha'il, has designed a model which can accurately estimate the number of people in crowded scenes, regardless of the variations in crowd densities.
A fixed camera captures images of a crowd in its field of view and that data is then analysed by computer software, showing crowd numbers and density is each region of that scene.
"Our study accurately estimated crowd sizes in scenes from Hajj, an annual religious pilgrimage to Mecca, Saudi Arabia," Dr Uzair says.
The model is based on the simple fact that a person's head is the only visible body part in high density crowds. The camera considers that people who are nearby will appear to have larger heads and those far away, smaller heads. The model automatically learns these facts from video data to produce more accurate total crowd numbers as well as density estimates for different regions of a scene.
Dr Uzair says the model is one of many being developed around the world to help authorities understand crowd dynamics and congestion and develop appropriate evacuation plans in the event of an emergency.
"It has many uses, from political and religious gatherings to sporting and music events. Although many of these gatherings are peaceful, crowd behaviour can change in an instant and authorities need to be prepared."
More accurate automatic crowd estimations can help with future event planning and public space design, Dr Uzair says, helping to reduce costs by deploying the appropriate level of security and medical personnel, for example.
Dr Uzair says deep learning – machine-based learning using algorithms which mimic human brain processing – is improving the accuracy of many computer vision systems, including those that estimate crowd numbers.
The model can also be used in real time for public safety management, to alert authorities if large crowds are gathering in a specific location, perhaps suggesting a protest and the potential for violence.
A spokesperson from SA Police says SAPOL is "always keen to explore new and emerging technology in order to improve public safety outcomes".
"This technology, which is designed to provide real time intelligence of public spaces, is another tool that SAPOL could use to support our community during their daily lives."
Details of the study were presented to the 2019 International Conference on Image Processing. Researchers from Saudi Arabia, UniSA and Norway were involved in developing the model.