The latest books from UniSA researchers
---
Johns And Cunningham's The Physics Of Radiology (Fifth Edition)
Co-authored by UniSA Professor in Medical Radiation Eva Bezak and Adjunct Professor Loredana Marcu (with Alun Beddoe, Martin Ebert and Roger Price)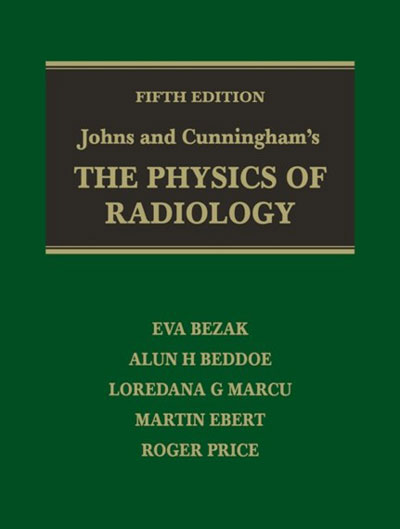 The fifth edition of this respected book encompasses all the advances and changes that have been made since it was last revised. It not only presents new ideas and information, it shifts its emphases to accurately reflect the inevitably changing perspectives in the field engendered by progress in the understanding of radiological physics. The rapid development of computing technology in the three decades since the publication of the fourth edition has enabled the equally rapid expansion of radiology, radiation oncology, nuclear medicine and radiobiology. This book is written to help the practitioners in these fields understand the physical science, as well as to serve as a basic tool for physics students who intend working as medical radiation physicists in these clinical fields. The book is available from Dymocks.
Pedagogies of Possibility for Negotiating Sexuality Education with Young People
Co-authored by UniSA Emeritus Professor Bruce Johnson (with Debbie Ollis, Leanne Coll and Lyn Harrison)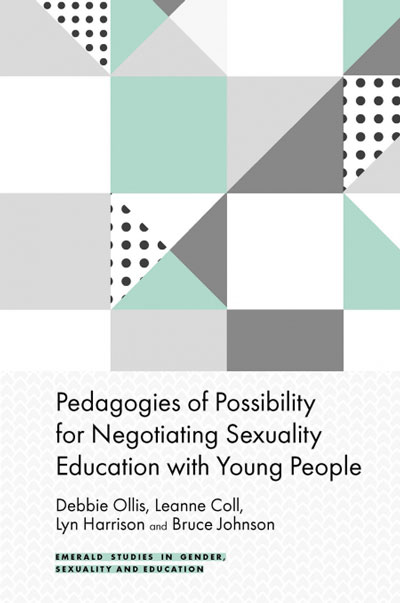 Drawing on research undertaken as part of an Australian Research Council (ARC) Linkage grant, this book explores the affordances, tensions and challenges of participatory methodologies and pedagogies that authorise young people's perspectives and visions for Sexuality Education. Foregrounded are the contradictions between what young people want to learn more about and the risky forms of praxis that are necessary to engage with various understandings of Sexuality Education and the important role of adult allies in supporting young people to navigate these contradictions. Each chapter chronicles and captures both adult allies and young people's experiences of the project by drawing on data produced through visual-arts based methods and various ethnographic techniques, such as participant observation, focus group interviews, and guided conversations. The book is available from Emerald Publishing.
Multimodal Literacy in School Science: Transdisciplinary Perspectives on Theory, Research and Pedagogy
Co-authored by UniSA Senior Lecturer in Professional Experience Dr Lisl Fenwick (with Len Unsworth, Russell Tytler, Sally Humphrey, Paul Chandler, Michele Herrington and Lam Pham)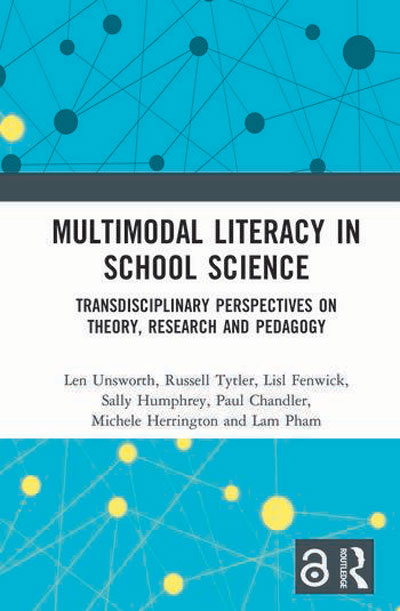 This book establishes a new theoretical and practical framework for multimodal disciplinary literacy (MDL) fused with the subject-specific science pedagogies of senior high school biology, chemistry and physics. It builds a compatible alignment of multiple representation and representation construction approaches to science pedagogy with the social semiotic, systemic functional linguistic-based approaches to explicit teaching of disciplinary literacy.
The early part of the book explicates the transdisciplinary negotiated theoretical underpinning of the MDL framework, followed by the research-informed repertoire of learning experiences that are then articulated into a comprehensive framework of options for the planning of classroom work. Practical adoption and adaptation of the framework in biology, chemistry and physics classrooms are detailed in separate chapters. The latter chapters indicate the impact of the collaborative research on teachers' professional learning and students' multimodal disciplinary literacy engagement, concluding with proposals for accommodating emerging developments in MDL in an ever-changing digital communication world.
The MDL framework is designed to enable teachers to develop all students' disciplinary literacy competencies. This book will be of interest to researchers, teacher educators and postgraduate students in the field of science education. It will also have appeal to those in literacy education and social semiotics.
The book is available from Routledge.