UniSA honours two trailblazing entrepreneurs
By Rosanna Galvin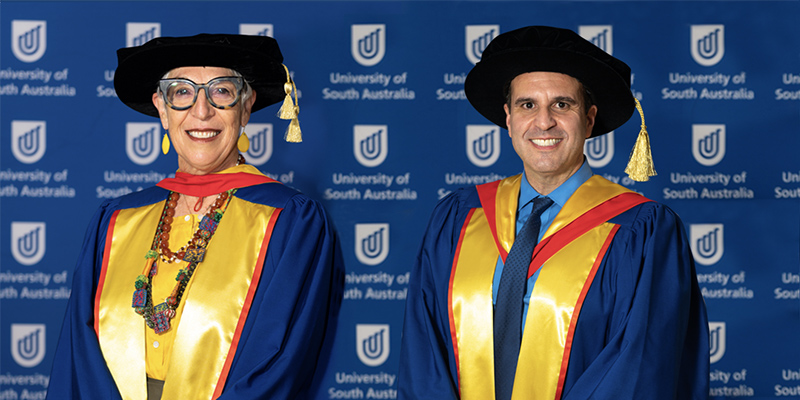 COMMUNITY
> UniSA celebrates the Cowans' contribution to education
Social entrepreneur and activist Ronni Kahn and property developer and business leader Shaun Bonétt were made Honorary Doctors in April during UniSA's graduation ceremonies.
Kahn, who founded the food rescue charity OzHarvest in 2004, was honoured for her distinguished service to the community.
Under Kahn's leadership, OzHarvest has become Australia's leading food rescue organisation, reducing food waste while supporting people facing food insecurity. The charity's innovative model has been shared globally and is now established in New Zealand, South Africa and the United Kingdom.
Kahn is also behind the world's first free supermarket – the OzHarvest Market – based on a 'take what you need, give if you can' philosophy and ForPurposeCo – a sustainable, social-focused business to create revenue for OzHarvest.
Chief Executive Officer and Managing Director of Precision Group Shaun Bonétt was also recognised in a ceremony for his distinguished service to the community.
Bonétt founded Precision Group in 1994 and remains principally responsible for the strategic direction of the company, which is now one of Australia's most successful private commercial property investment and management organisations.
In 2015, Precision became the primary investor of startup Prezzee, a global online platform that allows users to send greeting cards and purchase gift cards from a wide array of retailers worldwide. Today Precision controls 85 per cent of Prezzee, which is Australia's newest $1billion tech 'unicorn'.
UniSA Vice Chancellor Professor David Lloyd says Bonétt and Kahn embody the spirit of enterprise the University hopes to instil in all of its graduates.
"Our newest honorary doctors are two of Australia's most innovative entrepreneurs, able to think outside the box to seize new opportunities and drive change," he says.
"We hope their stories of hard work and entrepreneurship inspire our graduates to consider the impact they can make as they finish university and go out into the world."
More than 4600 UniSA students graduated across the April and May graduation ceremonies, which ran from Tuesday 12 April to Friday 22 April at Pridham Hall and continued at the University's regional campuses this month – on 6 May in Mount Gambier and on 13 May in Whyalla.
During graduations, two prominent members of the University community – Professor Christopher Saint and Professor Carol Grech – were also made Emeritus Professors of the University, highlighting their significant contribution to UniSA across their careers.
For more pictures from UniSA graduations, visit the In Pictures section.
UniSA celebrates the Cowans' contribution to education
Robert and Gayle Cowan were made Fellows of the University at the graduation ceremony in Mount Gambier on 6 May, in recognition of their outstanding contribution to the growth and development of the University.
The Cowans are passionate advocates for students from rural and regional areas, who often face disadvantage in accessing higher education.
The Cowan Grant was established to support initiatives that help financially disadvantaged students gain a higher education. Over 27 years, the grant has provided more than $3.2 million to more than 1500 students.
The Cowans are active members of the community in Mount Gambier and are closely associated with UniSA's Mount Gambier campus.