Life-sized cardboard models used to test designs for new Women's and Children's Hospital
By Dan Lander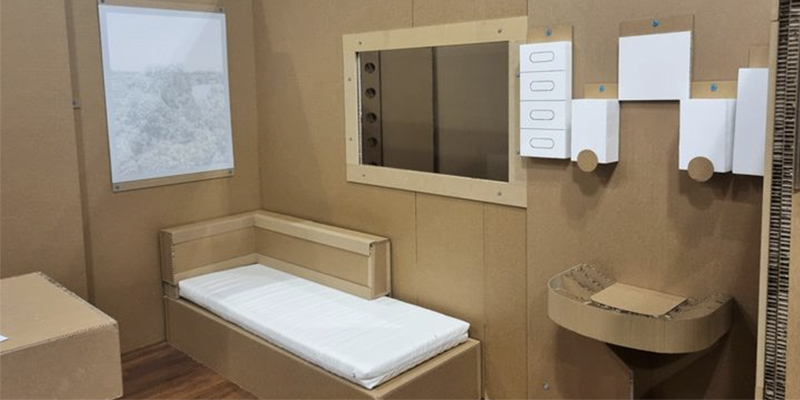 TECHNOLOGY AND ENGINEERING
What do hospitals and submarines have in common? Quite a lot, according to the director of UniSA's Studio for Complex Human Environment Design (SCHED), Dr Peter Schumacher.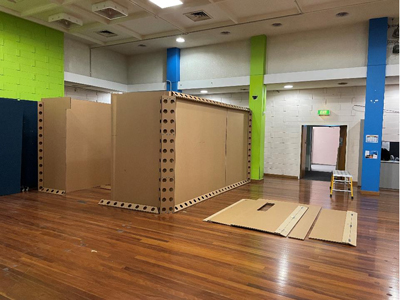 Dr Schumacher's team has been engaged to assist with the design process for Adelaide's new state-of-the-art Women's and Children's Hospital, creating life-size mock-up rooms out of cardboard to provide staff with a preview of planned layouts and configurations. Based on user-experiences of the room mock-ups, modifications to designs can be quickly and easily made, well before physical construction commences.
Dr Schumacher says this rapid-prototyping approach was developed by the SCHED team – which is part of UniSA's Australian Research Centre for Interactive and Virtual Environments (IVE) –through previous work with the Royal Australian Navy aimed at improving habitability on board Australia's submarines.
"We're seeing the same issues in submarines and in hospitals," he says. "These are big, complicated builds, high tech, high stakes, high interaction, and mistakes are very expensive and difficult to fix after they have been made.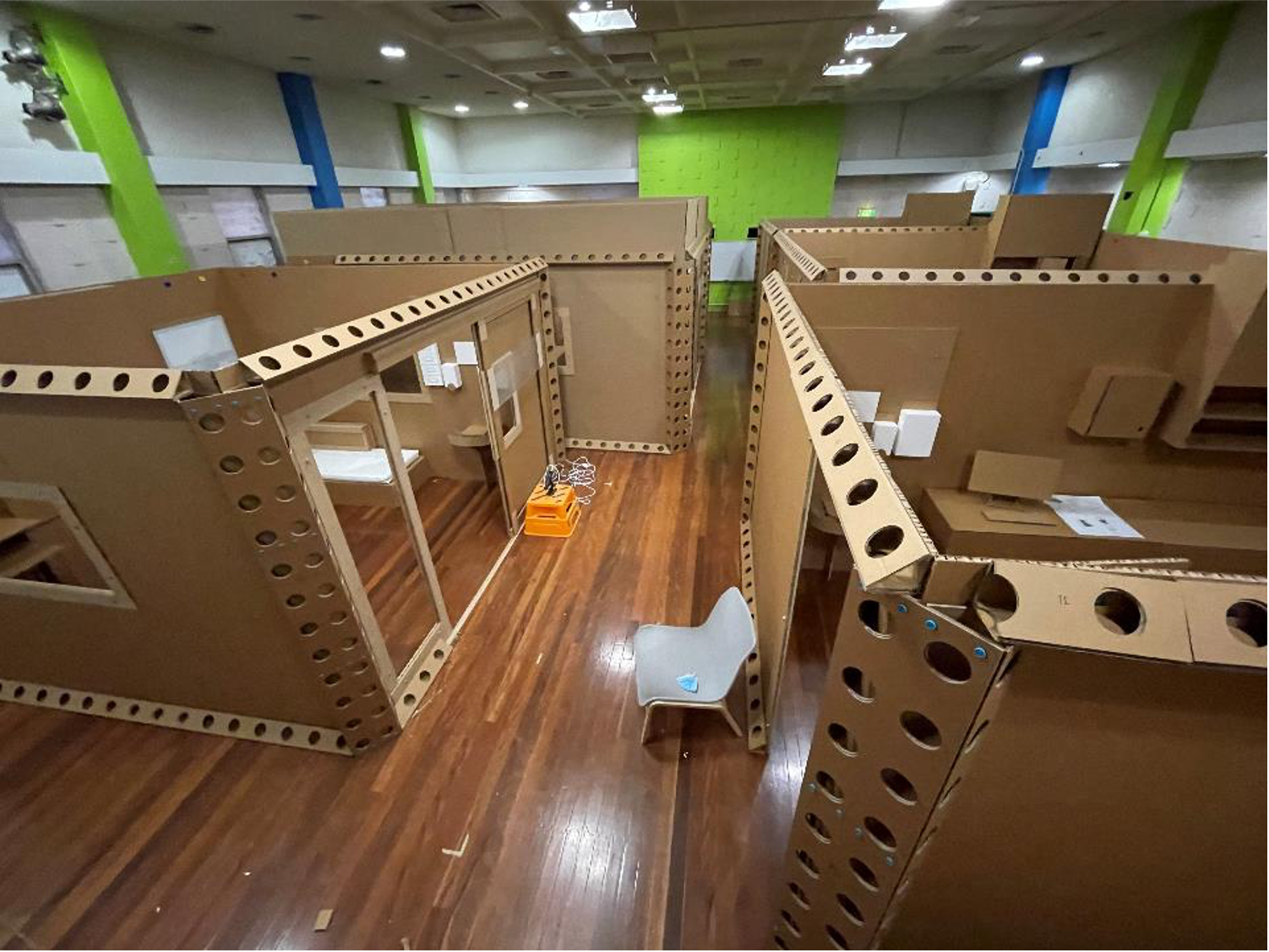 "Various people in the building industry have said they are constantly experiencing this issue about trying to make sure they're getting the right user engagement, to make the best decisions early, before they commit to expensive design elements.
"The missing bit is an off-the-shelf, simple system that enables people to prototype designs quickly, more affordably and earlier. This is what we've developed."
Placing humans at the centre of the design process
Called the Rapid Human Environment Prototyping System (RHEPS), SCHED's technique involves three connected components: in-depth, qualitative end-user engagement; virtual reality modelling; and a lot of cardboard.
By dedicating significant time to talking with end users, RHEPS places humans at the centre of the design process, a concept Dr Schumacher says is still uncommon in large procurement projects.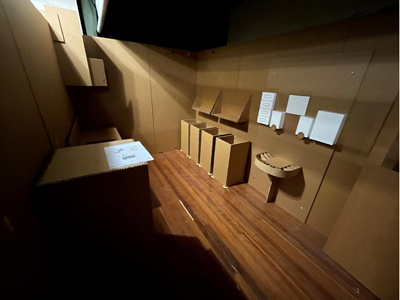 "Engineers have to run these massive technical projects within very finely tuned systems engineering frameworks," Dr Schumacher says. "They use a quantitative lens, which is very good if you're dealing with, say, data transfers and trying to figure out how to get the Internet hooked up in a hospital.
"But you can't use the same logic about people's use of things. It takes a good deal of time to get the people who are going to use the environments to tell you what they want. So, we've got this whole other group of methods and approaches that are necessary for dealing with humans to provide the information that you need to develop effective designs."
Based on those human insights, Dr Schumacher's team develops design prototypes that respond to both the technical demands and human needs of the project. Virtual reality environments play an important part in this process, but Dr Schumacher says the ability to provide real-world, tangible cardboard mock-ups is key to the system.
"VR is an essential part of exploring design ideas, but, you know, if you've got a human problem – build something, put a human in it and see how they respond," he says.
"Physical models are easier for groups to access, and people will spend more time in models compared to VR."
While many engineers and designers have long recognised the potential advantages of such real-world prototyping, previously available techniques have been expensive and slow, making them largely unviable.
The flexibility to abandon designs that don't work
"The thing about making prototypes is you need to be able to move quickly and make changes," Dr Schumacher say. "Your ideas will change as you experience the environment, so you have to do lots of iterations, and you have to be willing to just dump designs that are not right. You have to avoid the sunk cost fallacy, whereby people have invested so much in a prototype they're reluctant to abandon it.
"Our system is lightweight – it's all just hand tools and reusable fixtures, like large cardboard Meccano™. You can build a room and facility efficiently, and because it's all recyclable, once you're done, you don't have a lot of waste, you just put it back into the recycling stream.
"So, you get less afraid of building large models because the costs and consequences are lower – you're not creating waste because you're in a closed system. And that removes a lot of the barriers that have prevented people doing this kind of prototyping."
The SCHED team first used the technique to mock-up a submarine galley for the Royal Australian Navy (RAN), and the project with the new Women's and Children's Hospital provided the opportunity to build seven different hospital rooms, allowing staff to experience them, hands-on, in the real-world and provide feedback.
"It was a challenging project, in terms of a tight time schedule, tricky site access and COVID limiting the size of the team we could have on site," Dr Schumacher says. "But it was also a chance to refine the system and prove it works, which was a fantastic opportunity for us.
"We can now see the possibility of a spin-out cardboard model system for other people to use – with a nuanced set instructions and guidelines, some basic trade skills and a bit of experience, this system could be adapted to a lot of different situations."
A video of the new Women's and Children's Hospital mock-up rooms. Video by New Women's and Children's Hospital Project.