Meet the UniSA student who's risen to footballing fame with the Crows
By UniSA Communication and Media student Leo James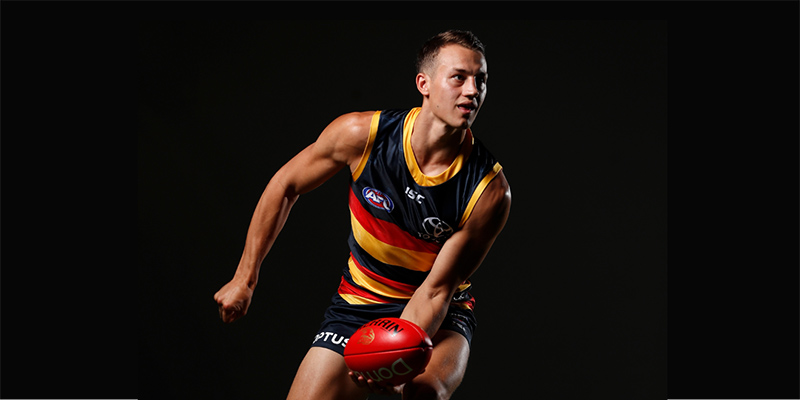 COMMUNITY
Tom Doedee is fast becoming a well-known name in South Australia.
The 24-year-old UniSA Communication and Media student moved to Adelaide after signing for the Adelaide Crows in 2015 following his earlier-than-expected pick in the AFL's national draft. Going on to represent the Crows in 51 AFL games, Doedee's rise as an Adelaide fan favourite continues to strengthen now in his sixth year at the club.
Packing his bags for a move from Geelong to Adelaide to play football professionally came at a time when most people his age were preparing for life after school. With friends ready to dive into a new world of further study or work, Doedee had to adjust to the demands of increased training loads, dealing with media attention and everything that comes with being a professional athlete in an elite environment.
"I got drafted with pick 17 when I was projected to go 30 to 50 range and no one really knew who I was," Doedee says. "I had the Addy in Geelong (Geelong Advertiser) call me, the media team from the Crows call me and had to do a video when I landed – it was probably two or three days of just crazy."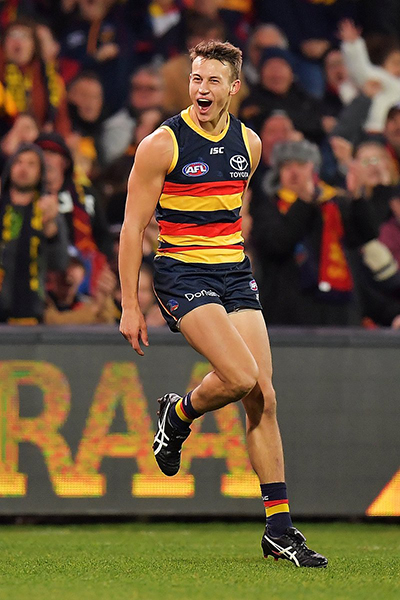 Arriving in the football-obsessed city that is Adelaide, Doedee speaks of the passion he felt from the get-go.
"Everyone wants to know who the new Crows are – so you do all the interviews, but you almost don't have time to stop.
"You land – do an interview – stay with a player – do a radio interview the next day and then at training you're running a 2K (2km time trial). It just instantly all happens. You couldn't compute how much was going on – you just did it though knowing this is my life now."
It may come as a surprise to know the 188cm tall defender hasn't always been a footballer.
"I only picked it up when I was 16 – I was a basketballer. I only played two years of actual footy before I was drafted," Doedee says.
Impressing for his local side the Geelong Falcons, Doedee's switch to Adelaide saw him stake his claim in the Crows' SANFL side before progressing to make his AFL debut in 2018.
During what will go down as one of the most remembered seasons in the AFL's history, season 2020 saw Doedee handed the captaincy for a few games, standing in for the injured Rory Sloane.
Leading a side full of experienced players and big personalities did not throw Doedee.
"I was extremely comfortable with the whole playing list that I felt I could go up to any of them at any time," he says. "When I looked in the huddle, I didn't see a 200-gamer in Tex (Taylor Walker) or a first-gamer in Lachie Scholl, I saw my teammates."
Stressing the emphasis he places on being able to 'switch off', while he's not focusing on training or playing, Doedee's love of learning and movies sees him studying, reading and watching films.
"I'm massive on my movies. Some players talk about mindfulness and meditation, I prefer sitting in and zoning into a movie for two hours. Other than that, I've got my studies and media commitments."
When he is away from the club, Doedee likes to not bring his football with him.
"I don't love watching a lot of footy," the defender says. "Friday Night Footy will be on, and I might be watching a movie.
"Sometimes I'll stick around the club after training to watch footage of the forwards I'll play against. When I'm there, I'm entirely invested and I will do what's best for the team and my career – but outside of the club, I'm trying to avoid sitting and thinking about footy as much as I can."
The 24-year-old is already keeping an eye on life after football, telling of the AFL's efforts in recent years to educate players on the window of opportunity they have as a player, and the need to plan for what may come next. The AFL Players Association financially supports players who study, along with a dedicated point of contact within the club to support off-field matters.
"There's more education on the transition post-footy, and more players are studying because we've been told how some have struggled with the change," Doedee says.
"We've got someone employed solely at the club to help out boys in the off-field – she checks how we're going with study, living arrangements, and how everything may be impacting your footy."
Doedee has heeded this advice, enrolling in a Communication and Media degree at UniSA, driven by a love for talking and film.
"I'm keeping every option open. I'm doing a lot of media now because I love talking and love the production elements of movies and dissecting movies," he says.
"The goal is to play for another 10 years, and in those 10 years, really narrow down what I'd like to do after footy."
Establishing himself as a much-loved figure at West Lakes and within the football club's extensive fanbase, there is no doubt Doedee's career will continue to go from strength to strength as he adds more games to his tally.
You can read more about Tom Doedee on the Adelaide Football Club website.
Editor's note: UniSA is a Premier Partner of the Adelaide Football Club.