UniSA and Adelaide Football Club

Smart sport is a team effort.
In 1991 two organisations were founded with a common purpose – to bring together and represent South Australia.
When captain Chris McDermott tied up his footy boots for the first Adelaide Crows AFL game on 22 March 1991, the University of South Australia was welcoming its first group of students after its establishment on 1 January.
Now with an aligned commitment to developing the State, enhancing sports research and supporting women in sport, we are excited to formalise our partnership with the Adelaide Football Club by becoming a Premier Partner. We will be supporting both the Crows men's AFL and women's AFLW teams.
This partnership will build on our existing relationship founded on:
knowledge sharing
student placements
health promotion
We have an established reputation and extensive expertise in education, training and research in sport and health sciences. Our world-class teaching staff include Australia's leading exercise scientists, high performance coaches, and even AFL sports scientists. Plus our researchers are already doing quality research in the AFL area, such as optimising player performance, injury prevention and best practice for recovery.
Moving forward this partnership will provide further:
student placement opportunities
research collaborations
engagement opportunities for staff, students and the wider University community
We are also investigating the formation of the Adelaide Crows-UniSA Institute for the Business of Sport, which will provide specialist education in data science, business, marketing, sport sicience, social and digital media, journalism, visual effects, nutrition and psychology.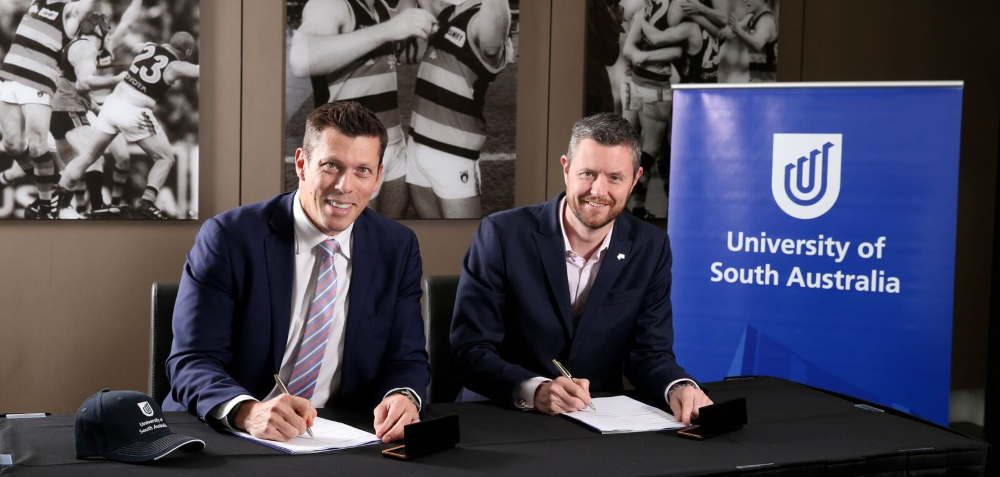 UniSA's Best on Ground Series
UniSA and the Adelaide Crows Football Club presents UniSA's Best on Ground series featuring Adelaide Crows Women's Team Co Vice-Captain Courtney Cramey.
This two-part series explores the importance of nutrition when exercising and how to stay motivated to achieve your exercise goals.
Learn from leading UniSA researchers and Courtney as they explore what to eat and drink before, during and after a game, and easy tips to stay motivated and achieve your performance goals.
Episode 1: Exercise and Nutrition
A strong history
Our partnership doesn't start here - we have a long-standing history of collaboration.
The Adelaide Football Club has provided UniSA human movement students placement opportunities since 2012, totalling over 1,500 placement hours
UniSA researchers have worked directly with the Crows' performance and training staff to share high performance, health and wellbeing strategies
The Adelaide Football Club is supporting the research efforts of research student Grace Greenham, whose research is analysing, defining and measuring game style in field sports
The expertise of the Adelaide Football Club is embedded into our teaching and research practices, with visiting lecturers such as Matthew Hass, General Manager High Performance, working with our exercise and sport science students and acting as an industry advisor for our research projects
The first UniSA GO Scholarship recipient, human movement student John Boxer, is undertaking an internship at the Adelaide Football Club, where he is learning first-hand about the procedures and strategies of an elite sporting environment
Our alumni are working across the Adelaide Football Club in roles from Chairman and Chief Financial Officer to Women's Football Operations Manager
Rob Chapman, Chairman, Adelaide Football Club

UniSA 2015 Alumni Award recipient, Associate Diploma in Business (SAIT) graduate
"Success starts and ends with leadership. Good leaders genuinely care about people and their community and want others to succeed. My journey started at UniSA and having had the privilege to lead many successful organisations since, has been most rewarding."

Shane Smallcombe, Chief Financial Officer, Adelaide Football Club

Bachelor of Commerce (Accounting) graduate
"The Commerce degree that I did, gave me a really broad business understanding, which is critical to my role today. I am involved in decisions across all aspects of the business, not just finance-related, so the broader skill set taught in the Commerce degree has held me in good stead."

Jarryd Wallace, Physical Performance Analyst, Adelaide Football Club

Bachelor of Applied Science (Human Movement & Health Studies) graduate
"My degree at UniSA has benefited my career as it allowed me to gain exposure and knowledge in the sports science field. It put me in the position to meet people who had achieved in this area, to speak to them about their experiences and to create professional contacts which are important in any industry."

Brett Burton, Head of Football

Bachelor of Human Movement (Applied Science) (Honours)

"Studying at UniSA gave me the opportunity to learn with like-minded people in a relaxing university environment. The degree gave me the knowledge and skills to become the Physical Performance Manager at Brisbane Lions after which I became the High Performance Manager and now Head of Football at the Adelaide FC (AFC).

As Head of Football I am responsible for the leadership and management of the Football Department, handling the development of players, coaches and analysts, managing team lists and overseeing football administration.

I am excited about the partnership between AFC and UniSA as it is a great opportunity for both organisations to contribute to the development of high performing players. UniSA offers us access to its people, students and research in the areas of science and innovation and in return, we offer UniSA students with a unique opportunity to learn and apply their learnings in an elite sporting environment."
Elite athlete friendly university
A number of past and present Crows players have studied with us as part of our Elite Athletes Program, which provides flexible study options and a range of support services to help athletes achieve a dual career and a healthy balance between sport and study.
For more information visit the Elite athlete and elite performing artists webpage.
UniSA students working with the Adelaide Football Club
Jordon Boyle, Bachelor of Human Movement*

"I am studying human movement with a focus on exercise and sport science at UniSA and as part of my studies I am undertaking a placement with the Adelaide Football Club. I started in November 2016 and it has been an amazing experience. I'm working in the high performance team and deal directly with the players. My primary role focuses on player monitoring through GPS technology, in order to maximise performance and minimise injury.

The caliber of individuals they have at the club is incredible and everyone is willing to pass on their knowledge and have really made me feel right at home."

Jordan Sellar, Bachelor of Human Movement*

"Studying Human Movement at UniSA has given me the opportunity to learn from industry-experienced staff and undertake a placement at the Adelaide Football Club. With a focus on analysis tasks, I have used software vision and statistics to present coaches with insight into player performance. Then as the Development Squad Strength and Conditioning Coach, I worked with our State League (SANFL) players on their pre-season conditioning and in-season conditioning, load monitoring and strength programming/delivery.

This placement with the Crows has been extremely valuable. I now have experience in Match-Day Analysis, GPS monitoring, Strength Programming and Data Collection at the various levels of AFL, SANFL and AFLW."

Abbie Hicks, Bachelor of Human Movement*

"I decided to study Human Movement at UniSA because I'm intrigued by the human body and how it operates. UniSA provides the opportunity to not only learn but gain industry experience with organisations such as the Adelaide Football Club (AFC). My placement with the AFC has been very rewarding. I have gained experience in analysing performance at the club and on game day, which has given me first-hand insight into what working in the elite athlete and performance analysis space is like."
*If you are interested in a career like Jordon, Jordan and Abbie, our new Bachelor of Exercise and Sport Science degree is now available to study.