Accenture and UniSA join forces to develop the digital business skills of tomorrow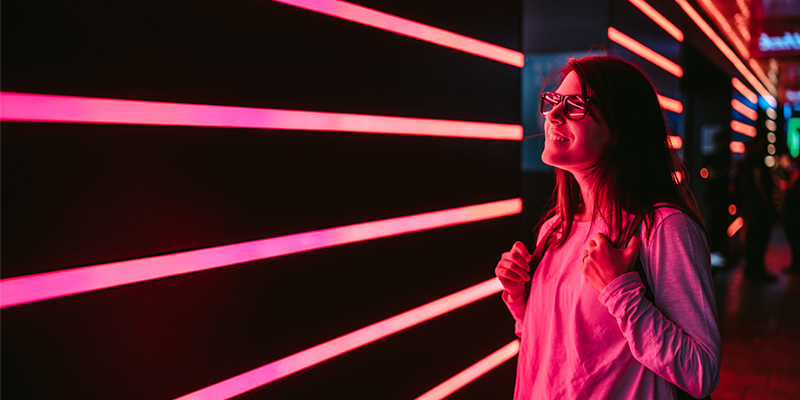 BUSINESS
UniSA will offer a new degree in digital business as part of a unique joint venture with a leading global professional services company that will help transform the provision of business education and digital skills in Australia.
Kicking off in 2022, the Innovation Academy will deliver bespoke innovative curriculum and training programs, drawing on the skills and expertise of Accenture's global workforce and UniSA's established position in online education. Together the partnership will help address known and emerging skills gaps and enhance productivity in Australia's strategic growth areas.The partnership between UniSA and New York-listed company Accenture, will see the creation of an Innovation Academy in Digital Business. The academy will combine the best of Accenture's global practice and expertise with UniSA's proven leadership in transformative, industry-informed business education and research.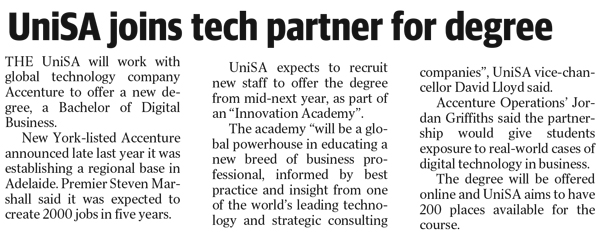 The academy's first offering will be a Bachelor of Digital Business. The program was designed and custom built, leveraging real-world Accenture material and case studies. The second offering of the academy will focus on upskilling and reskilling established workforces in leading-edge digital business practices.
UniSA Vice Chancellor Professor David Lloyd says the University is delighted to be working with Accenture to bring the Innovation Academy to life.
"This will be a global powerhouse in educating a new breed of business professional, informed by best practice and insight from one of the world's leading technology and strategic consulting companies," Prof Lloyd says.
"Our students will be gaining invaluable skills, and will be not just studying with the best, they'll be learning from the best as well."
Focused on the intersection between technology and business, the professional development component of the academy will offer real-time, academically-moderated, practical upskilling programs featuring tailored digital business training modules. Built around UniSA's innovative Q-Credit assessment system, academy learners will graduate with recognised tertiary qualifications, and highly employable and in-demand credentials.
Accenture Operations Lead for Australia and New Zealand Jordan Griffiths says the company is thrilled to be working with UniSA.
"The Innovation Academy will transform how we think about digital business education, locally and globally," Griffiths says.
"The academy will give students real-world applicability to their studies as well as contributing to the upskilling of Australia by developing talent that is equipped for the technology-driven future."
Enrolments for the new online Bachelor of Digital Business program will open from mid-2022. You can register interest and find out more on the UniSA website.
Accenture is a global professional services company with leading capabilities in digital, cloud and security. Combining experience and specialised skills across more than 40 industries, it offers strategy and consulting, interactive, technology and operations services — all powered by the world's largest network of advanced technology and intelligent operations centres. It serves clients in more than 120 countries.