Veteran and first responder wellbeing program to expand by offering occupational therapy
By Cyndal King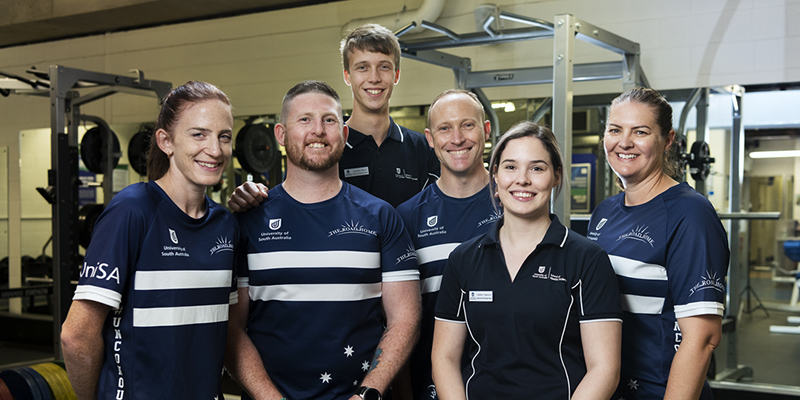 COMMUNITY
An individually tailored training and fitness support program for veterans and first responders will be expanded to offer participants occupational therapy, in additional to a raft of other services provided by UniSA students.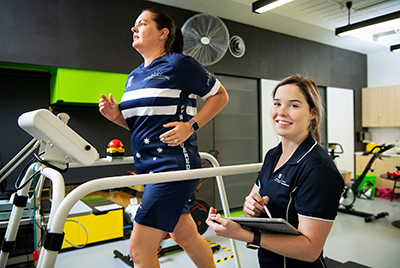 The Invictus Pathways Program (IPP) is a wellbeing program to assist serving and veteran defence force personnel and first responders who have physical, emotional and psychological conditions often experienced as a result of traumatic events.
Hosted by UniSA and sponsored by The Road Home, the program provides invaluable experience for final-year allied health students, to apply their skills and knowledge in a real-world context.
Currently, physiotherapy, podiatry, psychology, exercise physiology, and exercise science students are involved with the IPP.
That will be expanded in August through a pilot program adding occupational therapy to the mix of available services, enabling a much more holistic program supported by the disciplines in allied health.
The Invictus Pathways Program along with the Adaptive Sports Program (ADF), provides multiple placement opportunities for UniSA's health students in assessment and management of participants.
Coming from an occupational therapy background, newly appointed Clinical and Academic Program Lead of the Invictus Pathways Program, Dr Brad Stenner, says including occupational therapy services is an exciting opportunity for not only the program but the students involved.
"We want to make sure we are supporting the participants to the best of our abilities and are also assisting our students to gain the knowledge and skills they need for their futures; and the addition of occupational therapy can assist this goal," Dr Stenner says.
"We have a student placement that is starting up in the second half of this year, which will be interdisciplinary with the exercise physiologists, physiotherapists and podiatry teams."
Dr Stenner has big plans for national expansion of the program, but for the time being is looking forward to getting back on campus to meet with his team.
"There is talk about national expansion and partnering with a number of other universities within Australia, where we can expand nationally and internationally, to really help support veterans and first responders around the country. Any university with an allied health program would be a key partner moving forward.
"However, one of the first things I want to do is just spend time with the participants as well as the students and staff that are providing the services. That way I can get to know what works well; and what perhaps isn't working so well, and hearing from them in terms of what they would like to see in terms of expansion," Dr Stenner says.
UniSA Head of the Invictus Pathways Program and Executive Dean for Allied Health and Human Performance, Professor Roger Eston, says Dr Stenner will be the perfect person to not only assist student learning but help grow and expand the program.
"His background in occupational therapy is considered vital to enhancing the program. As an occupational therapist, Brad is keen to build on the success of the Invictus Pathways Program, integrating occupational therapy into the interprofessional student placements and service delivery to help meet the needs of veterans and first responders in our community.
"It makes sense to include occupational therapy as a critical element of the program, particularly as occupational therapists are expert at advising on adaptation to the environment for persons who have physical and mental disabilities."
Dr Stenner says placement opportunities through the IPP allows students to gain advanced knowledge and experience, while building meaningful relationships with the veterans and first responders they work with.
"I think one of the really strong aspects of the IPP program is that it is student-led and gives the students a really clear opportunity to engage with participants and develop their clinical reasoning skills, their ability to communicate with participants, develop therapeutic relationships, and then work with clients over a longer period of time around their goals," Dr Stenner says.
Dr Stenner believes that this also helps participants feel as though they are 'giving back' to the students in providing them an opportunity to work with them as clients and participants.
Police officer and participant in UniSA's Invictus Pathways Program, Matthew Hawyes, 44, says that the student-led program has been a 'life-saver'.
Having been diagnosed with PTSD in 2017, Hawyes has used the program not only to stay fit, but to help with his mental health and credits a lot of his growth to the student trainers.
"When I first went in with PTSD, I was unfit and out of shape," he says. "I would say my drive and determination was rock bottom and I needed something to get me up and moving. How low you go and those depths of despair that you reach … it affects you not just mentally but physically.
"To have these kids come along and take over your life for three-to-four hours a week is awesome because it really does make you appreciate life and you can look at it and go 'maybe it's not that bad'.
"For me, it's an honour and privilege to get onto the Invictus Pathways Program and say I have been a part of this, because it has helped me to no end. It is a credit to the students, the teachers, the doctors; everyone involved. It's a big thumbs up to them and a big thank you."