Team effort creates 'red dirt' Anangu education space in the Adelaide Hills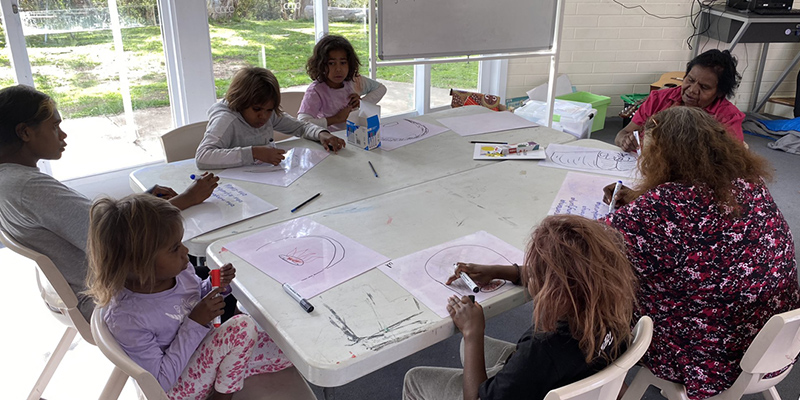 EDUCATION
The cool climate of the Adelaide Hills is a long way from the dry, red soil of the Anangu Pitjantjatjara Yankunytjatjara (APY) Lands in the remote north west of South Australia – more than 1400km by road.
But a group of 51 people from the APY Lands is calling Mylor Adventure Camp home, after finding themselves unable to return to their home communities because of COVID-19.
UniSA Associate Director for Regional Engagement (APY Lands), Dr Sam Osborne, says biosecurity restrictions introduced in March meant many Anangu (Pitjantjatjara and Yankunytjatjara people) couldn't get home.
But Dr Osborne and Iwiri, a cultural organisation for Anangu living in Adelaide, were ready to help – setting up what he's dubbed a "red dirt" education space.
The SA Housing Authority and Mylor Adventure Camp established a safe space for the group to shelter from the unfolding COVID-19 pandemic. The group also includes longer term Adelaide residents with insecure tenancies whose health is at risk.
Iwiri stepped up to provide cultural support and recreation. The Aboriginal corporation provides a cultural program, interpreting services, arts and crafts materials, evening devotions and recreation activities, and an education program. Among the Mylor residents are three qualified Anangu teachers, who completed their training at UniSA, and four Anangu educators who ordinarily work in APY Lands schools but are unable to return.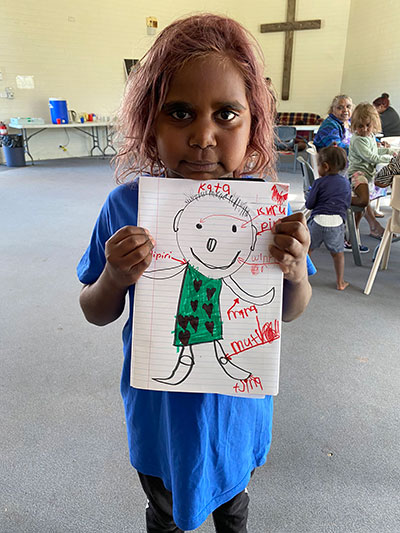 The temporary Mylor education space employs Anangu educators to teach in the children's home language. The children are developing literacy and numeracy skills through stories, songs, games, and Pitjantjatjara language books. The children's mothers, sisters, aunties and grandmothers are the lead educators.
Dr Osborne, a former principal at Ernabella, says it's a great example of how disruption can create opportunities for innovation.
"So far from home, Anangu educators are using this moment in time to teach and inspire the next generation through their home language and culture," he says. "This has been a really unexpected and wonderful experience."
Audrey Brumby, a proud mother and Anangu teacher, originally from Ernabella in the APY Lands, reads Kalayaku Puuta (Emu's Shoes) to the children, a hilarious early childhood bilingual book she wrote and published in a previous era of first language instruction in Anangu Schools.
"This is the first time my daughter has read or written anything in her own language," Brumby says.
The education program also includes an afternoon of traditional dance (inma) and cooking roo tails and damper on the open fire.
The Mylor education program is a collaboration between UniSA, Wiltja Secondary College, PYEC (Pitjantjatjara Yankunytjatjara Education Committee), Iwiri, and the SA Department for Education's Walk Along initiative, which connects the Mylor students to their home schools to ensure they are maintaining school attendance.
APY Lands general manager Richard King applauded the community outreach work at Mylor.
"APY is pleased that Anangu stranded in Adelaide are being so well supported in a safe environment with appropriate educational, recreational and cultural support, and we support this vital work," he says.