$10m fund helping students hardest hit by economic downturn
By Adam Joyce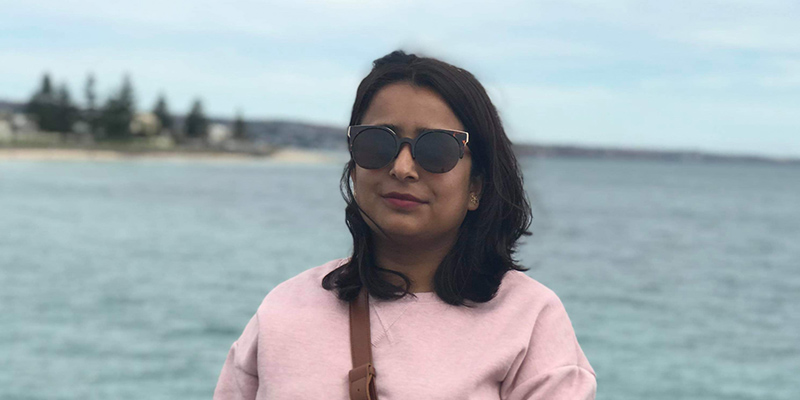 INSIDE UNISA
More than 1800 UniSA students have so far received assistance from the University's $10m Student Hardship Fund, which is helping them continue their studies in the face of challenges presented by the COVID-19 pandemic.
The fund was established to support UniSA students who were significantly disadvantaged by the wider economic impacts of COVID-19.
The University has also opened the fund to donations from staff, alumni and partner organisations. Hundreds of alumni from across the globe, and a high proportion of UniSA staff, have donated already.
As of 19 May, more than $3.5m has been disbursed to students. The biggest group needing assistance is international students living in South Australia.
First-year Master of Education student Ambika Sharma, who's from Bhutan, successfully applied for help from the Student Hardship Fund.
"Due to COVID-19 it was quite difficult for me to pay rent, buy groceries and, pay utility bills," Ambika says.
She says she'd planned to get a part-time job after moving to Australia but COVID-19 meant that was not possible.
"Nobody knew that this (COVID-19) was coming and so it's not only me who has been affected in terms of learning and finding a part-time job but almost everyone around the world," Ambika says. "Though it was quite challenging at times to get used to online learning and living with the restrictions, I have also learnt a lot."
She says she misses face-to-face learning because she enjoys meeting different people.
"I also wanted to roam around and see the beautiful places of Adelaide and make some new memories," Ambika says. "It's been more than two months that I've been inside my house but … I feel blessed to be here in Australia which is a less affected country today."
She received more than $1000 under the Student Hardship Fund and encourages others who need help to apply.
"I want to thank the entire UniSA team for the great support to students."
Master of Professional Accounting student Thrish Wijesinghe, who's from Sri Lanka, lost her part-time retail job because of COVID-19. The job helped cover her rent and buy groceries.
"Because of these worries, I couldn't focus on my studies as I had in my previous semester," she says.
Thrish successfully applied for a hardship grant. She says it was great that the University supported students' wellbeing during the pandemic.
"Now I can focus my studies during this difficult time," she says. "Especially as my exams are at hand, I can peacefully get ready for that. Thank you very much UniSA for considering me for this grant and helping students in this difficult situation."
UniSA Pro Vice Chancellor for Student Engagement & Equity Professor Carol Grech says the fund is one of the ways the University has been providing comprehensive support for students struggling under the impact of the COVID-19 restrictions so that they can continue their studies.
"Through UniSA's $10 million Student Hardship more than 1800 domestic and international students have applied for and received grants," Prof Grech says.
"In addition, through UniSA's student support services and its Students Association (USASA) we have helped more than 200 students with a range of services from personal and financial counselling, to emergency food and accommodation.
"We have also distributed more than 80 loan computers so that students can engage with online learning."
Extra support is being provided by the State Government through a $13.8 million support package for South Australia's international education sector. The International Student Support Package is open for applications and provides a one-off payment for eligible onshore international students of up to $500.
UniSA Vice Chancellor Professor David Lloyd has written about why international students need the community's consideration and care in his latest UniSA News column.
The Student Hardship Fund (COVID-19) is open to all students (including international students) currently enrolled for onshore study at UniSA, who are in financial crisis and struggling with the costs of living and studying as a result of COVID-19. Applications can be made via the UniSA Student Hardship Fund webpage.
Numbers at a glance
As of 19 May 2020:
UniSA has provided more than 1800 students with financial support via the Student Hardship Fund so far. About 85 per cent of recipients are international students.
More than $3.5m has been disbursed to students in need because of the COVID-19 pandemic.
In addition to direct financial support UniSA has provided more than 80 students with laptops on long-term loan to support their studies.
UniSA is working closely with USASA to provide additional support to students requiring assistance. More than 100 students are receiving financial counselling via Zoom or phone.
USASA has also provided over 75 emergency grant payments. These include grants for rent, food, medicine, blankets and household expenses. More than $22,000 has been provided by USASA in the form of emergency grants so far.