Hawke's legacy continues to grow as new materials added to archival collection
By Jesse Neill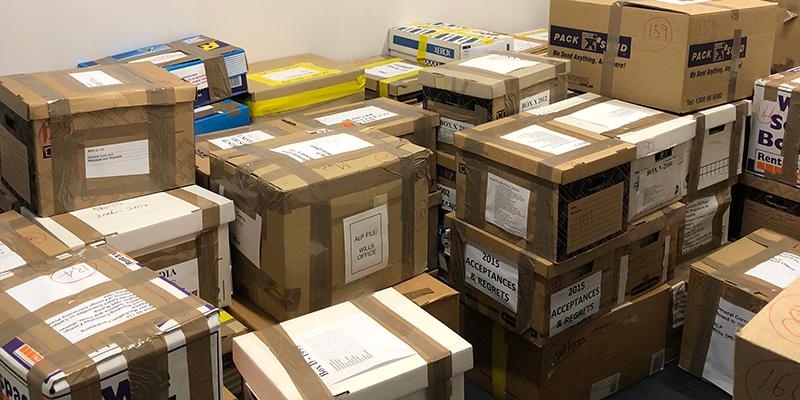 COMMUNITY
> Multicultural award honours Hawke Centre's contribution to building a more harmonious society
Following the first anniversary of the death of former Australian Prime Minister, Bob Hawke, on 16 May, the Bob Hawke Prime Ministerial Library continues to honour his values and legacy as an active campaigner for education and the opportunities it creates.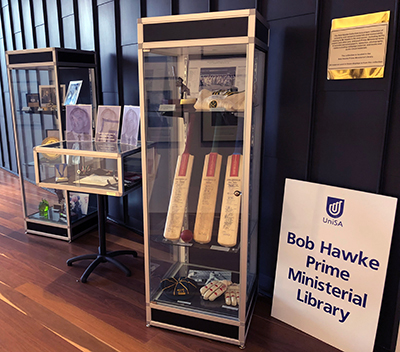 The Bob Hawke Prime Ministerial Library features a unique collection made up of research materials and memorabilia from Hawke's time in and out of office, and together with the Bob Hawke Prime Ministerial Centre, represent a shared memory of Hawke's life.
The Bob Hawke Collection was transferred to UniSA Library from the National Archives of Australia in 1997, however Special Collections Coordinator Kate Sergeant says they've recently received more than 370 boxes worth of additional material which will be processed and added to the collection.
"We received 94 boxes in December 2018 and another 284 in July 2019," Sergeant says.

"A final box of condolence correspondence was received from Ms [Blanche] d'Alpuget in January this year."
The new material is diverse and spans Hawke's entire career, including his time at the Australian Council of Trade Unions (ACTU), as Prime Minister, and his life after office.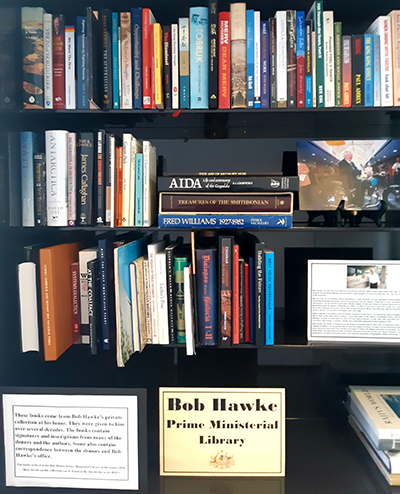 The bulk of the new material are papers and documents, however also included in the donated materials are awards, gifts, framed photographs, objects, artefacts and art, as well as memorabilia from Hawke's childhood, his book collection, and audio and video recordings of interviews and speeches by the former prime minister.
With such a large and diverse collection Sergeant says it is hard to pick a few things to highlight, however they've received a range of unique records relating to Antarctica.
"Mr Hawke was passionate about preserving Antarctica and one of his achievements in office was protecting Antarctica from mining," Sergeant says.
"He visited Antarctica in 2013 and we have several photographs from the visit including photographs of the huts named in his honour."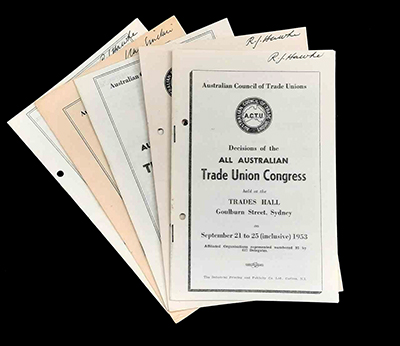 The library has started processing the papers and documents from Hawke's ACTU years first, as it provides researchers with an invaluable resource for both political and social research from the Hawke era and complements existing ACTU papers and documents held in the collection.
The ACTU materials highlight a period of Australian history that saw significant changes to the economy, social welfare, industrial relations, international relations and community values.
Many of the files are letters from everyday Australians that illustrate and reflect their concerns during this time including inflation, real wages, industrial unrest and strikes, pensions, working conditions and unemployment.
The correspondence also provides a record of general sentiment towards Hawke. While this includes negative comments and constructive feedback, the majority of the letters convey a sense of respect for Hawke and a shared belief he would fight for the rights of the average worker and would be a good prime minister.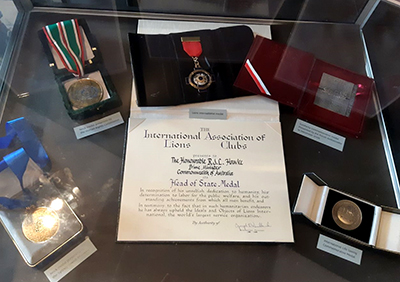 The Hawke Centre and Bob Hawke Prime Ministerial Library aim to offer a legacy to build on for the future and acknowledge Hawke's work as a major supporter of education, of international understanding, and of balance between equity and economy to serve the greater social good.
The collection is located in the Bob Hawke Prime Ministerial Library at the City West campus.
Details of items in this collection are available in the UniSA Archival Collections.
To access the collection or for further information contact Ask the Library.
Multicultural award honours Hawke Centre's contribution to building a more harmonious society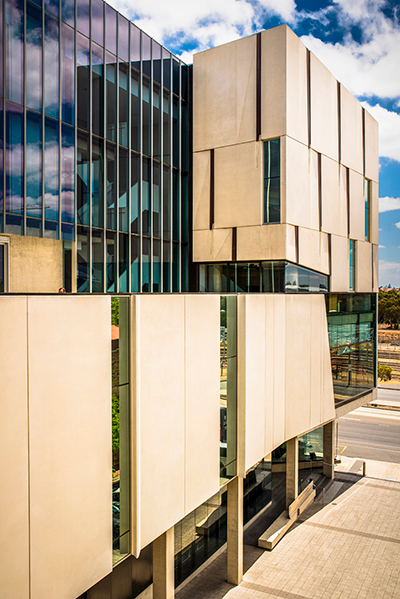 The Bob Hawke Prime Ministerial Centre at UniSA has been acknowledged with the Community Award for its contribution in South Australia as part of the 2019 Governor's Multicultural Awards.
The awards recognise and celebrate the work of South Australian individuals and organisations who promote multiculturalism and increase the understanding of the benefits of cultural diversity in our community.
Established in 1997, The Bob Hawke Prime Ministerial Centre has a thriving program of public events focused on society, science and culture and the arts and dedicated to the values of strengthening democracy and valuing diversity and educating the community.
UniSA Vice Chancellor Professor David Lloyd says the award is a welcome acknowledgment of UniSA's ongoing efforts to bring knowledge, debate and new ideas out from the University and into the wider world.
"As we have recently marked the one-year anniversary of Bob Hawke's death, this is wonderful recognition of how the Centre named in his honour, has continued to fulfil his personal commitment to building better societies," Prof Lloyd says.
"This public program has been a core function of the centre since it was founded, starting with the Annual Hawke lecture, but building over the years to bring South Australians free access to knowledge and ideas that promote global and multicultural understanding."
The awards are judged annually, and The Bob Hawke Prime Ministerial Centre's 2019 program featured scores of public lectures and exhibitions, educating participants about global issues around inclusion, peace and understanding.
In addition to a packed public speaking program, art exhibitions featuring works from refugees, works looking at architecture in Japan, farming life in Thailand, and tackling issues of racism and prejudice were also acknowledged as part of the award.
Executive director for the centre, Jacinta Thompson, says it plays an important role in communicating and informing a broad local audience, across age groups and cultures.
"Our free program of events reaches out to all South Australians – everyone is welcome," she says.
"Our aim to build knowledge on big social and cultural issues that are critical in the creation of harmonious communities."