UniSA and State Government team up to deliver new sports science precinct at Mile End
By Annabel Mansfield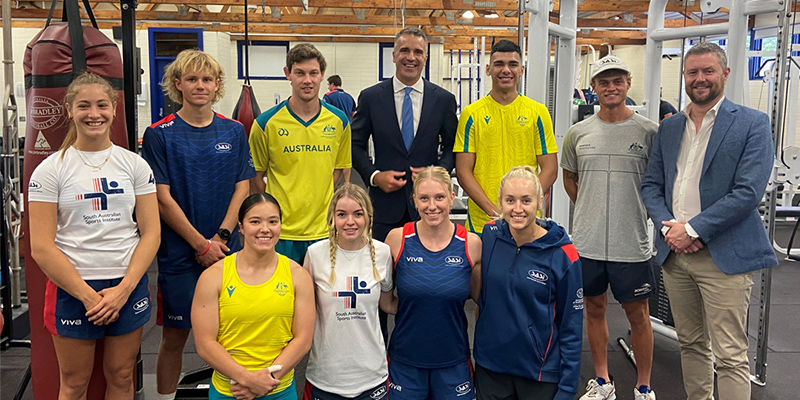 COMMUNITY
UniSA and the South Australian Institute of Sport (SASI) are teaming up to deliver a world-class high-performance sport, research and education precinct in Mile End.
The state-of-the-art facility will bring together key sporting and education infrastructure to support athletes to perform at their best, provide university students with immersive industry-led experiences, and deliver research-based solutions for South Australian sport.
The UniSA Sports Science Hub will be co-located at Mile End with the new National Centre for Sports Aerodynamics, the South Australian Institue of Sport, SA Athletics Stadium and Netball SA Stadium.
The hub will ensure that UniSA sports science students have authentic learning experiences, scope to engage with leading industry staff and elite athletes, and a career-ready education.
UniSA Vice Chancellor Professor David Lloyd says the new facility will provide vibrant, integrated learning opportunities for students.
"The new UniSA Sports Science Hub presents an outstanding opportunity to develop stronger research, teaching and commercialisation collaborations with SASI and other sports industry partners that are located at the site," Prof Lloyd says.
"Coaches and allied health personnel will work together to deliver cutting-edge research to better prepare athletes for competition.
"The UniSA Sports Science Hub will have the latest industry facilities and expertise to ensure world-class learning, practice and research, which will benefit South Australia's sports industry now and in the future."
The only facility of its kind in the Southern Hemisphere, the new UniSA Sports Science Hub will include dedicated teaching and research spaces including exercise teaching, biomechanics laboratories, exercise testing equipment, and an environmental chamber.
Premier Peter Malinauskas says the new facility will encourage children to participate in sport so they can enjoy all the physical, psychological and social benefits it delivers.
"To inspire those kids, we need the athletes representing South Australia on the world stage to have truly world-class facilities – and this project will deliver them, for the long term," Malinauskas says.
"The new SASI partnership with UniSA is another example of South Australian sport being innovative and leading from the front.
"It means we can truly capitalise on the efforts of the best high-performance sporting professionals in the world, who are already based right here in Adelaide."
Recreation and Sport Minister Katrine Hildyard says the new facilities will inspire future generations to become more involved in sport and physical activity.
"Some of South Australia's greatest athletes – Jess Stenson, Kyle Chalmers, Maeve Plouffe and Darren Hicks – developed their talent right here in Adelaide at SASI," Hildyard says.
"When these and other remarkable athletes perform at the highest level, future generations are inspired, and we see an increase in participation in sport and physical activity.
"This is so important. Children and young people being physically active and involved in sport brings so many benefits – to mental, physical and emotional health and wellbeing and to social connectivity.
"As sports institutes all over the world embrace evolving technology to gain a winning edge, this brilliant new SASI facility will keep South Australia at the forefront of sport performance and research, support the work of staff and athletes and empower even more young athletes to chase their sporting dreams."
Works are set to commence in early 2023, with the project expected to be completed by mid-2024.