New biomarkers aim to improve skin cancer detection, saving lives
By Candy Gibson
> BREAKOUT STORY: Algorithms that detect skin cancer launched at community event
New biomarkers to improve skin cancer detection and avoid delays in treatment are being developed by researchers at UniSA.
Every 30 minutes, an Australian is diagnosed with melanoma, the most aggressive form of skin cancer. Fortunately, 98 per cent can be successfully treated if the cancer is caught early, but what happens when it's not?
UniSA PhD candidate Giang Lam says thousands of skin lesions are misdiagnosed each year, delaying treatment, and putting lives at risk.
"Melanomas exhibit a wide range of sizes, shapes and growth, which can resemble numerous benign and other malignant skin lesions," Giang says.
"It can make accurate detection difficult, even for expert dermatologists and pathologists. The current markers used in clinical practice to identify cancerous cells and distinguish them from normal cells are not always sensitive or specific.
"Melanomas are sometimes missed, and this can have fatal consequences."
Giang, and supervisor Dr Jessica Logan, a Research Fellow in UniSA Clinical and Health Sciences, are identifying new detection methods based on abnormal markers in the endosomal system, which flags melanoma growth.
"With melanomas, this system is hyperactivated and plays an important part in initiating melanomas and encouraging their growth. By developing markers that can label these cells in a dark brown colour, it will allow pathologists to be 100 per cent accurate."
Melanoma accounts for most skin cancer-related mortalities globally, responsible for almost 325,000 cases in 2020 and more than 57,000 deaths. Australia has the highest incidence of skin cancer in the world, recording an average of four deaths each day.
"Our research at UniSA is primarily focused on developing more effective biomarkers for melanoma but also understanding how the disease progresses and the multiple causes," Dr Logan says.
"The sun and subsequent UV damage are mainly responsible for causing skin cancer, so wearing sunscreen and getting regular skin checks is a must, but genetics also plays a role. If some of your family members have skin cancer, you also have a higher chance of getting the disease."
The researchers hope to progress to biomarker clinical trials within the next few years.
Algorithms that detect skin cancer launched at community event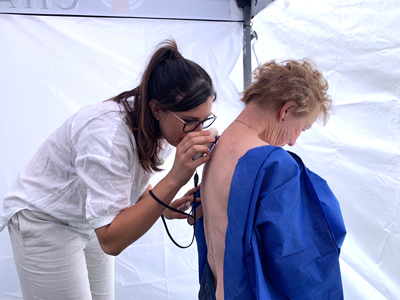 The world's first pop-up skin cancer clinic that uses artificial intelligence to help detect suspicious skin lesions was launched at the Tour Down Under in Victor Harbor.
The free service, delivered by nurses, uses algorithms in conjunction with doctors' clinical expertise to detect skin cancer, which affects two out of every three Australians during their lifetime.
Thanks to a partnership between national health charity Skin Check Champions, UniSA and The Hospital Research Foundation, the new nurse-led model delivered via pop-up clinics is being piloted to improve skin checks in regional South Australia where skin cancer rates are up to 31 per cent higher than people in metropolitan areas.
UniSA Professor in Cancer Nursing Marion Eckert says distance is a big disadvantage when it comes to skin screening services.
"Skin cancer prevention programs are under-funded and under-resourced, especially outside large cities, despite melanoma being the third most diagnosed cancer in Australia and melanoma killing four Australians every day."
Skin Check Champions CEO Scott Maggs says the world-class AI technology has performed as well as dermatologists, even outclassing them in some experiments, although control trials and more research are needed to better validate the algorithms.
"Our goal is to halve the number of Aussies who die from melanoma and increase the number of skin checks in Australia by 25 per cent by running a targeted AI-supported national skin check program," Maggs says.
The project involves training nurses to take high-quality lesion images that are triaged and conditionally diagnosed by artificial intelligence algorithms to see if they are cancerous. The results are verified by local GPs and, if required, patients are referred to dermatologists, most of whom are based in cities.
Residents living in regional areas will be able to access the service via nurse-led free pop-up clinics at local community events.