PhD student doesn't miss a beat, wowing judges with murder mystery novel based on SA's first policewoman
By Candy Gibson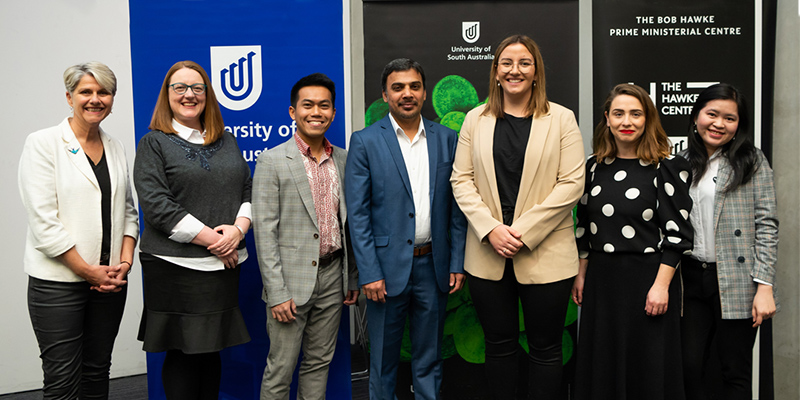 INSIDE UNISA
South Australia's first policewoman, Kate Cocks, was a force to be reckoned with during her 20-year career, earning a place in history for her pioneering welfare work during the Great War while also smashing drug rings and walking the beat in high heels.
Few people are aware of the first woman in the world to hold the same powers as her male police counterparts when she was appointed in 1915, but the winner of the 2022 UniSA Three Minute Thesis (3MT) grand final has changed all that.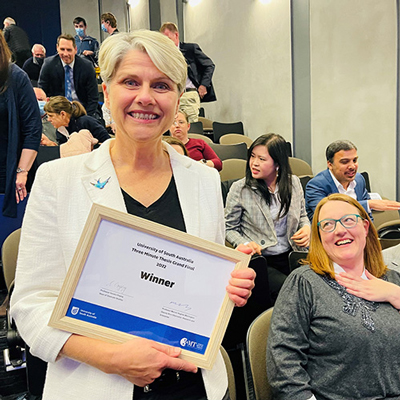 In just three minutes, Adelaide journalist, author and UniSA Creative PhD candidate Lainie Anderson introduced the Allan Scott Auditorium audience to one of South Australia's "lost women to history", winning over the judges in the process.
The Three Minute Thesis is an international competition celebrating the research undertaken by PhD candidates. Competing for a chance to represent UniSA in the Asia-Pacific 3MT competition, PhD candidates communicate their research using one slide, and non-technical language.
Anderson's PhD pitch, discussing why she chose Kate Cocks as the inspiration for her historical murder mystery novel, took out the $3000 3MT first prize among a field of seven PhD finalists representing different academic disciplines at UniSA.
"Kate was a contradictory 40-year-old single woman constrained by culture and at the vanguard of change," Anderson told the audience.
"She smashed drug rings and arrested slave traders, but most of the time she walked the beat, rescuing women from themselves, from men, and from abusive husbands.
"However, she wasn't a saint. Kate Cocks was shades of grey. My novel will reveal a woman who dealt with large families condemned to poverty, but who did not believe in birth control; who beat young couples with a five-foot cane for canoodling, but found ways to allow unmarried mothers to keep their babies."
Anderson's novel, due to be published in 2024, will shine a light on Cocks "to rescue an era of Adelaide women from the margins of history" and to give voice to the forgotten gender of WWI Adelaide.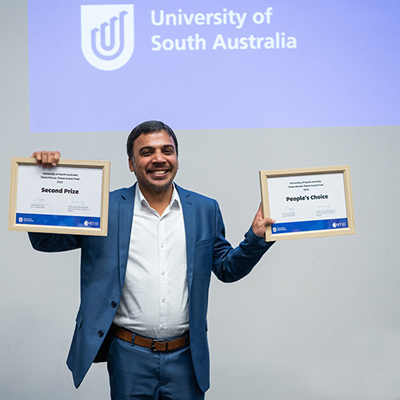 The runner-up and People's Choice Award ($2000 prize money) went to UniSA Business PhD candidate Muhammad Rashid Saeed for his talk on how advertising can help brands when they push boundaries.
Saeed's research investigates the risks and opportunities of established brands such as Dyson or Apple launching secondary products unrelated to their existing products.
"Imagine Colgate launching a range of ready-to-eat microwavable food?" Saeed asked. "They did and it failed miserably. But vacuum cleaner company Dyson has successfully ventured into hair dryers and Apple is planning to launch self-driving electric cars by 2027."
Saeed says "low-fit" brand extensions can offer new markets and growth if they are carefully planned, using abstract messaging to plant the seeds in consumer minds.
The other 3MT finalists to present their PhD research on 6 September included:
Billy Setiawan (UniSA Justice & Society): "Beer or Teh Tarik?: Bridging Languages and Cultures in Foreign Language Classrooms"
Maddison Mellow (UniSA Allied Health and Human Performance): "Building your best day for brain health in older adulthood"
Lesley Johnson (UniSA Education Futures): "Better when you improvise: how social learning improves teacher professional learning"
Giang Lam (UniSA Clinical and Health Sciences): "Detecting melanoma: Australia's silent killer"
Maria Vieira (UniSA STEM): "Creative confidence to close the gender gap in STEM".
The 2022 UniSA 3MT Grand Final was presented in conjunction with The Bob Hawke Prime Ministerial Centre. A recording of the event is available on the Bob Hawke Prime Ministerial Centre website.