UniSA supports efforts to boost health workforce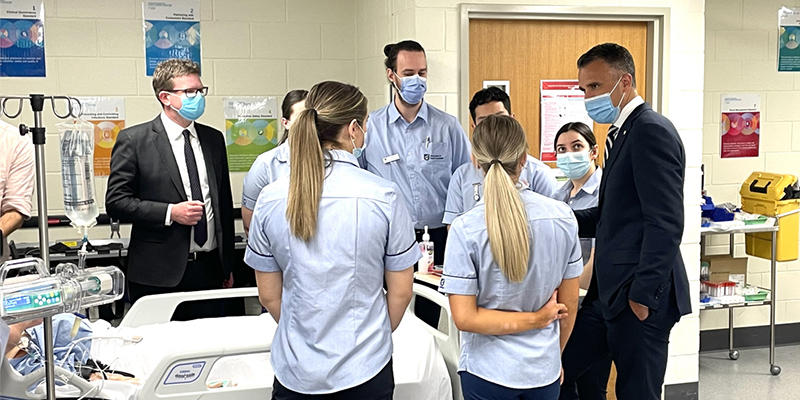 HEALTH
UniSA will work with the State Government to help meet the growing demands on the State's health workforce, following an announcement that thousands of nurses and midwives will benefit from new scholarships and training.
Premier Peter Malinauskas and Minister for Health and Wellbeing Chris Picton visited UniSA's Horizon Hospital and Health Service to announce a series of training programs being rolled out across South Australia.
The SA Health Nursing and Midwifery Skills and Training Package will be delivered over the next three years.
SA Health is partnering with UniSA, the University of Melbourne and the Australian Nursing and Midwifery Federation on programs to meet clinical needs in metropolitan, regional and rural areas.
UniSA's Clinical Specialisation Program (including 3000 scholarships) will allow registered nurses and midwives the opportunity to undertake a new accelerated pathway into clinical specialisation.
Program delivery is tailored to the SA Health environment and provides nurses and midwives the foundation skills to fast-track their journey into postgraduate clinical specialisation qualifications.
UniSA Nursing and Midwifery Dean of Programs Professor Rachael Vernon welcomed the State Government's announcement.
"This initiative is a significant partnership between SA Health and the University of South Australia, providing an opportunity to further enhance the capacity and capability of our nursing and midwifery workforce and ultimately improve the health outcomes of our community," Prof Vernon says.
"We are looking forward to working with the State Government to help meet the growing demands on the health workforce."
Health and Wellbeing Minister Chris Picton says the program will fast-track workforce capacity and development.
"I encourage anyone eligible to apply for these scholarships and paid positions to build on their skills and help meet growing clinical demand," he says.
Chief Nurse and Midwifery Officer Professor Jenny Hurley says the program provides unique opportunities for nursing and midwifery professionals to undertake a diverse range of essential clinical care roles, and access new accelerated advanced graduate pathways.
"This new training package will give our public hospital system a much-needed boost and allow us to build on our nursing and midwifery capability and capacity into the future," Prof Hurley says.
The Clinical Specialisation Program commenced at UniSA in July.
For more information and to apply visit the Nursing and Midwifery Skills and Training Package 2022-2025 webpage.