UniSA students deliver Adelaide's new recycling solution
By Dan Lander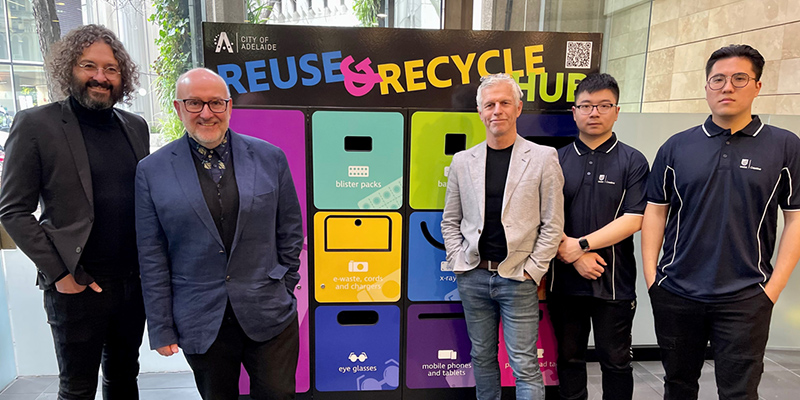 CREATIVE INDUSTRIES
There are growing calls across Australia for improved recycling and reuse options for a wide range of items. Many councils are responding to this demand by expanding the recycling services they provide.
While kerbside collection remains the core of recycling efforts for common items, smaller, harder to recycle items such as batteries, sunglasses and light globes often unnecessarily end up in landfill because of a lack of practical deposit options.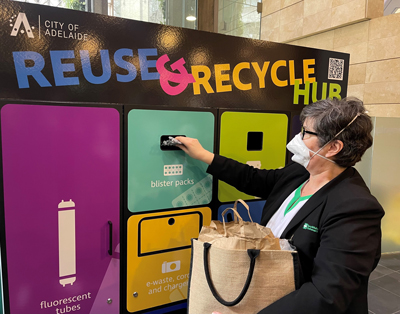 To tackle this problem, the City of Adelaide has collaborated with UniSA to design and build two new "Reuse and Recycle Hubs", providing a dedicated way to sustainably dispose of 10 different household items that can't go in the home recycling bin.
Unveiled at a special event at the City of Adelaide Service Centre in early September, the stations were designed by Master of Design students Shengkai (Derek) Shao and Quijie (Sam) Kong, supported by Product Design lecturer Andrew Whittaker, and Bachelor of Design program director Dan McLean.
The City of Adelaide has also partnered with several community organisations to repurpose many of the items the stations will collect, with Zoos SA taking old mobile phones and tablets, the Lions Club finding new homes for eyeglasses, e-waste going to Electronic Recycling Australia and Minda Inc, and plastic bread tags being made into new items by Transmutation.
In keeping with the project's circular economy philosophy, the units are made of nearly 100 per cent recycled materials, a design element Whittaker says was introduced by the UniSA team.
"The students developed the concept for the final stations, and as part of that they said, 'Look, you know, we would like to have these constructed out of primarily recycled materials'," Whittaker says.
"So, we set about sourcing some sheet material – it's made out of post-consumer waste, like shampoo containers and soft bags, and that's all melted and turned into a sheet which we were able to source and use for the project."
The final stations – which are located in the City of Adelaide Customer Centre on Pirie Street and the City Library in Rundle Place – have been enthusiastically received by all stakeholders.
Sam says the project provided them with important insights into client interaction and communication.
"I think the most challenging aspect during the project was not the design, but communicating with the client," Sam says. "As a design student, we're not sure about the final outcome the customer wants, so we have to create different renderings to find out the preferences of the client.
"I think this is the greatest experience in my study time. During the entire design procedure, I have learned how to communicate with a client, how to work with a team, how to work like a 'real designer'."
As the hubs are located in prominent public spaces, they needed to be visually appealing in addition to catering practically for a wide range of different items.
Derek says the project presented a number of challenges, balancing those various dimensions.
"I spent plenty of time collecting samples and searching for an optimal opening size," Derek says. "The size of each category unit needs to be integrated to the whole bin, that means modification of each unit will influence other parts in the product, and the limited space in the delivery location give us more constraints.
"This program has enabled me to get more insight into sustainability, getting exposure to more knowledge in development in this area. For example, a lot of heavy metals can be recycled from the used mobile phones and discarded X-rays can produce radiation that is harmful to the human body."
Adelaide Lord Mayor Sandy Verschoor says the collaboration with UniSA and other stakeholders was central to the project's success.
"We are taking real action to improve our resource recovery and we're leading by example, working with the design students at UniSA to make these hubs from recycled materials," Verschoor says.
"It's important that we have partnered with several community groups for this project, which is all about making it as easy as possible for everyone in the community to recycle.
"The City of Adelaide has a vision to be the first zero-waste city in Australia and initiatives like these hubs will help to achieve that goal."
The two new Reuse and Recycle Hubs are located in the City of Adelaide Customer Centre on Pirie Street and the City Library in Rundle Place, and accept the following items:
Batteries
Blister packs
Eyeglasses/sunglasses
Fluorescent tubes
Light globes
Mobile phones/tablets/chargers/accessories
Small electronics
Plastic bread tags
Printer cartridges
X-rays
Read more on the City of Adelaide website.