Three UniSA students to rekindle Indo-Pacific connections in 2021
By Dan Lander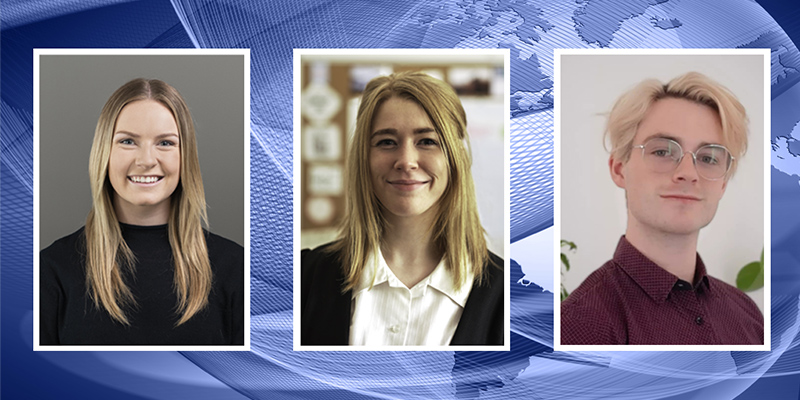 INSIDE UNISA
When international travel becomes a reality again, three of UniSA's top students will be among an elite group of young Australians rejuvenating relationships in the Indo-Pacific region, after being awarded prestigious New Colombo Plan (NCP) scholarships.
Border restrictions permitting, the NCP scholarships will support UniSA's Lauren Schroeder, Lucy Zola and Max Boylen to travel to locations in the Indo-Pacific in 2021 to further their studies and engage with the region's culture, people and business practices.
Officially announced by the Minister for Foreign Affairs Marise Payne, the scholarships place the three UniSA students among an elite group of young Australians lucky enough to be offered such an opportunity.
While restrictions currently remain in place for international travel, Payne's office is hopeful the students will be able to travel in 2021 and begin re-establishing the connections Australia enjoys with many of its Indo-Pacific neighbours.
For UniSA Tourism and Event Management student Lauren Schroeder, that will mean the chance to head to Fiji in the middle of next year to study at the University of the South Pacific, before undertaking internships with Tourism Fiji and the tourism office of neighbouring Vanuatu.
"As a tourism student, I am very passionate about travelling, and I already planned to undertake a study tour during my time at university, so when I heard about the NCP scholarship, I knew it was the perfect opportunity," Lauren says.
"The NCP scholarship allows students like me to study abroad and seize opportunities, without the concerns of money or security, and I am very excited to live abroad for a year in Fiji and find a home away from home – to engage with the locals, their culture and lifestyle, and make the most of this experience."
The New Colombo Plan aims to lift knowledge of the Indo-Pacific in Australia by supporting Australian undergraduates to study and undertake internships in one of 40 countries in the region.
The highly competitive scholarships are awarded to Australia's best and brightest students who demonstrate adaptability, resilience, and leadership in the community, as well as understanding the importance of deepening Australia's relationships in the region.
UniSA Bachelor of Information Technology student Max Boylen says the NCP scheme will allow him to engage with some of the world's leading developers of augmented and virtual reality, expanding his horizons both professionally and personally.
"In Kuala Lumpur I will study at the University of Malaya and undertake language training in Malay, and will also work as an intern with Infosys, a world-leading IT consulting company based in India," Max says.
"The Faculty of Computer Science and Information Technology at the University of Malaya is highly regarded, and the Infosys Center for Emerging Technology Solutions is working on several fascinating projects involving AR and VR, which I would love to be a part of."
UniSA's third NCP recipient, Bachelor of Contemporary Art student Lucy Zola, will be traveling to Nepal to study at the Kathmandu University School of Art and Design, and plans to undertake a residency at the Marpha Foundation in a village in the Himalayas.
"I will be researching emotional and physical responses to sound and producing evocative sound and video artworks," Lucy says.
"I intend to record soundscapes and film from various Nepalese landscapes to produce audio-visual installations and am also going to study the Nepalese language."
UniSA Vice Chancellor Professor David Lloyd says the NCP scholarships are a wonderful opportunity for students to gain experience and knowledge of the Indo-Pacific and suggests they will play an important role in rejuvenating relationships between Australia and its neighbours in the region.
"After such a challenging year in 2020, we're very hopeful 2021 might see the resumption of some face-to-face elements of international collaboration between Australia and our neighbours," Prof Lloyd says.
"Cross-cultural experiences like those supported by the New Colombo Plan's scholarship program give young people an invaluable sense of international business and education, community and culture, and are a fantastic opportunity for sharing ideas around the world.
"We congratulate Lauren, Lucinda and Max, and our best wishes go out to them in the hope 2021 will allow them to enjoy this opportunity sooner rather than later."
The Department of Foreign Affairs and Trade says that should international border restriction prevent NCP recipients from travelling in 2021, scholarships can be deferred until 2022.