UniSA research independently assessed as having significant impact
By Michèle Nardelli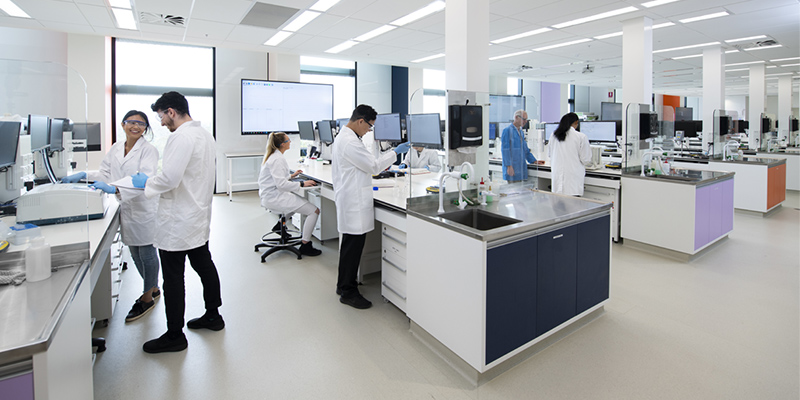 INSIDE UNISA
UniSA's research has been assessed as having the equal highest impact of Australia's universities and the third highest level of engagement with end-users, according to the results of the Australian Research Council's first engagement and impact assessment.
The result was one of three significant research and impact achievements for UniSA in the past few weeks, which also include:
The Australian Research Council (ARC) assessing UniSA across 39 detailed (4-digit) fields of research, as part of Australia's national research evaluation framework Excellence in Research Australia (ERA) and rating all 39 at world standard or above. Full story below. Full story below.
Times Higher Education ranking UniSA 22 in the world in its inaugural University Impact Rankings, which assess universities against the United Nations' Sustainable Development Goals. The indicators, which contribute to the overall ranking, are intended to provide comprehensive and balanced comparisons across three broad areas: research, outreach, and stewardship. Full story below.
The ARC Engagement and Impact Assessment 2018-19 National Report examined how Australia's universities and their researchers are collaborating with industry, government, communities and the not-for-profit sector.
UniSA was ranked #1 in the country on a combined metric of Impact, Approach to Impact and Engagement, with a rating of about 65 per cent.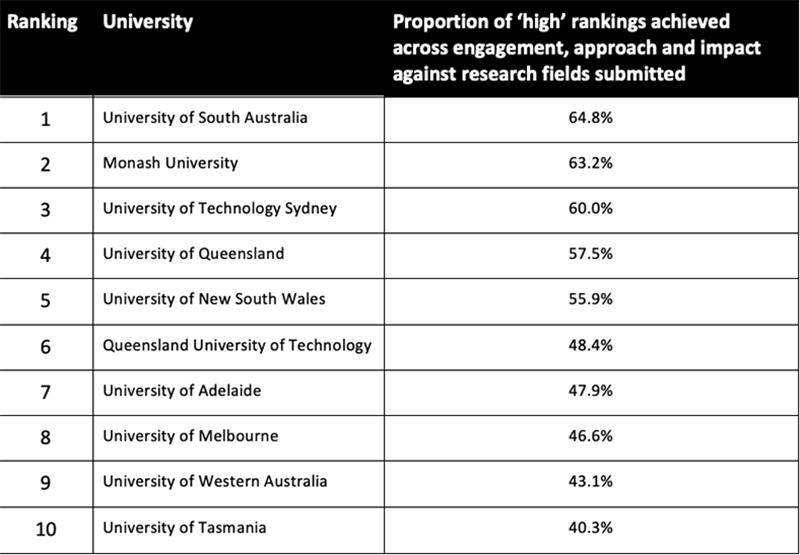 79 per cent of UniSA's research was assessed at the highest impact level, highlighting the University's commitment to undertaking research that delivers economic, environmental, social, cultural and other benefits. This places UniSA equal #1, alongside University of Technology Sydney (UTS), for impact. In addition, 63 per cent of UniSA's assessed reach was awarded the highest engagement level, indicating strong collaboration with industry, business and people and organisations that benefit from the research. This places UniSA #3 in Australia.
Both measures are well above the national average of 43 per cent for high impact and 34 per cent for high engagement.
UniSA Vice Chancellor Professor David Lloyd says the ARC results reinforce UniSA's reputation as Australia's University of Enterprise and its long and strong tradition of working with industry, business, government and other agencies to solve problems, improve operations and to lead innovation.
"If you look at the history of UniSA it is one that has always been deeply engaged with its communities and a cornerstone of our research approach has been to work on partnered research with a goal in mind," Prof Lloyd says.
"And the impact benefits of that approach are really clear in the projects that the ARC's panels, which included end-users, have assessed – examples like the world's first shatterproof plastic car mirror, developed with a local industry partner and now used in the auto industry globally or working with government and agencies to transform child protection policies so we can better protect children in crisis around Australia."
Prof Lloyd says the Engagement and Impact assessment adds strength to UniSA's improvement in its ERA quality performance, where the 2018 results showed the University's performance was well above world standard in 20 fields of research.
Last year's Times Higher Education placed UniSA among Australia's top universities for income derived from industry partnerships and the University improved its overall performance in both the QS world rankings and THE World's Best Universities Under 50 years old.
Prof Lloyd says he is delighted with UniSA's performance but especially proud of UniSA researchers for their passion for the work they do and the relationships they build across industry, government and wider society to deliver research that delivers wide tangible benefits.
You can see and hear more about UniSA's research and the value it delivers to society here:
100 per cent of UniSA's detailed research fields rated world class or above
2018 Excellence in Research Australia (ERA) assessed UniSA across 39 detailed (4-digit) fields of research – the greatest number fields UniSA has ever submitted – and rated all 39 at world standard or above.
This 100 per cent rating tops the 97 per cent rating UniSA received in 2015.
A 4-digit area of research means it relates to a specific discipline such as Mechanical Engineering rather than a broad field such as Engineering.
The results, released in late March, confirm UniSA has demonstrated and improved excellence in key areas important to the development of South Australia and the nation, building on UniSA's success in the 2015 assessment.
Across the entire 2018 ERA assessment UniSA has 20 fields of research rated at 'well above world standard', two more than in ERA 2015.
UniSA Vice Chancellor Professor David Lloyd says the results of the 2018 ERA report reflect UniSA's enduring and foundational commitment to quality research that counts.
"These ERA results show that UniSA has both depth and breadth in its research base and a strong commitment to undertaking research that will make a difference in the world – help to transform industries, build stronger communities, and tackle long-standing challenges such as cancer and new, but equally difficult problems, such as mitigating and adapting to climate change," Prof Lloyd says.
"Our approach to research is to work in partnership with industry, business and government – so our research is very clearly directed at finding solutions and delivering tangible outcomes for the community."
And UniSA research across six fields of engineering, in mathematical sciences and in environmental science and management was assessed as "well above world standard" (ERA rating of 5 – the highest ERA measure), reflecting the University's strong focus on transforming industries and societies through innovation in technology, mechatronics, minerals resources, environmental remediation, materials science, energy solutions, and advanced manufacturing.
"The story around engineering at UniSA is especially important as research quality in this area has increased in every ERA assessment period and is feeding into a high demand for innovation in engineering as South Australia grows its defence and space industry sectors and its contribution to a brighter outlook for the environment," Prof Lloyd says.
In health – nursing, pharmacology and pharmaceutical sciences, human movement and sports science, nutrition and dietetics, biochemistry and cell biology, medical physiology as well as psychology, UniSA also rated well above world class (ERA rating 5).
Prof Lloyd says longer term, it is the impact of this excellent research and UniSA's keen institutional focus on key challenges in society, that returns so much to the community.
"Ongoing projects, such as the relationship UniSA has developed with the Department of Veteran's Affairs over the past 15 years, looking at the quality use of medicines for older Australians, are reaping rewards not only in delivering better health outcomes for our aging population, but also in saving health dollars across the system," Prof Lloyd says.
"What began as a discrete research project in 2004 has grown into a consortium led by UniSA – Veterans' Medication Advice and Therapeutic Education Service (MATES) – which is delivering data-driven, best practice advice to about 33,000 GPs Australia-wide and supporting more than 300,000 veterans to receive the best possible information on medications and their use.
"This kind of impactful, industry and community integrated research is something UniSA is known for and we are striving to become even more engaged with industry, business and government as enterprising partners, focused on making a tangible difference by delivering purposeful, high-impact, world-class research."
UniSA's detailed results can be viewed on the Australian Research Council Data Portal.
UniSA among the best in the world for University Impact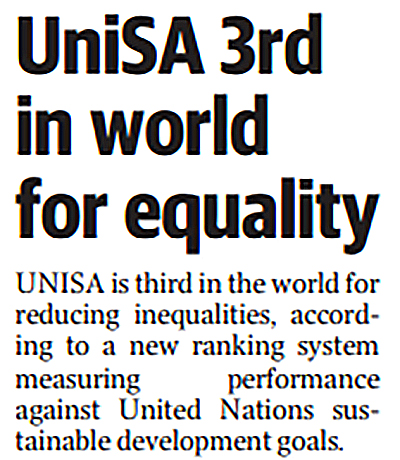 UniSA has ranked 22 in the world for overall University Impact in the inaugural Times Higher Education University Impact Ranking, which measures university performance against the United Nations Sustainable Development Goals (SDG).
The new ranking is a bid to capture the impact of universities in society, beyond a single definition of their role as educators, and measures institutions against a subset of the 17 SDGs.
UniSA Vice Chancellor Professor David Lloyd says the new rankings bring an important perspective into discussions of the success of the world's universities.
"We make a lot of presumptions about the influence of universities in society and take for granted that they make a positive impact, but this is the first time we have had a measure of that," Prof Lloyd says.
"I am really pleased to see we have performed well in these rankings, particularly in the rating for Reduced Inequalities (UniSA ranked #3 globally), acknowledging the great work of UniSA College, our regional campuses and education hubs and UniSA Online and our partnerships with groups such as AIME, which is designed to support and nurture young Aboriginal people and open up educational opportunities.
"It also underlines the importance and value of the cross-cultural training we provide for our staff and the commitments we have made institutionally to reconciliation actions.
"UniSA has a foundational commitment to equity, to providing opportunities for Aboriginal students and recognition of Aboriginal knowledges, and to being engaged with the community in a way that encourages the sharing of knowledge, understanding and ideas.
"As our University grows, responds to changing demographics, changing technologies and indeed changing higher education funding models – maintaining and improving our commitment to equity, access and engagement, is core."
UniSA was ranked #8 globally and #1 in Australia for Quality Education, reflecting UniSA's commitment to delivering leading-edge, end-user endorsed programs – in line with UniSA's new strategic plan, Enterprise25 – coupled with vibrant public outreach including The Bob Hawke Prime Ministerial Centre public lecture program, Samstag Museum of Art, and MOD. (museum of discovery) among other engagements.
Prof Lloyd says UniSA's strong rating for Good Health and Wellbeing (ranked #13 globally) acknowledged the important work of UniSA's public clinics in podiatry, physiotherapy, and psychology and the role UniSA plays in educating a high quality professional health workforce and in conducting industry-partnered research in a wide range of health disciplines – research that is making a big impact on policy, practice and treatments.
The rankings include a group of more than 450 universities from 76 countries around the world.