Students create interactive artwork for Asian design festival
By Clancy Larsen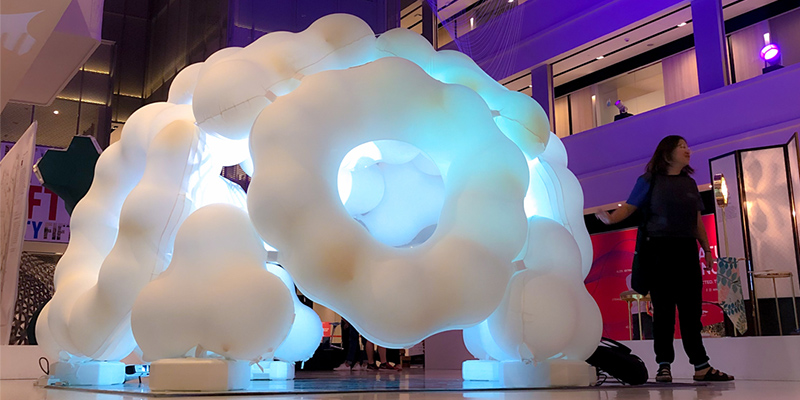 ARTS AND DESIGN
An exhibition that grows, moves and transforms with the passage of time, created by UniSA students and staff as an exploration of ideas around evolution, was a drawcard at one of Asia's largest and most influential design festivals.
Staff and students from the School of Art, Architecture and Design presented an exhibit in Singapore as part of SingaPlural, an annual curation exhibition organised by the Singapore Furniture Industries Council. UniSA was the only Australian university exhibitor at the curated event, which is part of Singapore Design Week – giving students a unique opportunity to help craft an installation specifically for the occasion.
Titled renaturation, the exhibit was designed and constructed by a UniSA project team and is an interactive environment that explores the process of evolution. Taking inspiration from cytokinesis – the process by which cells are formed – renaturation is a dynamic installation that evolves over the life of the exhibition. Visitors to the exhibit were invited to take an active role in its growth, submitting words, images and animations that were projected onto the inside of the structure, exploring the potential of crowdsourcing as an evolutionary tool.
The installation asked visitors to consider: What happens when the masses have the opportunity to participate in the evolution of an organism?
UniSA's exhibit was alongside offerings from international architectural and parametric design firms, branding and product design firms, and local and international suppliers.

For UniSA students, taking part in SingaPlural was just one aspect of a wider study tour aiming to highlight the value of ongoing global partnerships.
Participants from UniSA's Bachelor of Design (Product Design), Bachelor of Design (Illustration and Animation) and Bachelor of Interior Architecture programs also visited design offices, manufacturing facilities, and the Singapore International Furniture Fair, and participated in a product design workshop at a Singapore school.
The tour is the latest in a series of engagements in the region, building on the relationship between the School of Art, Architecture and Design and government, professional, and educational institutions in Singapore, Malaysia and Vietnam.
Product Design Program Director Dan McLean says these international industry partnerships are extremely valuable, providing "exposure to international learning opportunities which students bring back to inform their studies … and focus where a career in their chosen design discipline can go post-study".
"Participating in high profile events like SingaPlural demonstrates that we're serious about engaging in the region," McLean says. "It is also a great way of reaching out to potential students who might like to come to Adelaide to study."
The SingaPlural exhibition ran from 4-17 March at Singapore's National Design Centre and formed the anchor event of the diverse calendar of activities that made up Singapore Design Week. Last year Design Week attracted more than 300,000 participants over 115 activities, supported by 104 local and international partnerships. 2019 saw it continue its trajectory of growth, with a diversified international programme.
This year's iteration of SingaPlural was jointly curated by Formwerkz, a Singaporean architectural firm, and Bravo, a high-profile branding and marketing agency.
Senior Minister of State, Ministry of Trade and Industry & Ministry of Education, Mr Chee Hong Tat, who launched the exhibition, outlined a renewed focus on international design, including a desire to "support designers in their internationalisation efforts by connecting them to overseas markets, sharpening their brand positioning and showcasing them at international platforms".
This international focus can be identified in the educational realm too, with enrolments from the region comprising a significant portion of the School of Art, Architecture and Design's entire international cohort.
The School achieved a 29 per cent growth in international acceptances last year and has continued this development with an additional 10 per cent growth in acceptances to date this year.
You can experience renaturation in person during June when it will be on exhibition in the School of Art, Architecture and Design foyer on level 3 of the Kaurna Building at City West.