Achievements and Announcements
ACHIEVEMENTS
ANNOUNCEMENTS
APPOINTMENTS
ACHIEVEMENTS
UniSA researchers awarded more than $4m in medical funds
Four exceptional UniSA researchers have been awarded grants under the Federal Government's Medical Research Future Fund (MRFF).
The MRFF helps medical researchers discover new ways to diagnose, treat and care for people with a variety of health conditions. The fund also supports early and mid-career researchers and gives more Australians access to clinical trials.
This year, the UniSA recipients include:
The MRFF grants are among nearly 200 ground-breaking media research projects sharing almost $400 million.
Health and Aged Care Minister Mark Butler says the funding will help Australia's researchers solve health issues which challenge the community.

"This funding is about strengthening opportunities for Australian health and medical research," Butler says.
"It will help commercialise proof-of-concepts, and deepen international research ties now and in the future."
Five PhD students win biomanufacturing industry scholarships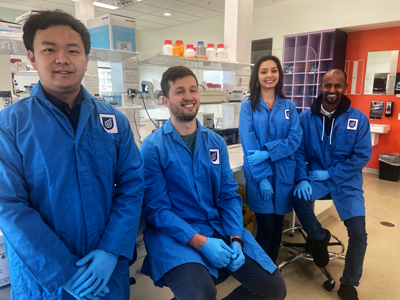 Five UniSA PhD students have won State Government scholarships to partner with local industries to help drive research into biomanufacturing.
UniSA Clinical & Health Sciences candidates Thabata Muta, Zifan (Owen) Xiang, Janik Seidel, Nurahmed Getaw and Abdulafeez Akinloye will spend the next four years working on projects to develop drugs for a range of conditions, including better delivery of medicinal cannabis, helping to combat antimicrobial resistance, and improving the quality and safety of biopharmaceutical products.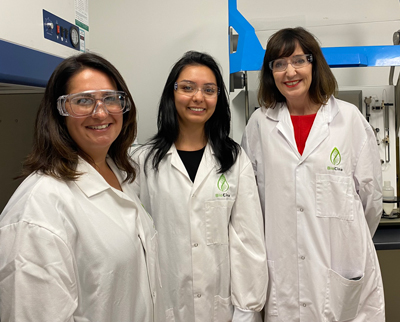 The students are among 30 PhD candidates from South Australia's three universities to win industry placements in pilot programs for two South Australian Government Industry Doctoral Training Centres (IDTCs) focusing on biomanufacturing and quantum technologies.
MTPConnect, the national industry growth centre for medical technologies, biotechnology and pharmaceuticals, is delivering the PhD+ program. Students will benefit from industry knowledge and development opportunities in leadership and commercialisation.
Details of the UniSA PhD student projects are:
Thabata Muta (supervised by Professor Sanjay Garg) and industry partner MedTEC Pharma will use novel drug delivery technologies to develop a medicinal cannabis formulation that is more easily absorbed in the bloodstream as an effective treatment for analgesic, inflammatory conditions, cancer, depression and anxiety.
Zifan (Owen) Xiang (supervised by Associate Professor Rietie Venter) and industry partner The Hygiene Company will investigate new antimicrobial formulations that can hopefully overcome resistance to antibiotics. Chemically distinct biocides will be identified to create responsible disinfectants, antiseptics and cleaning products with a much lower risk of causing antimicrobial resistance to 'last resort' useful antibiotics.
Janik Seidel (supervised by Professor Peter Hoffmann) and industry partners CSL Ltd and Mass Dynamics will develop new methods to increase the safety and quality of biopharmaceutical products, reducing their side effects and increasing their effectiveness.
Nurahmed Getaw (supervised by Professor Peter Hoffmann) and industry partners CSL Ltd and Mass Dynamics to improve the quality, safety and efficacy of plasma-derived protein therapeutics at every critical manufacturing stage.
Abdulafeez Akinloye (supervised by Professor Peter Hoffmann) and industry partners CSL Ltd and Mass Dynamics will develop new analytical methods to monitor purity and stability of the final formulation of recombinant protein-based biopharmaceutical products to increase their safety and quality.
The students will receive $35,000 per year scholarships to undertake the projects, jointly funded by the SA Department for Industry, Innovation and Science, industry partners and their respective universities.
Chancellor bestows honours on four outstanding UniSA academics
Four UniSA academics will be recognised for their outstanding contributions to the University and given honorary awards or titles at this month's graduation ceremonies.
UniSA Chancellor Pauline Carr will confer Emeritus Professor titles on Professor Barbara Comber OAM and Professor Michael Roberts, and name Emeritus Professor Paul Hughes AM and Professor Peter Buckskin Fellows of the University.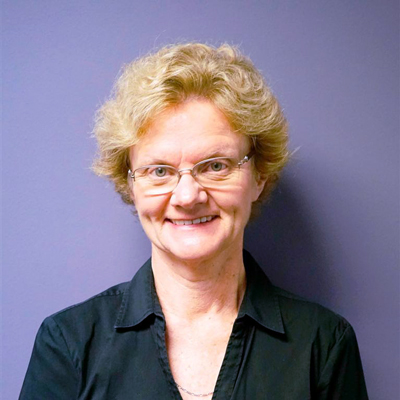 Prof Barbara Comber is widely recognised for her outstanding work in education, making a global impact in literacy, teaching and social justice research over a 45-year career, including three decades at UniSA.
With colleagues, she has won three ARC Discovery Projects, seven ARC Linkage Projects, and received funding from the Myer Foundation, the Spencer Foundation, and State and Commonwealth Education Departments.
Prof Comber also has an outstanding publication record, including 13 books, 84 book chapters and 90 refereed journal articles. Her work as been cited more than 8000 times.
Before her retirement in 2022, she served as Interim Dean of Research for UniSA Education Futures and continued her association with UniSA as an Adjunct Research Professor.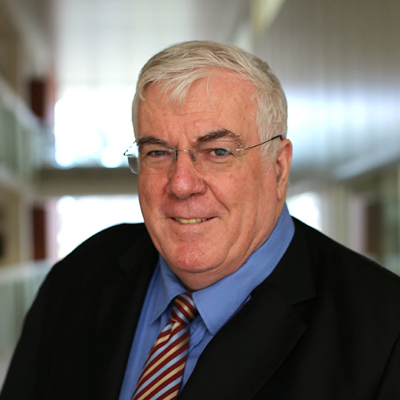 Prof Michael Roberts is ranked in the top one per cent in the world in the field of pharmacology and toxicology, winning approximately $40 million in research funding over the course of his 50-year career.
He joined UniSA in 2009 as Professor of Therapeutics and Pharmaceutical Science. In the intervening years Prof Roberts helped establish new laboratories in the University's Reid Building and a clinical research program at the Basil Hetzel Institute for Translational Health Research.
From his current base in Queensland, he has retained close ties with UniSA and works alongside industry, government, academia, and clinicians in the areas of drug delivery, pharmacokinetics, toxicology, therapeutics and clinical pharmacy.
He maintains laboratories at the Fraser Institute in Brisbane and the Basil Hetzel Institute in Adelaide, and co-leads three US Food and Drug Administration grants on topical drug delivery, and two diabetes grants at The Queen Elizabeth Hospital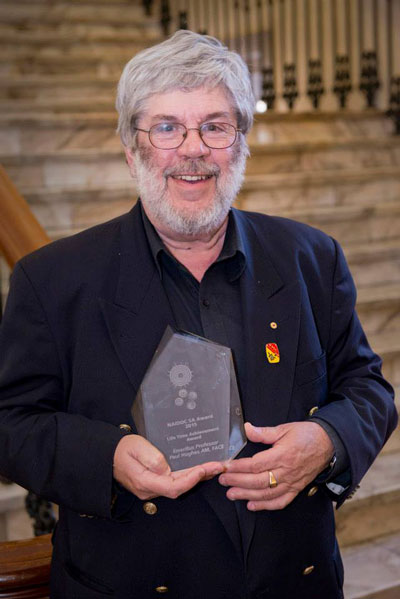 Emeritus Professor Paul Hughes AM is a Yankunytjatjara, Narunnga and Kaurna man, a teacher, leader, policy maker, consultant and researcher who is widely recognised as one of Australia's foremost thinkers on Aboriginal education policy.
When Prof Hughes began his career as a primary school teacher in 1965, he was only the second Aboriginal person to work as a schoolteacher in South Australia.
At the South Australian College of Advanced Education, he went on to establish the Aboriginal Teacher Education Program, the first of its kind in Australia and which became a blueprint for similar programs across the higher education sector.
Prof Hughes has devoted his life to addressing the challenges that Aboriginal people face within the Australian education system.
His work has directly influenced UniSA's commitment to Aboriginal engagement and education since its formation in 1991. Since his retirement from UniSA in 2008, he has continued to work with governments to further Aboriginal education and foster the development of Aboriginal leaders.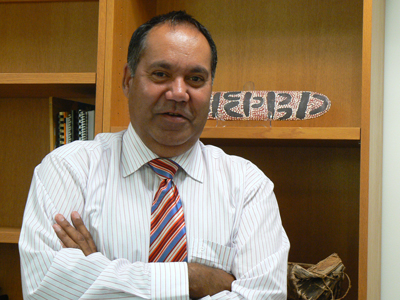 Prof Peter Buckskin is a Narungga man from the Yorke Peninsula in South Australia, who has dedicated his life to the advancement of Aboriginal people through education.
In his 30-year career he has worked as a school teacher, a ministerial adviser, school superintendent and a senior executive at state and federal levels.
He has served on numerous committees throughout his career, including a term as Australian Commissioner to UNESCO, the ARC Advisory Council, National Aboriginal Education Committee, and was instrumental in bringing the World Indigenous Peoples' Conference on Education to Adelaide in 2022.
Prof Buckskin recently retired as co-chair of Reconciliation SA and as a director of The Lowitja O'Donoghue Foundation. He still chairs several Aboriginal councils and is an advisor on the First Nations Voice to Parliament in South Australia.
More than 4000 students will graduate as part of UniSA's graduations ceremonies in April and May.
Professor of Economic and Business History wins lifetime award from Economic History Society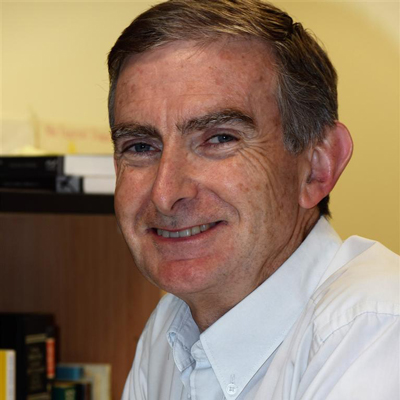 UniSA Professor of Economic and Business History Martin Shanahan has won a major award recognising his contribution to the discipline of economic history in Australia and New Zealand.
The Economic History Society of Australia and New Zealand has awarded Prof Shanahan the EOG Shann Award 2023. The annual award honours the contribution of the late Edward Owen Giblin Shann (1884 – 1935) and rewards lifetime service to the discipline of economic history.
In its citation, the society said Prof Shanahan has "made an outstanding contribution to the discipline, both directly through his scholarship, and indirectly through his mentoring, generosity, and collegiality".
Prof Shanahan has served the society for more than 20 years, as president and editor of the its journal.
First appointed as a tutor at Flinders University, Shanahan was awarded the SJ Butlin Prize for the best PhD thesis in economic history in Australia and New Zealand for his thesis on wealth distribution in South Australia. Co-author of two major books (Cities in a Sunburnt Country: Water and the Making of Urban Australia and From Protection to Competition: The Politics of Trade Practices Reform in Australia), Shanahan is also co-editor of five edited volumes, 51 articles in scholarly journals, and 36 refereed book chapters. Prof Shanahan holds degrees in economics, politics and law and is a specialist in Australian economic and business history.
In a testimony submitted as part of the award, UniSA Senior Lecturer in Economics Dr John Wilson said Prof Shanahan's service extended well beyond his research, acting as a mentor to many young academics.
"Perhaps underlying all of this is what makes working with Martin so rewarding: he is well known as having an extraordinary appreciation for the importance of viewing the world through the lens of history, an ability to examine things in new ways, and an ability to motivate and guide new research," Dr Wilson said.
Read more in the full citation on the Economic History Society of Australia and New Zealand website.
Associate Professor of Biochemistry and Immunology Education wins scientific education award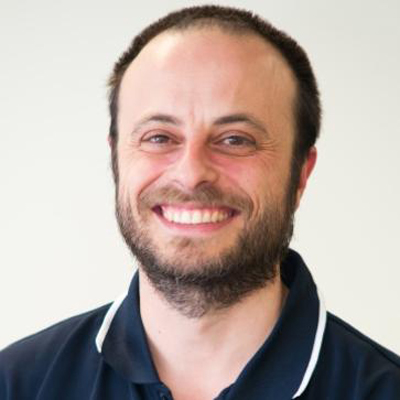 UniSA Associate Professor of Biochemistry and Immunology Education Maurizio Costabile has been recognised for outstanding achievement in education in biochemistry.
The Australian Society for Biochemistry and Molecular Biology has named Assoc Prof Costabile the winner of the 2023 SDR Scientific Education Award.
The SDR Scientific Education Award rewards outstanding achievement in education in biochemistry or molecular biology, especially innovation and creativity in education, with a view to fostering leadership.
Assoc Prof Costabile has worked at UniSA since 1998. He is a teaching focused Associate Professor in the Clinical and Health Sciences academic unit. His teaching and innovations have won multiple local, national and international awards, including most recently, a 2022 UniSA Citation for Outstanding Contributions to Student Learning (team award); and the 2021 Cheers-Buchan Education Award from the Australian and New Zealand Society for Immunology.
Assoc Prof Costabile says he's honoured to receive the award from the Australian Society for Biochemistry and Molecular Biology and enjoys the challenge of identifying issues with student learning and devising ways to remedy these areas.
"Each year, I challenge myself to develop an innovation to improve my teaching and the student experience," he says. "I have received tremendous support from colleagues in this journey and now give back at every opportunity."
His roles at UniSA have given him additional leadership experiences.
"I now focus on keeping my teaching excellent and disseminating my findings especially at conferences and in journal articles," Assoc Prof Costabile says. "It is always a pleasure to witness that lightbulb moment from our students and renew that science spark within ourselves."
The SDR Scientific Education Award enables the recipient to participate in an international conference with a significant focus on education, or to spend a period of time at another institution (in Australia or overseas) for the purposes of undertaking developments in education in biochemistry and molecular biology.
Academics recognised for outstanding contributions to student learning
Seven UniSA academics have received national awards for outstanding contributions to student learning.
The Australian Awards for University Teaching celebrate excellence in university teaching, rewarding academics and programs that improve the student experience and enhance learning. The awards are highly recognised Australia wide.
Earlier this year Education Minister Jason Clare announced the 2022 recipients, including:
UniSA Provost and Chief Academic Officer Professor Joanne Cys congratulated the recipients, saying the awards "recognise our staff who exemplify high-quality teaching and educational leadership and have contributed significantly to the quality of student learning".
Success for UniSA grads at Helpmann Academy awards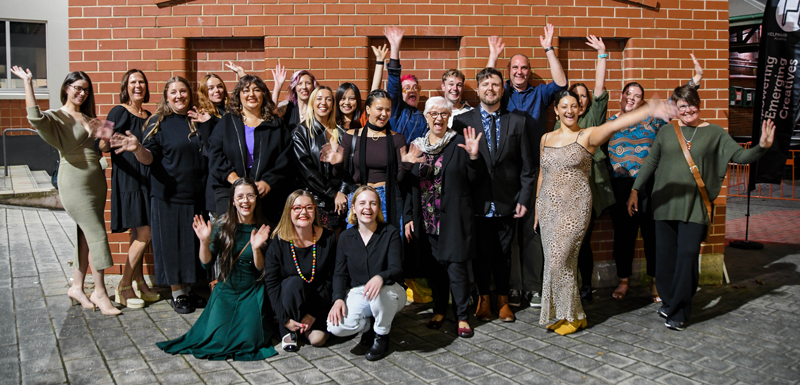 UniSA's next generation of emerging artists shone at the 2023 Helpmann Academy Graduate Exhibition Awards, with nine UniSA Creative graduates taking out awards at the opening night event.
The exhibition showcases the work of 21 graduates from UniSA and Flinders University, across the disciplines of ceramics, painting, jewellery, photography, printmaking, video, installation, sculpture, fashion, sound and performance art.
Of the 16 awards presented, 10 were won by UniSA graduates, spanning degrees in Contemporary Art, Creative Arts (Honours) and Master of Design (Contemporary Art).
UniSA Program Director for the Bachelor of Contemporary Art, Dr Stephen Atkinson, congratulated award recipients and acknowledged the work of all exhibiting artists.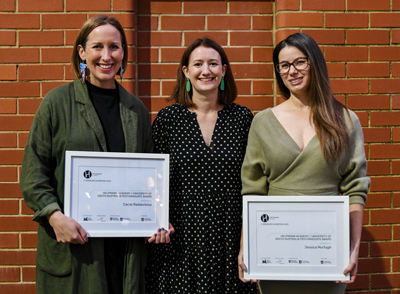 "It was fantastic to see so many UniSA Creative students with smiles on their faces but witnessing the camaraderie between students is the real reward," Dr Atkinson says.
The award-winning graduates were presented with over $80,000 in grants, which will provide them with professional development opportunities and mentoring support, as well as funding towards future exhibitions and material costs.
"There's a wide range in terms of criteria and monetary value, but most importantly these awards are generally accompanied by opportunities for graduates to take their art practice to the next level through exhibitions, mentorships, and studio residencies where they can start to build connections with curators, collectors, gallerists, and other emerging artists," Dr Atkinson says. "All our graduates get there eventually, but Helpmann Award winners are offered a head start."
The UniSA award recipients were:
David Baker Innovation Award: Rebecca Alderson (Bachelor of Contemporary Art)
SALA Award: Crista Bradshaw (Bachelor of Contemporary Art)
Helpmann Academy / ACE Studio Program Award, and City of Adelaide Award: Teresa Busuttil (Bachelor of Contemporary Art, and Public Programs Coordinator at Samstag Museum of Art).
David Hayden Professional Development Award: Marlize de Klerk (Bachelor of Contemporary Art)
City Rural Insurance / Helpmann Development Award: Stephanie Doddridge (Bachelor of Contemporary Art, Bachelor of Creative Arts (Honours))
Jaquillard Exhibition Award: Lili Harrison (Bachelor of Contemporary Art)
The Helpmann Academy / University of South Australia Postgraduate Award joint recipient: Jessica Murtagh (Master of Design (Contemporary Art))
The Helpmann Academy / University of South Australia Postgraduate Award joint recipient: Carrie Radzevicius (Master of Design (Contemporary Art))
Helpmann Major Exhibition Award, and Commonwealth Private Undergraduate Award for Excellence: Jayda Wilson (Bachelor of Contemporary Art)
Other UniSA graduates whose work is featured in the exhibition include:
Lee Coulthard (Bachelor of Contemporary Art)
Patricia Jones (Bachelor of Contemporary Art)
Megan Roodenrys (Bachelor of Visual Art, Bachelor of Creative Arts (Honours))
Chris Siu (Bachelor of Contemporary Art)
Henry Wolff (Bachelor of Contemporary Art)
The 2023 Helpmann Academy Graduate Exhibition is on at Adelaide Contemporary Experimental (ACE) until 6 May 2023.
ANNOUNCEMENTS
Feedback sought on vision statement for a South Australian university for the future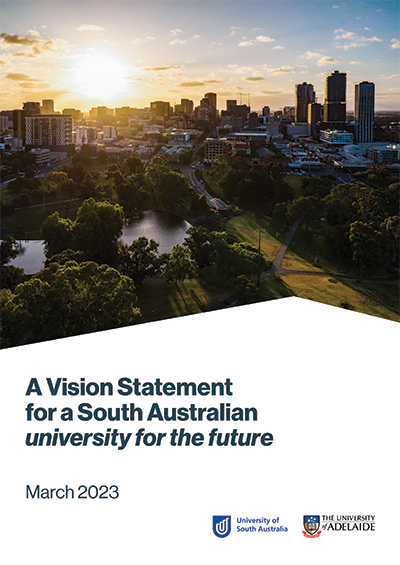 UniSA and the University of Adelaide have published a proposed Vision Statement for a South Australian university for the future.
The proposed vision statement outlines the ambitions and aspirations for a potential new university and is available to view on the University for the future webpage.
UniSA Vice Chancellor Professor David Lloyd says both universities want to hear from staff, students and alumni about the vision statement.
"We want to gather your thoughts about what attributes you think we should consider when developing this shared vision for the university for the future," he says. "The vision statement poses four specific questions, to help guide your responses, but you can certainly ask questions or provide comment outside of these four areas."
Feedback can be provided by the online feedback form or by emailing futureuni@unisa.edu.au until 21 April.
"This will give us time to review the submissions and include a summary in the business case that will go to Council in the middle of the year," Prof Lloyd says.
"A summary of the feedback received will also be posted on the University's website.
"And, despite some speculation that this is a 'done deal', our Council will be looking very closely at the detailed report and making an independent decision.
"If the proposal does proceed, there will of course be further extensive opportunities for discussion and engagement during the next stage of the process."
Feedback should be provided by 5pm on Friday 21 April.
Scholarships to get the best and brightest to teach South Australian kids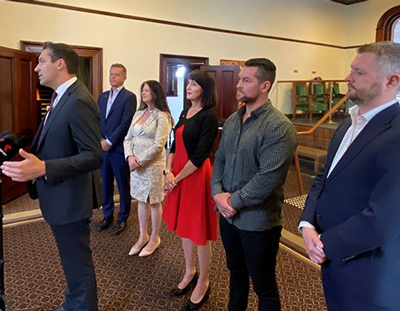 UniSA, along with the University of Adelaide and Flinders University, is partnering with the South Australian Government to deliver $2 million in teaching scholarships to boost the quality and diversity of the teaching profession in the state.
The scholarships will focus on increasing the number of women teaching STEM, the number of male primary school teachers, and help boost other underrepresented groups into the teaching profession.
The scholarships are part of an election commitment aimed at supporting some of the best and brightest students to enrol in teaching degrees.
The State Government will award 400 scholarships, worth $5000 each, over the next four years (100 per year) to strengthen and diversify the teaching profession in South Australia.
The Enabling Educator Excellence (E3) scholarships are to help with the costs of starting a teaching degree and will be awarded in four categories:
The SA Government says enabling women in STEM will help propel the skilled workforce needed following the AUKUS announcement.
The scholarships are part of the State Government's seven point plan for teaching quality, which seeks to address issues related to quality and specialisation in teaching, employment certainty and regional attraction.
Deputy Premier Dr Susan Close says the Government is committed to creating a diverse and strong teaching cohort in South Australia, and the scholarships will play an important role in this.
UniSA Vice Chancellor Professor David Lloyd says that quality teachers are the driving force behind a quality education.
"UniSA has always been at the heart of teacher education in South Australia," Prof Lloyd says.
"These scholarships will ensure that UniSA continues to attract exceptional students from a diverse range of backgrounds and experiences, who will meet the needs of the modern classroom.
"We're thrilled to be partnering with the South Australian Government to deliver world-class teaching graduates in priority areas."
Education Minister Blair Boyer says SA needs to ensure that talented people from diverse backgrounds consider teaching, not only as a rewarding career path for themselves, but also to ensure children and young people are set up for their own promising future.
"There are few careers that offer as much of an opportunity to make a difference in young peoples' lives – and teaching is one of those professions," Boyer says.
"We have an enormous opportunity to come together and take genuine, national action to tackle workforce shortages in education and I am excited to work collaboratively with the Deputy Premier and our three universities to get more South Australians into teaching."
APPOINTMENTS
UniSA and Optus appoint new Chair of Cyber Security and Data Science
South Australia's digital security has received a major boost with a United Nations computer science researcher appointed as the inaugural Optus Chair of Cyber Security and Data Science at UniSA.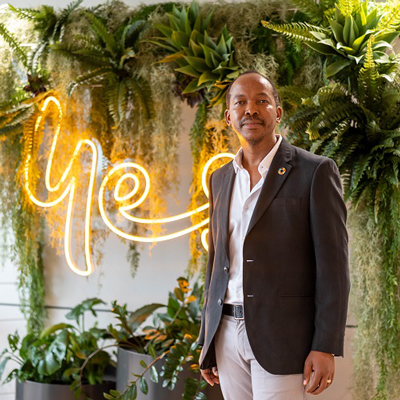 Dr Mamello Thinyane brings 15 years of international experience in managing digital development projects in Africa, Asia and Australia. 
The highly respected researcher joins UniSA and Optus from the United Nations University Institute in Macao, where he has led research into citizen cyber resilience and data and sustainable development for the past six  years.
Before that he worked at the University of Fort Hare in South Africa and is a former Visiting Researcher at the Australian Centre for Cyber Security at UNSW in Canberra.
Dr Thinyane's appointment is a co-funded role, building on the strategic alliance between Optus and UniSA announced in 2020, designed to deliver research outcomes that drive technology innovations for Australia's most critical industries and educate Australia's next generation of cyber security and data science specialists.
Dr Thinyane says Australia and the global community will not be resilient to the evolving cyber threats until it strengthens the 'weakest' links in the cyber security ecosystem.
"This partnership between Optus and UniSA provides an opportunity to train the next generation of cyber security professionals, undertake powerful applied research, and to find solutions to some of the most pressing societal cyber security challenges," he says.
"I am excited to be taking up this position and look forward to strengthening collaborations and partnerships with key stakeholders as we address these challenges and exploit the opportunities before us".
He will lead a team within the Cyber Security Research and Collaboration Hub at Lot Fourteen in Adelaide, focused on innovative research and teaching.
Optus Enterprise, Business and Institutional managing director Gladys Berejiklian says the appointment of Dr Mamello Thinyane is a milestone in the partnership between Optus and UniSA.
"We know that this investment will go a long way towards helping fight against cybercrime, something we know from experience impacts businesses of all sizes, but more importantly, affects Australians that rely on those businesses," she says.
"I would like to extend a warm welcome to Dr Mamello Thinyane as he develops a world-class cyber security and data science research program at UniSA. I look forward to seeing the exceptional contributions that he and his students will deliver and hope many of them will look to further their careers helping in the fight against cybercrime after graduating."
UniSA Deputy Vice Chancellor Research and Enterprise Professor Marnie Hughes-Warrington AO says securing Dr Mamello Thinyane for this new role "is a real coup for UniSA and the State", given his global experience in computer science.
"Cybercrime is costing the Australian economy more than $30 billion a year, and increasing at an alarming rate, affecting organisations and millions of individuals right across the country," Prof Hughes-Warrington says.
"Our motto at UniSA is that cyber security is everyone's business and we have taken this a step further with Optus, joining forces to reduce the risks of attacks through ongoing research and teaching.
"Under Dr Thinyane's leadership we will develop new technology that Optus and other organisations and sectors, including defence, can deploy to strengthen data security. Our goal is to make South Australia a leading centre of cyber security and data science."