Out of the shadows and into the Light: UniSA reopens historic haunt as new Enterprise Hub
By Samantha Dawes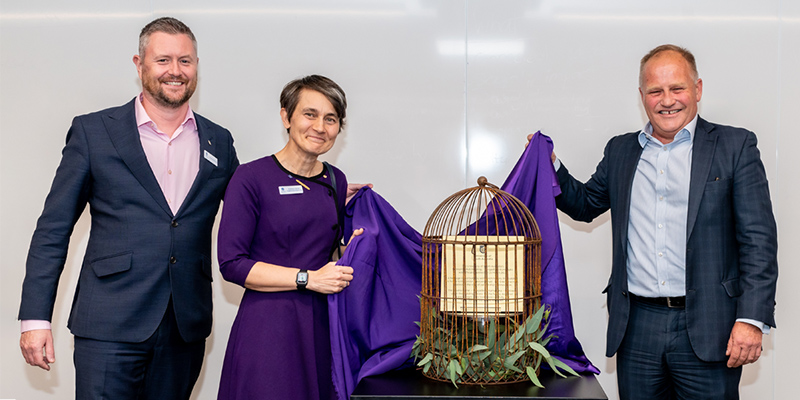 ENTERPRISE
From publicans and pawnbrokers to vampires and exotic dancers – a landmark building in Light Square has a long and colourful history of interesting residents.
Now, a new type of business will occupy the north-western corner of Light Square as UniSA unveils its new state-of-the-art enterprise and innovation facility.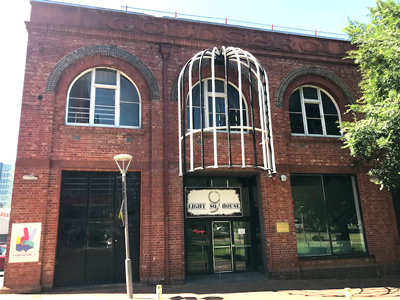 Aptly named the UniSA Enterprise Hub, this collaborative space is a far cry from its heydays as the raucous Le Rox nightclub, or the ghoulish Night Train Theatre restaurant.
Instead, the Enterprise Hub is designed to help businesses thrive by connecting them to UniSA's renowned researchers and knowledge experts to help solve complex challenges and produce mutually beneficial outcomes for industry and society.
Located in the heritage-listed premises of 9-19 Light Square, the Enterprise Hub officially opened in late March.
UniSA Deputy Vice Chancellor: Research and Enterprise, Professor Marnie Hughes-Warrington AO, says the Enterprise Hub is South Australia's 'front door' for industry to develop, and extend partnerships, with the University community.
"Industry professionals can come into the Enterprise Hub with problems, projects and ideas, and our team will collaborate with them to produce cutting-edge solutions," Prof Hughes-Warrington says.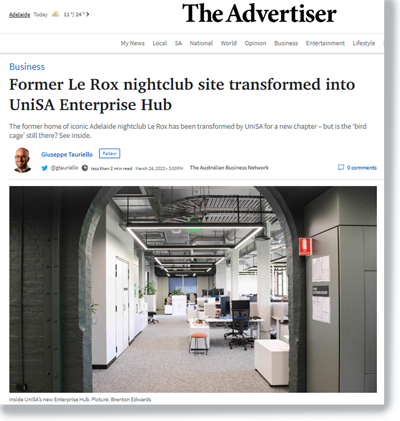 "Our goal is to accelerate the strengthening and diversification of the South Australian economy, and to export SA innovations across Australia and the world."
UniSA collaborates with more than 2500 partners from industries including space, defence, manufacturing, agriculture, health and medicine.
The re-build and refurbishment of the Light Square premises has transformed the iconic red brick building into a modern two-storey hub, boasting workshop areas, laboratories, 3D printing facilities and co-working spaces.
Enterprise Hub director Peter Stevens says while the Enterprise Hub has undergone a significant facelift, the new facility pays tribute to the building's legacy.
"Nine Light Square has a rich, colourful history, and we wanted to memorialise this as much as possible," Stevens says.
"Of course, the red brick and vast arch windows have remained, but we have also incorporated iconic relics into the final design.
"We've kept the huge 'bird cage' that adorned the entrance to the nightclub, the eccentric vampire artwork from the 90s Night Train scene and the original loading beam from the building's construction in 1912."
Global professional services company Accenture is one of UniSA's major partners. Together, UniSA and Accenture offer bespoke innovative educational and training program through an Innovation Academy.
Accenture Australia managing director of operations Michelle Cox says the opening of UniSA's Enterprise Hub is a historic milestone for industry and research alike.
"We have been collaborating with UniSA since 2021 and in that time, we have worked with UniSA to disrupt the business sector, and, more recently, the technology and space industry," Cox says.
"By connecting Accenture with UniSA staff, we're able to generate innovative solutions for our company, and the wider industry, while also creating new jobs.
"This 'outside-in' approach will pave the way for significant industrial development thanks to its unique focus on enterprising research capabilities."
The UniSA Enterprise Hub at 9 Light Square opened with a launch event on Thursday 23 March involving key industry partners and government stakeholders. There was also a Kaurna smoking ceremony, Aboriginal naming ceremony and official welcome.
See images from the launch in the In Pictures section of UniSA News.