How a UniSA student became the face of an Adelaide youth lifestyle platform
By UniSA Journalism and Professional Writing student Amelia Walters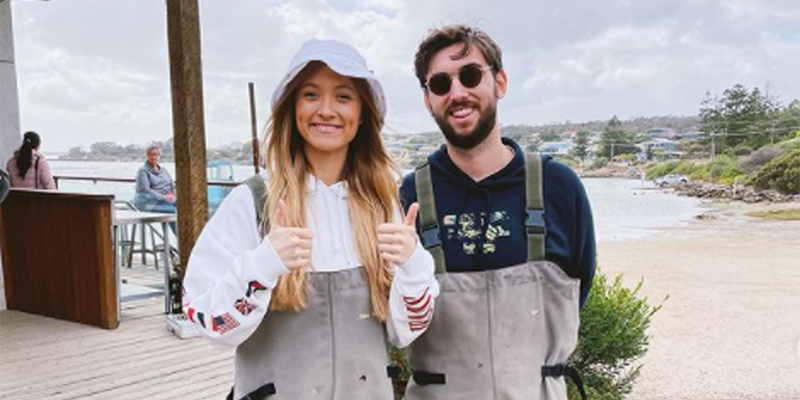 CREATIVE INDUSTRIES
If second-year Journalism and Professional Writing student Taydam Knowles looks familiar, it's likely you've seen her on your social media feed.
With her bright and bubbly personality and a passion for all things South Australia, Taydam is promoting Adelaide through her work with the renowned The Adelaide Set – a social media platform and organisation showcasing Adelaide's unique social culture and lifestyle.
But it is not something she just fell into.
Though Taydam originally wanted to become a lawyer, the high school she attended didn't offer the subjects needed to achieve this, however they did offer a course in journalism. Over time, she discovered that journalism was her passion and something she wanted to pursue professionally.
In 2020 she began study at UniSA, however her in-person lectures and tutorials were cut short because of the COVID-19 pandemic.
"Covid hit, I lost my job and I felt like I was left in a grey area where everything was taken away from me," she says. "But then I thought to myself 'no, I am going to make the most of this time' and I walked right into [community radio station] Fresh 92.7, introduced myself and told them exactly what I wanted."
Taydam was prepared to put in the work to make something of herself in the journalism industry.
"I was introduced to producers and presenters of the drive show," Taydam says. "It was there I was paired up with Andrew who became my mentor and I shadowed him for seven weeks.
"I just watched him, with pen and paper and noted everything I could possibly need to get better.
"But I think the real reason I got the job at Fresh so fast was because every night after my shift I would go home and I would practice. I would send my news bulletins to Andrew, he would mark it and give me feedback. Practice makes perfect is something I think translates to all areas in life."
As her work with community radio station Fresh 92.7 gained traction through the social media platform Instagram, interest from other journalists and creators arose.
"I had been following The Adelaide Set on Instagram for years. George (the founder of The Adelaide Set) messaged me, congratulating me on my work with Fresh FM, and invited me to a film event," she says.
As their professional relationship blossomed, so did their mutual love for promoting South Australian business and culture.
"We went for a burger down at BurgA'nomix, Glenelg, just having a chat when he threw me under the bus and told me that we were going to make a video right there and then for The Adelaide Set," she says.
"Even though I was so nervous I said 'sure let's do it!' and it gained thousands of views ... it was a bit of a lightbulb moment of 'oh my god did we just find the magic formula?'"
Since Taydam joined the team at The Adelaide Set, the platform has reached more than five million people, gained 115,000 Instagram TV views and 10,000 new followers.
As these figures continue to grow, so does Taydam's ambition to achieve her long-term goal of creating her own show that incorporates the promotion of South Australian as well as personal content.
"Give and take with Tay is my own segment and show within The Adelaide Set that is all about taking ideas and putting them into action," she says.
Give and Take with Tay will run for 10 weeks with 10 interviews per season, it is also the beginning of the relationship between YouTube and The Adelaide Set.
While Taydam continues her studies with UniSA she encourages fellow students to pursue their goals and to not let doubt get in their way.
"You need to believe in yourself and your abilities," she says. "Don't think that you are underqualified or too qualified to do something you love.
"The course for Journalism and Professional Writing at UniSA is insane! I know a lot of people who have studied elsewhere and say that they wished they had access to a radio studio or a television studio during their studies.
"There is something for everyone and that is something that is known to be hard to find within a university degree."
Taydam will also represent South Australia in the 2021 Miss World Australia grand final.
As well as featuring in The Adelaide Set, Taydam also has a personal Instagram account.
Taydam's tips
Don't justify why you are not doing something you love. If you want to do it … then go do it!
Work on yourself, look at the things in your life that are potentially holding you back from achieving your end goal and proceed to remove or change them.
Don't let your ego get in the way of taking the small steps to get to where you want to be. No one has ever gotten to where they want to be without working hard for it.