Call the midwifery student
By Jasmin Teurlings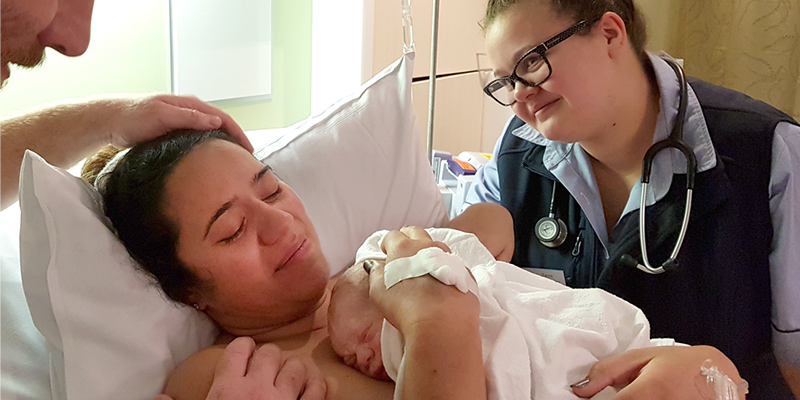 COMMUNITY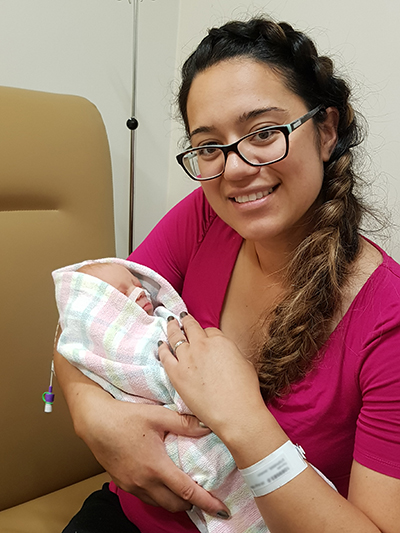 When Jo Stephens and her husband were first planning to start a family, they wanted the best personalised care available to them. Finding the right maternity care provider was of course important, but it wasn't until they discovered UniSA's Continuity of Care Experience program that they knew they were on to a good thing.
Offering unique support, the program pairs a UniSA midwifery student with a pregnant woman to provide her and her partner with ongoing and continued care throughout the pregnancy and birth.
With the guidance of a midwife or doctor, the midwifery student is on hand throughout the pregnancy, birthing experience and postpartum journey.
As fate had it, Stephens and her husband found the program halfway through their first pregnancy, so when they became pregnant with their second child, they signed up straight away.
Stephens says the Continuity of Care Experience program enabled them to share their journey to parenthood with someone as invested in the care and wellbeing of their first child as them — while also providing an invaluable hands-on experience for the student.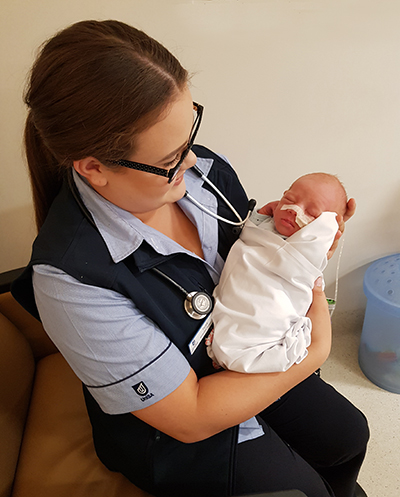 The second time round, they connected with midwifery student, Taryn Gartner.
"Taryn was wonderful, as she understood our thoughts and feelings about the experience we wanted to have," Stephens says.
"She also went that extra mile to help us answer questions and develop expectations about any issues we were having during and after our pregnancy.
"Although we encountered different doctors, specialists and midwives, we were still able to have someone familiar throughout our entire journey — taking delight in the highs and supporting us through the lows."
UniSA midwifery students are required to follow a minimum of 15 expectant mothers over the course of their degree. This involves attending antenatal appointments and contributing to care both during and after the labour, up until six weeks after the baby is born.
Through the COCE program, students are able to develop their practice and provide holistic care that encompasses a woman's social, emotional, physical, psychological, spiritual and cultural needs.
Taryn has already helped 24 women in their journey to motherhood, including Stephens, and says the experience has been both inspiring and challenging.
"Being able to support a woman throughout this journey is incredibly rewarding," Taryn says.
"We get to watch families grow and change and being able to create such a deep level of trust and understanding in nine months is amazing.
"Sharing in knowing looks, exciting moments, as well as the difficult times, is an experience I value more than anything."
Continuity of Care Coordinator Dr Angela Brown says the benefits of the model are widely recognised, with proven levels of satisfaction, less intervention and fewer premature births.
"Women find that developing a relationship with a midwifery student can be an extremely positive and reassuring experience," Dr Brown says.
"The same sentiment is true for our students, who as the next generation of midwives, are able to transfer their studies to clinical practice."
Registrations for the program have almost doubled in the past seven years and Dr Brown says this trend has not wavered despite the pandemic – which mirrors a growing state-wide preference for midwives, according to a UniSA study published in June.
"Midwifery care through the continuity models are always in high demand. Our program always fills up very quickly, so I encourage interested families to connect with us as soon as possible," Dr Brown says.
"There's no doubt that women value the close relationships they form with their care providers. They want an experience that is uniquely tailored to their individual needs, where they don't just feel like a number.
"Partnering with a UniSA midwifery student can give women that additional support and ongoing care and attention that they value and need."
Find out more about the COCE program and how to register your interest on the UniSA website.