UniSA-led workshops and wildlife projects help Kangaroo Island to heal after devastating fires
By Candy Gibson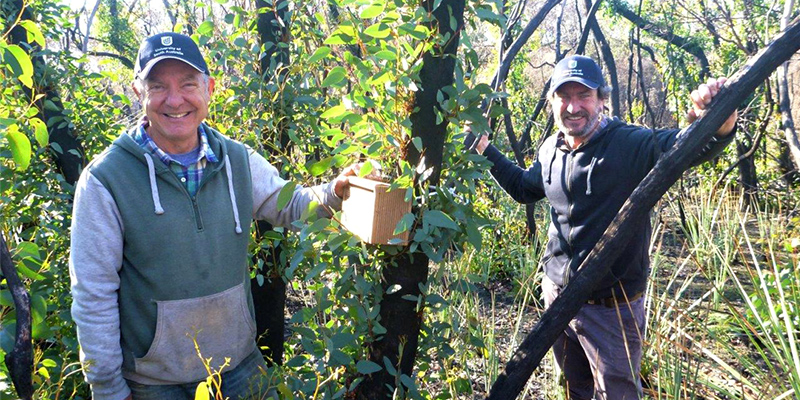 COMMUNITY
When fires decimated Kangaroo Island in January 2020, the devastation was not confined to wildlife, nor vast tracts of pristine wilderness. Two people died; businesses, homes and farms were razed to the ground.
These were the tangible losses.
Fourteen months on, the psychological scars and mental trauma are less obvious, but still run deep, according to UniSA ecologist Associate Professor Topa Petit.
The wildlife researcher spent seven months on the island in 2020, coordinating UniSA's $110,000 Vice Chancellor's Fund for Kangaroo Island, announced just days after the catastrophic bushfires.
The money funded 12 months' part-time employment for three local people to lead the construction and distribution of 750 nest boxes for bats and pygmy possums to shelter; ongoing workshops and community activities; and several research projects.
Assoc Prof Petit says the University's financial involvement helped attract funding from other Australian wildlife and conservation groups as well as in-kind support from many other organisations.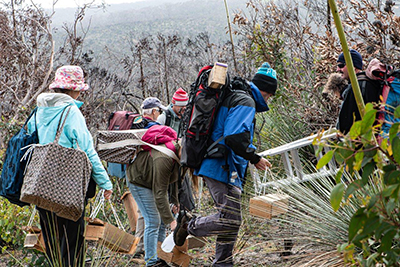 Volunteers from Kangaroo Island and the mainland – including a team of workers from Barossa Enterprises – were involved in building, shipping, storing, adapting, and deploying nest boxes on private properties.
"The VC Fund showed that academia can be involved in both practical and philanthropic work, supporting local communities in tangible ways, rather than just pure research," Assoc Prof Petit says.
Throughout the year, Assoc Prof Petit coordinated community workshops, sharing information with locals about wildlife recovery, ecotourism, and recruiting many as volunteers in different projects.
"It was a way not only to learn about our own environment but to bring people together for a common purpose: to help in a practical sense.
"It was about people recovery just as much as wildlife recovery. People were – and still are – so traumatised. They wanted to help and needed a project and purpose."
When Assoc Prof Petit held the first community workshop a fortnight after the fires, 30 people turned up. She now has more than 90 on her volunteers' list.
"Not everyone can be a member of the CFS, but everyone can take part in a citizen science project and be part of the recovery," she says.
It is too early to judge the success of the nest boxes, which must be regularly monitored, but there are many other tangible benefits to come out of the year-long project.
"We now have multiple research projects underway, including what works best in terms of post-fire recovery interventions for particular wildlife species."
Kangaroo Island is home to the more common western pygmy possum and the rare little pygmy possum, which lost about 88 per cent of its habitat in the fires.
Assoc Prof Petit says the pygmy possums feed on floral nectar and pollen of plants such as eucalypts, melaleuca and banksia.
"Eucalypts have started to resprout but trees and shrubs are devoid of flowers. Realistically, it will be many years before their habitats fully recover."
Insectivorous bat populations are also being monitored with acoustic detectors but it is too early to tell what the impact of the fires have been on the populations of the seven known species.
Despite widespread calls for more back burning, Assoc Prof Petit says burnt habitats are more likely to burn again, citing the 2013 prescribed burn in Flinders Chase National Park as evidence.
"The more frequently we burn, the more we impoverish and desiccate the habitat and the fewer flowers we will have. Prescribed burning is fine in some conditions but in most cases, it is not the answer," she says.
And the lessons learned?
"Research is imperative. For example, if we can establish under what conditions the nest boxes work, we could have them ready-made in flat packs so we can distribute them immediately after a fire to shelter animals.
"We are also trialling artificial nectar at three sites, but we need more data before we can determine whether feeding interventions will work for pygmy possums immediately after the fires.
"The community workshops have been very beneficial. They have created connections, knowledge, and given people a purpose. Importantly, they have helped in the healing process."
Assoc Prof Petit says she is disappointed with the State Government's ruling to allow private developments on Kangaroo Island's remaining pristine wilderness.
"It's a unique biodiversity hotspot with no foxes, rabbits or goats, at a time when Australia is in the midst of an extinction crisis and only five per cent of terrestrial habitats on earth are relatively free of direct human impacts. It sets a dangerous precedent for the future and I believe it will impede recovery on the island," she says.
UniSA Vice Chancellor Professor David Lloyd says it was an easy decision to unlock $110,000 for Kangaroo Island's recovery in early 2020.
"Those funds have allowed us to marry science with community work, furthering wildlife research and providing paid employment for Kangaroo Island locals at a time when many lost their incomes," he says.
"The UniSA-led workshops also educated residents on the most effective ways to rehabilitate their environment.
"Importantly, the special funds also facilitated UniSA student field camps on the island to assist with specific research, community and industry-led projects. It was a win-win situation for everyone."