Remote internships providing students with rewarding experiences
By Adam Joyce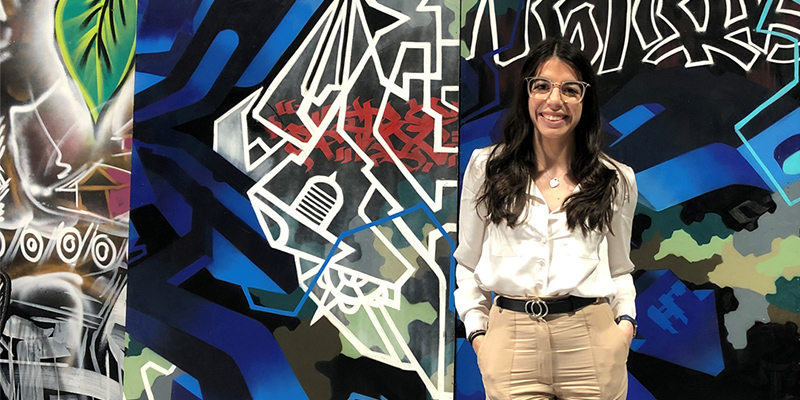 INSIDE UNISA
> UniSA nursing student tests Premier for COVID-19
The social distancing restrictions imposed because of COVID-19 affected internships for students across the state, with most face-to-face internships changed to remote internships – but it's still been a rewarding experience for many.
UniSA Marketing and Communications final-year student Adriana Athinodorou undertook her internship with disability housing and service provider SACARE from March to May this year.
"It was face-to-face when I started but then COVID happened and everybody got sent home but luckily they were still willing to have me and let me do the internship externally," she says.
Interning from home involved attending regular Zoom meetings. Her major project was to write a marketing plan for SACARE. She also helped write a crisis management plan for COVID-19.
"They always made sure to make me feel included, asking for my thoughts and opinions on marketing tasks … it was really great, I just had an amazing experience, even working from home," she says.
"I was required to do a lot of research into the disability care sector and SACARE's future marketing goals. As this was not an industry I was familiar with before my internship, I learnt a lot about how important support care workers are, all the tasks they do and how much work goes into effectively managing a business within this industry.
"The workplace culture is great – I loved every moment of my time with SACARE and would definitely recommend an internship with them."
She was able to come into the office on the final day of her intership.
"So I got to present my findings and recommendations in person," Adriana says.
Adriana, who has now completed her studies and will graduate later this year, loved it so much she's returned to SACARE to undertake an extended internship, this time in the office, to help her with future employment. She has also written a LinkedIn article about her internship.
"I want to give SACARE a big shout out – it really has been an incredible experience."
UniSA Business Partner Engagement Manager for Internships Daryl McMahon says the majority of internships in study period 2 were switched to remote internships, almost overnight. However, in the current study period (SP5), there's now a mix of remote and in-person internships.
"Internships are continuing with students adapting to the work mode of the host organisation," McMahon says.
"Some hosts are understandably nervous but we're supporting them and it's been great that a significant number of employers have been able to continue hosting our students. Internships give students a work integrated learning experience that enables them to apply the skills and knowledge gained from their study in a real workplace."
UniSA nursing student tests Premier for COVID-19
In an experience of a different kind, UniSA second-year nursing student Ashleigh Galwey recently gave SA Premier Steven Marshall a COVID-19 test, which was featured on the front page of The Border Watch and in TV news bulletins.
Ashleigh, who studies at UniSA's Mount Gambier campus, is one of a number UniSA students being employed by SA Pathology to support COVID-19 testing at the South Australian border.
"I was working at the Princes Highway borderpoint, testing essential workers on the day the Premier was visiting town," Ashleigh says
Ashleigh says it was a little confronting to give the COVID-19 swab to the Premier in front of news cameras, but it was a pleasure to meet the Premier.
"I think it was awesome of him to have the test because it showed the public it's a quick and easy experience and anybody can have the test done," she says.
Ashleigh says working as an operational services officer for SA Pathology has aided her studies.
"It's been really beneficial as a nursing student to be a part of the team at SA Pathology as we are constantly meeting and dealing with a variety of people," she says. "I've found this position handy in being able to apply skills we have learnt at uni such as communication techniques, bedside manner, physical assessment and documentation procedures."