The latest books from UniSA researchers
---
Attracting and Keeping the Best Teachers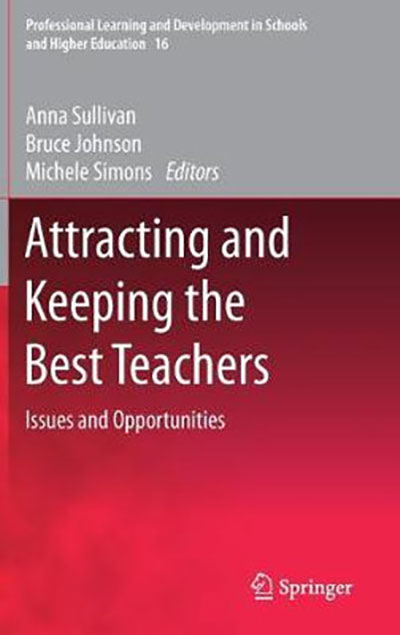 By 2030, the world will need to recruit almost 69 million teachers – 25 million primary school teachers and just under 45 million secondary teachers.
In their latest book, Attracting and Keeping the Best Teachers, UniSA education experts Associate Professor Anna Sullivan and Professor Bruce Johnson, with local and international research colleagues including Professor Michele Simons from Western Sydney University, take a close look at what is going on with the teaching profession and unpack the politics and myths that may be contributing to an industry exodus.
Assoc Prof Sullivan says the book exposes both the mythmaking about the profession and the genuine problems that need to be addressed.
"The research supporting each of the 11 chapters in the book is thorough and what it shows is that new teachers face a dilemma," she says.
"There is one school of thought that young teachers need to be monitored and mentored but, over time, that process disempowers them and undervalues the learning and new skills they bring to their role.
"At the same time, to leave new teachers completely unsupported is unreasonable, so we need to look for a balance that appreciates them as new professionals and supports them to grow into their job.
"A lot of negative media attention, reinforced by politicking and a conservative view of education, has painted new teachers as ill-prepared and undermines the excellent education and training they undertake to become teachers. There is an expectation that they should be 'classroom-ready' – but the sheer diversity of classrooms must make us challenge that idea.
"As with many debates – the truth lies in the middle ground. Nobody expects a newly graduated surgeon to perform the trickiest heart surgery, yet time and again we see new teachers only able to get full time work in schools where students have the most complex and difficult education needs.
"These are challenging jobs for even the most experienced teachers, so when we put new teachers in that environment, the system is setting them up to fail."
Assoc Prof Sullivan says many factors contribute to poor teacher retention, but key facts that are under reported include the tenuous nature of early employment.
"Most new teachers are unable to land a permanent job, with many only casually employed as temporary teachers. About 72 per cent of new teachers only gain temporary positions straight out of university.
"It would make much more sense for temporary positions to be filled by experienced teachers and for new teachers to gain more stable roles where they can grow in the job."
She says making judgements about teacher retention and teacher education predicated on 20th century understandings of the education landscape is unwise.
"So much has changed in education, in learning theory and in the environment in which children learn and teachers teach," Assoc Prof Sullivan says.
"In this book we are bringing to light some important issues about teacher retention, and we hope to ignite intelligent, informed debate that will help to encourage more teachers to stay in the education sector."
Attracting and Keeping the Best Teachers is published by Springer.
Higher Education and the Future of Graduate Employability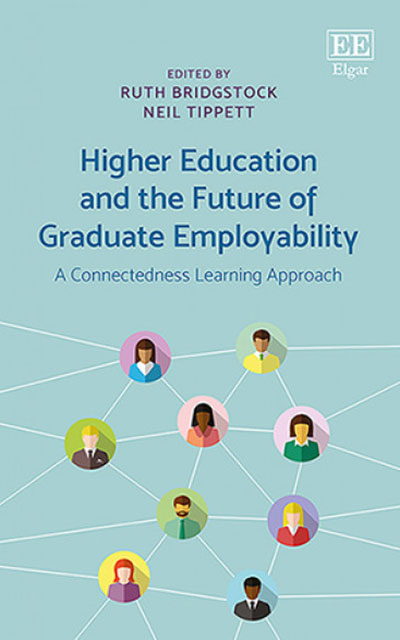 Higher Education and the Future of Graduate Employability challenges the dominant 'employability skills' discourse by exploring socially connected and networked perspectives to learning and teaching in higher education.
Co-edited by UniSA Research Fellow Dr Neil Tippett, the book presents 10 empirical case studies of educational practice that investigate the development of learner capabilities, teaching approaches, and institutional strategies in higher education, to foster lifelong graduate employability through social connectedness.
The book argues that higher education institutions have placed themselves at a disadvantage in learning and teaching by limiting and prescribing interactions that prevent multidisciplinary and cross-functional collaboration.
The book offers new strategies and pedagogic approaches that can support learners to build, maintain and make the most of social connections in life and work. It also demonstrates how universities can forge effective partnerships internally as well as with industry and community partners to ensure the relevance and vibrancy of university learning.
The chapters have been contributed by numerous international authors offering an international and multidisciplinary perspective.
The book is published by Edward Elgar Publishing and is available online.
Intergenerational Education for Adolescents towards Liveable Futures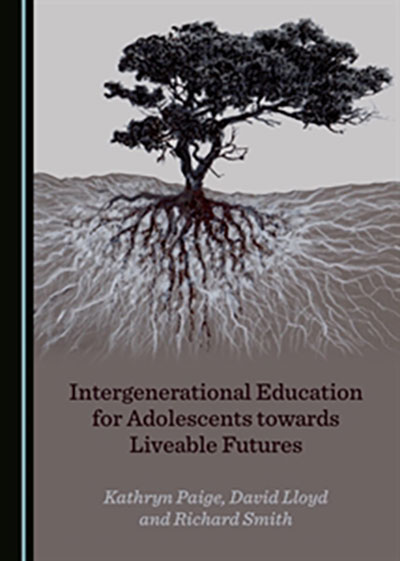 Intergenerational Education for Adolescents towards Liveable Futures will provide eco-socially-oriented science and environmental educators with a diverse set of examples of how science and environmental learning for students and their co-learner teachers can be enacted in ways which contribute to their understanding of, commitment to and capabilities towards, living for a more eco-socially just and, therefore, more sustainable world.
Co-written by Dr Kathryn Paige and Dr David Lloyd from UniSA, as well as Richard Smith, the text asserts that ethical contemporary science and environmental education will focus not merely on more factual knowledge, but also the proactive development of students' behaviour towards eco-social justice. This will demand that learners more fully appreciate not only the necessity to transition swiftly to living within planetary boundaries, but also the requirements of ethical living—that humans share health and wellbeing more equally with their own and all other species.

The book proposes that eco-socially responsible science and environmental education must be set within a transdisciplinary and integral framework, one in which curriculum and pedagogy are embedded in everyday practice.
The book is published by Cambridge Scholars and is available online.