Achievements and Announcements
ACHIEVEMENTS
ANNOUNCEMENTS
APPOINTMENTS
---
ACHIEVEMENTS
Three staff recognised for outstanding contributions to student learning
Three UniSA academics have been recognised nationally for their outstanding contributions to students learning, receiving Australian Awards for University Teaching.
Three UniSA staff received 2018 Citations for Outstanding Contributions to Student Learning in late February. The citations are awarded through a highly competitive process by the Australian Government through Universities Australia.
The awards recognise and reward the diverse, scholarly contributions made by individuals and teams who have had a significant impact on the quality of student learning in a particular area of responsibility over a sustained period.
UniSA's award recipients were:
Dr Alpana Sivam (Research Degree Coordinator, School of Art, Architecture and Design) – for designing learning experiences using real world 'live' projects that enable students to graduate as successful planners with commensurate industry skills and professional knowledge;
Associate Professor Gabrielle Todd (Associate Professor in Neuroscience, School of Pharmacy and Medical Sciences) – for sustained excellence in formative assessment of learning that demystifies neuroscience for undergraduate and postgraduate students;
Jennifer Stokes (Lecturer, UniSA College) – for sustained commitment to engaging, student-focused enabling pedagogy, which fosters the development of independent learners prepared for undergraduate study.
Provost and Chief Academic Officer Professor Allan Evans thanked the three staff for their significant contributions to excellence at UniSA.
"It is wonderful to have had so many of our own acknowledged this year, continuing our track record of high performance in these prestigious national awards," Prof Evans says.
For example, Jennifer Stokes helped develop a new course for UniSA College students, Future Ideas: Information and the Internet, to better respond to issues raised by students.
"Students investigate emerging issues in their discipline areas, developing research practices that will help them succeed as undergraduates," Stokes says. "Learning analytics are used to crowdsource themes from students, which inspires genuine passion for research and encourages deep learning."
2018 student-generated topics included artificial intelligence and empathic design, global food sustainability, mental health and social media, and journalistic ethics in the era of fake news.
Stokes also created Digital Literacy: Screen, Web and New Media in 2015, addressing a need to equip students with digital production skills. The course gains very high student satisfaction scores.
One student interested in occupational therapy designed a VR YouTube channel to allow virtual excursions for bedridden patients, while a student focused on social work designed an app to support wellbeing.
"This is advanced creative work in one of the few specific digital literacy courses available worldwide," Stokes says.
UniSA graduates sweep the 2019 Helpmann Academy Awards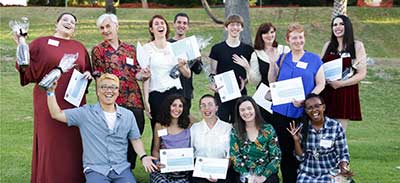 UniSA contemporary arts graduates received 10 out of a possible 15 awards presented as part of the Helpmann Academy 2019 Graduate Exhibition, which opened in February.
Containing more than 150 works, and a diversity of mediums, including ceramics, painting, jewellery, photography, printmaking, video, installation, and sculpture, the 25th anniversary exhibition is a highlight of the visual arts calendar. The 2019 exhibition features 27 of South Australia's top graduating students, with more than 60 percent of them graduating from UniSA's School of Art, Architecture and Design.
UniSA graduates exhibiting this year included Bachelor of Contemporary Art graduates Eleanor Amor, Sam Gold, Joseph Häxan, Scott Hedges, Barbara Hesselschwerdt, Alice Hu, Angelique Joy, Jonathan Kim, Kate Little, Emmaleise Maxwell, Nathan Peacock, Nima Porkar, Tara Rowhani-Farid, and Georgia Scott-Mills, Masters candidates Jacinta Mwangi and Carly Snoswell, and PhD candidate Yusuf Hayat.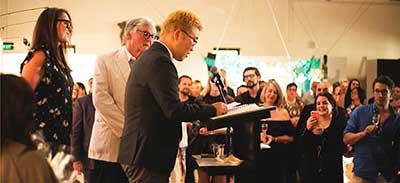 With a total awards pool worth $85,000 in support, UniSA graduates secured more than $75,000 of the pool, including a residency valued at $25,000 being awarded to Honours graduate Jonathan Kim. Kim received the Helpmann Academy's British School at Rome Residency.
Attending the British School at Rome has been a dream of Kim's ever since he visited Rome as part of a two-week Study Tour in 2017.
"When I visited the British School at Rome at that time, I swore I would go back there two years later as the recipient of the Helpmann Academy," he says.
With this dream now a reality, he will be able to develop and further refine his craft in post-minimalism with a specific studio allocation at the British School at Rome, culminating with in an exhibition in the prestigious 'Monstra' exhibition alongside visual artists from around the world.
"The residency at Rome is essential for my next phase of research as I investigate the historical and theoretical background of the Arte Povera in the Library of British Schools and experience Italian culture.
"I want to seek to present artworks that provide more spatial experiences and to bring out a balance of people's sensory experiences through them."
Kim wants to use this opportunity to give back and make society a better place.
"In the future, I will learn what contributions I can make to this society or even the world as an artist, and plan and practice how to give back to society what I get from art. I think it is a moral duty rather than a grand aspiration," he says.
Helpmann Academy CEO Jane MacFarlane says Kim is a well deserving recipient of the residency and is looking forward to seeing the fruits of his residency on his return.
A full list of award winners can be found on the Helpmann Academy website.
---
ANNOUNCEMENTS
UniSA ranked highly for pharmacy, design and material sciences subjects
UniSA has been ranked among the top 10 universities in Australia for pharmacy, art and design and material sciences, in the latest Quacquarelli Symonds (QS) world university subject rankings.
The QS 2019 subject rankings, released at the end of February, rank 1222 universities in 78 countries across 48 single subjects and five broad subject-areas.
UniSA improved its rankings in a number of subject areas including sports related subjects (entering the rankings in the 51-100 band in the world) and pharmacy and pharmacology (moving to rankings band 101-150 from 151-200 in the world).
The latest results put UniSA at number six in Australia for pharmacy and pharmacology, number nine in Australia for material sciences and number 10 in Australia for art and design.
QS also ranks UniSA in the top 100 in the world for nursing; and as number one in South Australia for art and design, pharmacy and pharmacology and sports-related subjects.
---
APPOINTMENTS
Prof Alan Boddy to lead UniSA Cancer Research Institute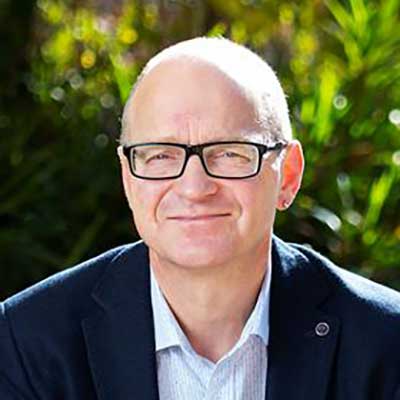 The Head of School: Pharmacy and Medical Sciences, Professor Alan Boddy, has been appointed to the role of director of UniSA's Cancer Research Institute, following an expression of interest process.
Prof Boddy will hold the position for a 12-month period, in conjunction with his role as Head of School: Pharmacy and Medical Sciences.
Deputy Vice Chancellor: Research and Innovation Professor Simon Beecham says the University looks forward to Prof Boddy's leadership of the both the UniSA Cancer Research Institute and School of Pharmacy and Medical Sciences over the next 12 months.
Prof Beecham also thanked outgoing institute director Professor Ian Olver for his significant contributions.
---