UniSA's Best on Ground series: exercise and nutrition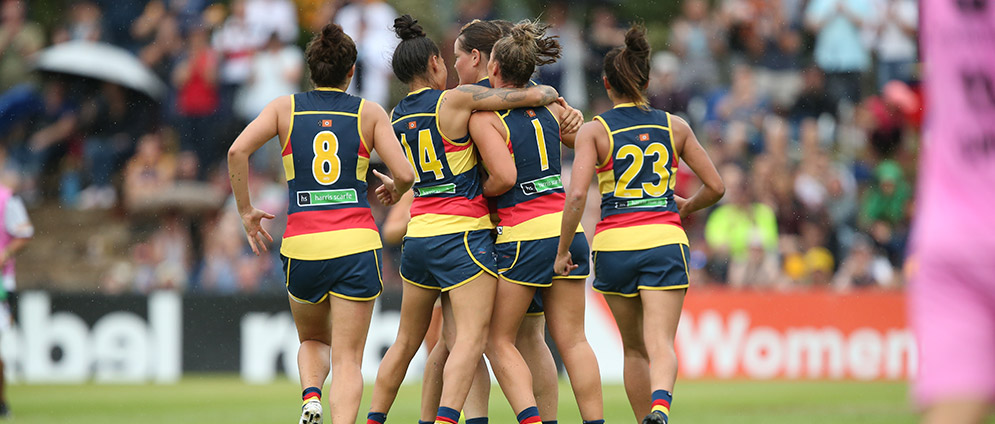 Did you know that as little as 2% body weight loss when exercising can impair exercise performance?

Understanding the importance of staying hydrated and eating the correct foods before, during and after exercise will help your physical performance.

Watch this episode of UniSA's Best on Ground series: exercise and nutrition to hear from Adelaide Crows superstar and co-captain Courtney Cramey and UniSA's Dr Evangeline Mantzioris talk about what to eat and drink to help you achieve your exercise goals or perform on the field.
Exercise and nutrition tips
1. Drink water and stay hydrated
On average our body is made up of 37 litres of water, human bones are 25% water and blood is 83% water. So staying hydrated and replacing any water lost to sweat during exercise is important.
How much you need to drink after exercise depends on how much you sweat. A great way to ensure you stay hydrated after exercising is to weigh yourself before and after exercise. Then multiply any weight lost by 1.2 – 1.5L.
For example, if you lose 1kg during exercise, make sure to drink 1.2 – 1.5L water.
2. Eat carbohydrates
It's important to consume carbohydrate rich foods before a game to maximise your energy stores. Your best option is to select those that contain different types of sugars, such as glucose and fructose. For example, cereal and fruit or a honey sandwich.
3. Eat protein
After the game you need to make sure you eat protein to promote recovery. Depending how intense your exercise is, consume approximately 20g of protein within 1 to 2 hours after exercise. Consider a high protein meal such as grilled fish or chicken or a drink such as flavoured milk.
It is important to note that how many carbohydrates, protein and fluids you consume depends on the intensity of your sport and personal requirements. If you go for a 20minute mild walk, that doesn't mean you need a big bowl of pasta to replenish your energy stores.
Courtney's smoothie recipe is a great example of a pre-and post-game snack and it can be prepared in advance.
Make sure to check out the first episode of UniSA's Best on Ground series: motivation and goal setting. It gives you tips on how to stay motivated to achieve your exercise goals.
Courtney's smoothie recipe
½ cup Ice
30g protein powder – AFC players only use protein powder that has been AFL tested for banned substances. Protein powder is an easy way to get protein into muscles for repair and rebuilding
½ cup blueberries (fresh or frozen) – great source of fibre, antioxidants, vitamin c for energy levels, healing and general well being
½ cup rolled oats – B vitamins for energy levels, fibre for bowel health
1 banana – B vitamins for energy levels, Potassium for heart health and Magnesium to support blood flow to muscles
½ cup plain Greek yoghurt (low fat) – protein for muscle building, calcium for bones and teeth, filling/satisfying
Water
Put it all into a blender and mix. You can even prepare it earlier and store it in the fridge so it's ready to go.
UniSA Online - study on demand, on your schedule, on your terms
If you're passionate about helping people live healthier lives, check out our Bachelor of Health Science (Nutrition and Exercise) offered 100% online. You'll explore the latest cutting-edge developments in nutrition and exercise, and will learn from experienced practitioners with real-world knowledge of industry trends, all in your own time and space. Visit UniSA Online for more information.
If you want to study on our city campus, we also offer the Bachelor of Exercise and Sport Science and Bachelor of Nutrition and Food Sciences.
UniSA and the Adelaide Football Club
UniSA is a proud premier partner of the Adelaide Football Club. This partnership provides UniSA student placement opportunities, a platform for sport and health research collaborations and the opportunity for the University to engage with the community. For more information about our partnership visit unisa.edu.au/crows