Students bring Adelaide Gaol to life through augmented reality app
By Dan Lander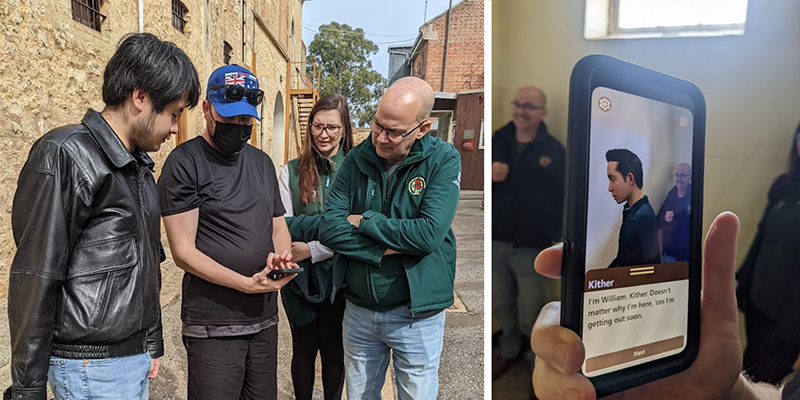 CREATIVE INDUSTRIES
The huge boom in escape rooms over recent years suggests that for many people, the idea of attempting a good old-fashioned breakout is first-rate fun.
Imagine, then, if you could try to escape from one of the nation's best known historic gaols alongside a desperate inmate with a cunning plan.
Well, visitors to Adelaide Gaol will soon be able to do exactly that thanks to a new augmented reality (AR) app developed by UniSA students under the guidance of gaming expert Dr Susannah Emery.
"Third-year creative and STEM students collaborated with gaol staff to create a game that utilises the physical site to engage visitors in the history and experience of the Adelaide Gaol," Dr Emery says.
"They created an AR game experience called Escape from the Gaol, for which they reconstructed a digital version of an inmate from the 1930s, William Kither, from old photographs and newspaper articles.
"Through a smartphone app, the digital version of Kither talks players through his escape attempt as they visit the relevant story sections from his journey in the real gaol site."
To develop the game, the students worked closely with staff from the South Australian Department for Environment and Water, which administers Adelaide Gaol. The department's manager of Visitor and Commercial Services, Gary Joyce, believes the app will broaden the gaol's appeal.
"We are very confident this experience will increase the gaol's appeal to a demographic that perhaps would not normally consider a gaol to be a place of intrigue," Joyce says.
"Many students find the concept of history and heritage tourism to be boring, but by bringing stories to life in a modern, engaging way using AR technology, we feel we can present many more Adelaide Gaol stories and introduce the next generation to heritage tourism."
UniSA Bachelor of Creative Industries student Madison Le Cong was one of the students involved in designing the game, and she is excited about the potential for the project to grow in the future.
"Old Adelaide Gaol was one of Australia's longest running prisons (1841 to 1988), so it has a lot of history attached to it," Le Cong says.
"We hope to expand the game by adding more escape stories, as the clients loved the story we presented; it would also be exciting to make similar games with other historic sites around Adelaide."
The Escape from the Gaol app will be available to visitors to Adelaide Gaol in 2023.