Achievements and Announcements
ACHIEVEMENTS
ANNOUNCEMENTS
ACHIEVEMENTS
Mass spectrometer to aid environmental and cancer research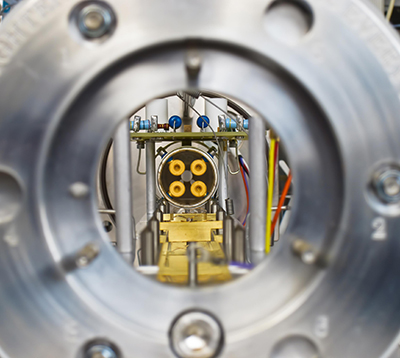 UniSA has been awarded a $715,000 grant to enhance mass spectrometry technology in South Australia, with benefits for environmental, mineral and biological science.
The project has received funding through the first round of Australian Research Council Linkage Infrastructure, Equipment and Facilities grants for 2021.
The grant will allow UniSA to purchase a latest-generation Inductively Coupled Plasma Time-of-Flight Mass Spectrometer (ICP-ToF-MS) and establish a facility to detect, quantify and rapidly map elements and their isotopes in nanoparticles and a diverse set of biological and earth materials. The project will enable researchers from all three SA public universities, the Australian Wine Research Institute and SAHMRI to access the technology.
The facility will be able to simultaneously collect a full suite of isotopic information from liquid samples or, in combination with laser ablation and laser induced breakdown spectroscopy, solid samples. It will enhance capabilities and sample throughput in environmental science, earth science, biology and cultural heritage research, significantly accelerating the discovery of new ore bodies, improving environmental risk assessment and assisting research in cancer biology.
The UniSA researchers who are investigators on the project are Professor Enzo Lombi, Associate Professor Justin Payne, Associate Professor Tom Raimondo, Professor Emily Hilder, Associate Professor Ivan Kempson and Professor Gregory Goodall. The project is being undertaken in partnership with the University of Adelaide and Flinders University and includes researchers from both institutions.
Australian Research Council CEO Professor Sue Thomas says the Linkage grants support important infrastructure, equipment and facilities.
"Quality research and research infrastructure is critical to Australia's research and development system – and necessary to deliver high quality research and innovation outcomes and to enable Australian researchers to address key national and global challenges," she says.
More than $4m to tackle cancer, infections, asthma and allergies
Six UniSA research teams have been awarded 2021 National Health and Medical Research Council (NHMRC) Ideas Grants.
The grants will support research into a range of cutting-edge medical procedures, including development of a peanut vaccine and new approaches to breast cancer and asthma treatment.
Dr Endre Szili and Dr Xanthe Strudwick will lead research with the potential to revolutionise chronic wound care and alleviate the growing problem of antimicrobial resistance. The $755,023-funded project aims to advance preclinical development of a novel wound healing technology, using electrical ionised gas discharge (plasma) to deliver antimicrobial and healing agents through tailored hydrogel dressings.
A team led by Dr Marianne Gillam will improve early identification of potential safety issues with implantable medical devices by applying novel methods to existing data. An efficient and accurate post-market surveillance system will be developed, thereby improving patient outcomes, and avoiding unnecessary harm. Based on the $775,923-funded research, interactive visualisation tools will be developed to aid communication of identified safety issues.
Dr Marina Kochetkova will lead a team investigating the role of a specific subtype of cells in cancer tumour stroma, known as cancer-associated fibroblasts (CAF). The focus of the $772,877-funded study is to identify specific molecules that are responsible for mediating tumour-supporting roles of CAF in breast cancer.
Professor Stuart Pitson, Dr Briony Gliddon and Dr Melinda Tea will lead an $816,930-funded project examining new approaches to open the blood-brain barrier, which would allow the use of existing highly potent anti-cancer drugs as brain cancer therapies. The blood-brain barrier is a major impediment to the treatment of brain tumours because it prevents most anti-cancer drugs from entering the brain, and brain tumour, from the bloodstream. Successful outcomes of this work could lead to substantial improvements in the outcomes for brain tumour patients.
In Australia, the prevalence of peanut allergy has doubled in the past 10 years. Dr Preethi Eldi, Professor John Hayball and Dr William Smith (Royal Adelaide Hospital) will receive $678,899 in funding to continue ground-breaking work on a vaccine that will protect children from the restrictive and often life-threatening impacts of peanut allergy. This project will explore the control and manipulation of restricted immune responses against allergens, through understanding the key immune signatures that are critical to induce a vaccine-mediated shift to tolerance or allergy remission.
Chronic inflammation is the common root of most cancers. Professor Angel Lopez and Dr Damon Tumes from the Centre for Cancer Biology will lead an international team which aims to develop safer, effective, and lasting precision therapies for chronic allergic airway diseases such as asthma, a condition impacting more than 300 million people worldwide. With collaborators including Dr Luciano Martelotto from Harvard University, Dr Nicholas Wilson from biotech firm CSL, and Associate Professor Harshita Pant from University of Adelaide, the $1,166,165-funded research will focus on resolving eosinophil and inflammatory heterogeneity.
Contemporary art graduates received more than $45,000 in prizes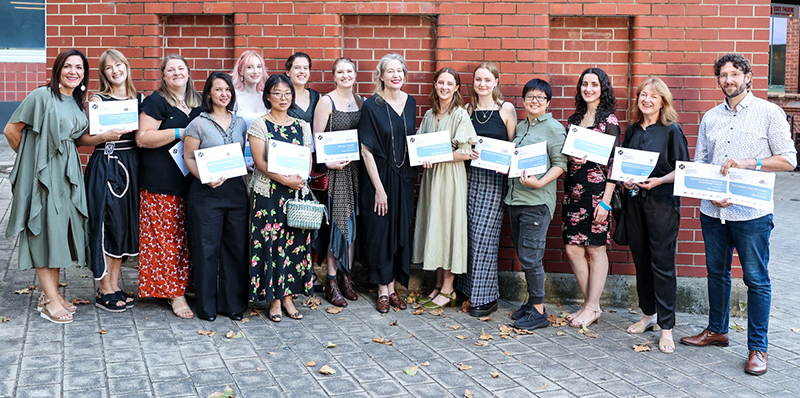 UniSA's newest cohort of emerging artists were the beneficiaries of several awards at the recent launch of the annual Helpmann Academy Graduate Exhibition. The exhibition takes place each year and features the work of graduating visual artists from the Helpmann Academy's partner institutions.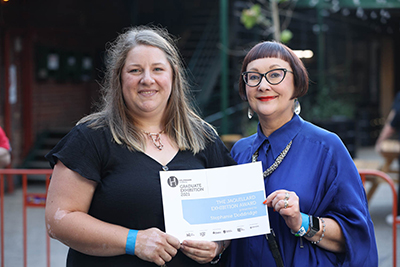 Eight UniSA graduates received nine awards to a value of $46,500, comprising more than 70 per cent of the available prize pool. Supported by a diverse range of benefactors, the awards provide graduates with a combination of cash support, mentorship, artists' advisory services, acquisition and exhibition support.
Both major prizes were awarded to UniSA students, with PhD candidate Tricia Ross receiving the UniSA/Helpmann Academy Postgraduate Award ($10,000 cash). Bachelor of Art and Design (Honours) graduate Meng Zhang was awarded the Undergraduate Award for Excellence, supported by Roger and Helen Salkeld ($7500 cash).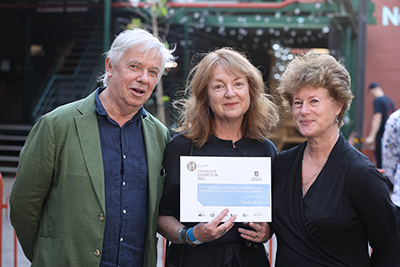 Bachelor of Contemporary Art graduate Stephanie Doddridge says she was thrilled to receive both the Hill Smith Art Advisory Award for an artist working in 3D whose work is inspired by the craft tradition ($7000 cash and in-kind) and the Jacquillard Exhibition Award to be used for the costs associated with presenting an exhibition ($3000 cash).
"I am elated to be the recipient of the Hill Smith Art Advisory Award and the Jacquillard Exhibition Award through exhibiting in the Helpmann Academy 2021 Graduate Exhibition," she says.
UniSA students and graduates shortlisted for SA's Fleurieu Film Festival
Three recent graduates and one current student of UniSA's Bachelor of Film and Television are finalists in the 2021 Fleurieu Film Festival, held annually in South Australia's southern Fleurieu Peninsula.
Now in its fifth year, the festival celebrates the achievements of rising talent in the short film industry and provides a unique event for new and emerging filmmakers to showcase their work. Shortlisted entries are eligible for a slew of competitive cash and in-kind prizes across diverse categories including best overall film, director, cinematographer, screenplay and international.
In 2021 the festival invited entries that addressed the theme "WILD", asking respondents to embrace their wild side with short films of eight minutes or less in any genre. Entrants approached the theme in a number of different ways, with films exploring the environmental, cultural and social implications of the word. Among the 14 finalists are Sam Rosenzweig, a current student of the Bachelor of Film and Television at UniSA, and Bec Taylor, Jodie Kirkbride, and Gene Freidenfelds, all recent graduates of the program.
Shortlisted entries will be screened at an outdoor event at Serafino Winery in McLaren Vale in February. Tickets for the event are available via the festival's website.
UniSA achievers among top Australia Day honours recipients
The UniSA community has featured prominently in this year's Australia Day honours – with a leading Aboriginal educator, a former premier and the AFL's first female umpire among this year's recipients.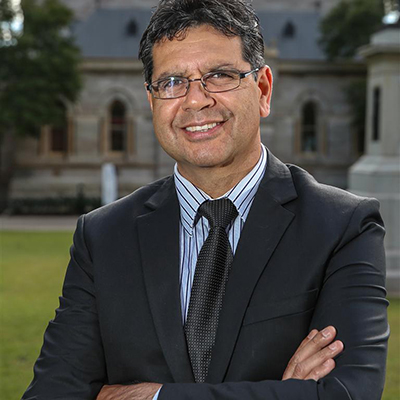 One of Australia's most prominent Aboriginal education advocates, Professor Lester-Irabinna Rigney AM (pictured right), was honoured as a Member of the Order of Australia (AM) for significant service to Indigenous education, and to social inclusion research.
UniSA Industry Professor and former South Australian Premier the Honourable Jay Weatherill AO, was made an Officer of the Order of Australia (AO) for distinguished service to the Parliament of Australia, particularly as Premier, and to early childhood and tertiary education.
UniSA alumna Eleni Glouftsis OAM received a Medal of the Order of Australia (OAM) for service to Australian rules football, particularly as an umpire.
The full list of UniSA staff and staff and alumni who were recognised in the 2021 Australia Day Honours is available on the UniSA Alumni website.
UniSA Elder in Residence recognised as Salisbury Citizen of the Year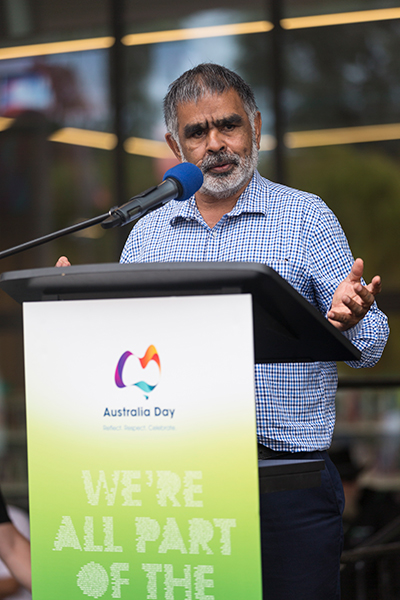 Kaurna Elder Frank Wangutya Wanganeen has been named the City of Salisbury's Citizen of the Year for his work building relationships between the Salisbury community and the Kaurna and broader Aboriginal peoples.
Uncle Frank is a member of UniSA's new Elders In Residence program, which brings together eight Elders working across a range of areas, breaking down barriers and acting as agents of change.
Uncle Frank is a passionate advocate for young people, cultural education, and environmental issues. He contributes extensively to the Salisbury community, including as chairperson of the council's Reconciliation Action Plan Working Group, member of the Phoebe Wanganeen Scholarship Selection Group, and through providing support for the Morella Community Centre through its Thriving Intercultural Communities program.
Professor Irene Watson and Professor Lester-Irabinna Rigney will join Uncle Frank and other UniSA Elders in Residence for a panel discussion at the Bob Hawke Prime Ministerial Centre in March, Elders speak: What is the future of Aboriginal education?.
ANNOUNCEMENTS
Eight new centres recognised as part of research strategy
Eight research groups have earned centre status at UniSA, recognising the breadth of research taking place at the University in fields ranging from artificial intelligence to nutrition and exercise.
The centres were formally recognised through UniSA's research strategy, which aims to build on the University's existing research expertise and industry partnerships to produce research with real-world impact.
The newly recognised research centres are:
Rosemary Bryant AO Research Centre
Alliance for Research in Exercise, Nutrition and Activity (ARENA)
Centre for Research in Educational and Social Inclusion (RESI)
Creative People, Products and Places (CP3)
Centre for Markets, Values and Inclusion (CMVI)
Industrial AI
Centre for Change and Complexity in Learning (C3L)
Centre for Enterprise Dynamics in Global Economies (C-EDGE)
In addition, UniSA's Mental Health and Suicide Prevention Research and Education group was recognised as a research concentration for their leading work in trauma-informed mental health and suicide prevention.
In announcing the new centres and concentrations, Deputy Vice Chancellor: Research and Enterprise Professor Marnie Hughes-Warrington congratulated everyone involved.
"This is a timely expansion in the recognition of the University's research capability in areas aligned with our significant educational programs," she says.
For more information on research at UniSA, go to the research website.