UniSA: young and on the rise
By Michèle Nardelli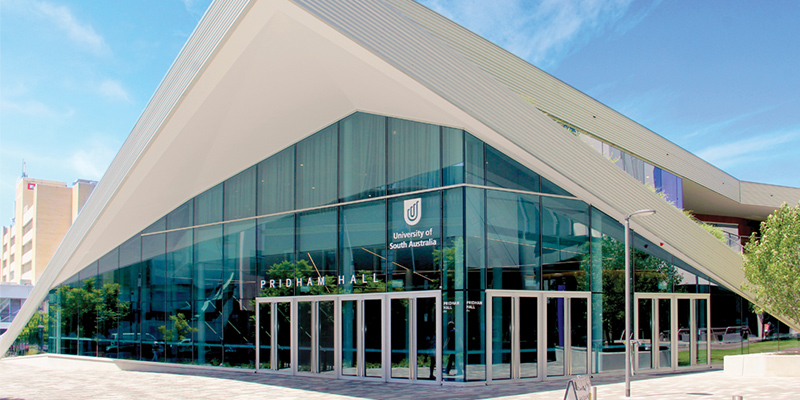 INSIDE UNISA
The University of South Australia has risen in both the latest Times Higher Education Young University Rankings and the QS Top 50 Under 50 rankings, consolidating its status among the world's best young universities as Australia's University of Enterprise.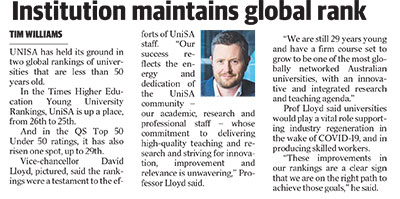 The two rankings examine the performance of the world's young universities, rating their progress in a subset of institutions under the age of 50 years old.
UniSA placed 25 in the 2020 THE Young University Rankings out of 414 universities worldwide; and fourth out of the 22 Australian universities in the ranking.
UniSA placed 29 in the 2021 QS Top 50 Under 50, out of the 150 universities across the world that made the ranking.
Vice Chancellor Professor David Lloyd says in an increasingly competitive field, it is rewarding to see that UniSA is not only holding its own, but also improving its position.
"These two independent rankings are the most influential for young universities around the world," Prof Lloyd says.
"Our success reflects the energy and dedication of the UniSA community – our academic, research and professional staff – whose commitment to delivering high quality teaching and research and striving for innovation, improvement and relevance is unwavering.
"We are still 29 years young and have a firm course set to grow to be one of the most globally networked Australian universities, with an innovative and integrated research and teaching agenda.
"At a time when the whole world is facing the challenges set down by the COVID-19 pandemic, the role of universities like ours is vital in supporting research growth and industry regeneration, and in helping to deliver skilled and knowledgeable professionals, equipped to meet these challenges.
"These improvements in our rankings are a clear sign that we are on the right path to achieve those goals."